If I could give you one thing, I would give you God's Word.
To my best friend? I'd give them God's Word.
To my worst enemy? God's Word.
To my children? God's Word.
To someone struggling? God's Word.
To someone in leadership or a position of power? God's Word.
To someone reading an article in Christianity Today? God's Word.
If I could give every human soul only one thing, it would be God's Word.
Why? Because one word from God is more powerful than any words a human could ever speak, think, or write.
I always dreamed of becoming an Olympian.
In 1996, I watched Dominque Moceanu and the Magnificent Seven win gold in the gymnastics team competition, and I was hooked. I knew, without a doubt, that one day I would be standing on a podium receiving a medal.
When I hit middle school, my love for gymnastics transferred to pole vaulting, and the dream of one day competing for Team USA remained tucked away in the back of my mind. After winning state championships in high school and becoming an All-American in college, making the 2016 Olympics became my goal.
The days were intense, with hours of sprint workouts, weight lifting, rehab, vaulting sessions, pool laps, recovery days, and ice baths. Sleep, diet, and training were all regimented and controlled in an effort to succeed at the Olympic trials.
But the hardest part of my training wasn't physical; it was mental. I would question whether I was good enough and what I was doing with my life. I needed something to help my mind stay strong and focused on the thing that mattered the most—not who I was as an athlete but who I am in Christ. So, in thick Sharpie marker, I began to write Bible verses on my arm. Eventually, I started writing the first letter of every word of a verse, and I found that memorizing God's Word became the thing that grounded me mentally and gave me the strength to compete at the highest level.
Through the setbacks of surgery and the excitement of championships, I continued to lean on this practice. When fear arose, disappointment lingered, or pride grew, Scripture helped me dwell on truth. God's Word gave me hope and direction.
Olympic Dreams Deferred
After falling short at the 2016 Olympic trials, I knew it was time to retire from the sport. But I didn't predict the grief and anxiety that would come next. What would my life be like without this dream I'd chased for nearly 20 years? What was I supposed to do now? More than ever, I needed the truths of God to fill my mind and sink into my heart.
So, I returned to the familiar tool from my training days: I focused my mind on God's truth. I memorized and recited verses day and night. With time, those verses took root in my heart and silenced the lies I was believing. They reminded me of who I was in Christ, and slowly I was transformed.
I learned that I had not failed at becoming an Olympian—instead, I was given the greatest victory of knowing God through memorizing his Word.
After experiencing the life-changing power of memorizing God's Word, I wanted nothing more than to give that gift to others. So in 2017, my sister and I launched Dwell Differently to help people discover the same strength I found in Scripture. Through our membership and social media platforms, tens of thousands of people memorize God's Word every month, and I want to invite you to join us. If you want to spend more time reflecting on the truth, or maybe you're clawing out of your own negative spiral, I believe these tools and resources can help.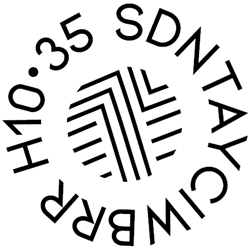 Here's how our memory method works.
Hebrews 10:35: "So do not throw away your confidence; it will be richly rewarded."
In this design, you can see the first letter of every word in this verse, a passage that reminds us that Jesus is the right place for us to put our confidence. Print this image and put it on your fridge. Save it as your lock screen or background. Every time you see it, you'll be prompted to remember the truth of the verse until it's cemented in your head and heart.
Vera Schmitz is the cofounder and chief creative officer at Dwell Differently. Vera cohosts the Dwell Differently podcast and creates smart, beautiful designs to help people memorize Bible verses.