After nearly two years of instability and uncertainty, you may have found yourself craving moments of peace, of quiet, of reflection. Moments of space.
There's perhaps no better way to find that space than in the pages of a good book. The written words of others provide the weary with a moment of reprieve. Stories that ring with familiarity ease loneliness and clear confusion. Books that offer new insights give readers permission to adopt important ideas, develop new rhythms, or simply escape for just a moment. The gift of space is a gift of grace—one that says, "yes, a global pandemic can still be felt. Yes, the new normal is perpetually elusive. But you can pause for a while—it's okay."
This year, we're partnering with publishers to help you do unto others as you would have them do unto you: give the gift of restful space with a book (or two) that can help us all catch our breath, if even just for a moment.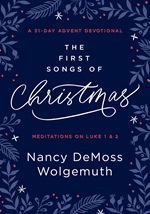 In this 31-day Advent devotional, Nancy DeMoss Wolgemuth shines new light on the inspiring songs of Elizabeth, Mary, Zechariah, the angels, and Simeon found in Luke 1 & 2. Let this book be your companion as you spend the days surrounding Christmas with your gaze fixed on our great God and Savior. Let the songs of the first Christmas turn your heart towards God's glory.
* * *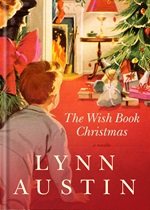 Lynn Austin, the bestselling author of If I Were You, returns with a heartwarming Christmas novella. While teaching their five-year-old sons about the true meaning of Christmas, best friends Eve Dawson and Audrey Barrett each find healing after the tragedies of WWII, as well as the possibility of forgiveness and new love.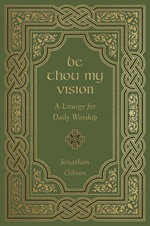 Jonathan Gibson has created a 31-day liturgical guide designed to provide structure to the daily worship of individuals and families. Intended to be read in 15–20 minutes a day, this beautifully produced liturgy will give readers focus and purpose to their daily quiet time while teaching them historical prayers, creeds, and catechisms that point them to Christ.
* * *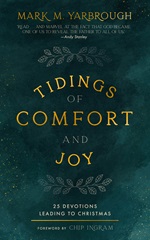 The Christmas season easily overwhelms, and meaning can be lost in the busyness. In Tidings of Comfort & Joy, Mark M. Yarbrough reminds us why we celebrate. These twenty-five short devotions focus December on Jesus through a combination of Scripture reflections, winsome stories, advent applications, and guided prayers. This is a book that you and your family will turn to annually, as you prepare your heart for the wonder and meaning of Christmas.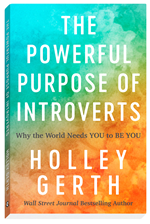 Being an introvert isn't a struggle, it's your superpower! Bestselling author, counselor, and life coach uses brain science, powerful stories, research, and biblical principles to help introverts embrace who God created them to be and live with clarity, courage, and confidence in a world in desperate need of their quiet strengths.
* * *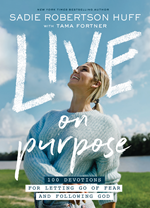 Learn how to celebrate every moment in life while living enthusiastically and following your God-given passions with New York Times bestselling author Sadie Robertson's devotional Live on Purpose. Teens and young adults will reach new depths of faith as they discover how to live life to the fullest.
* * *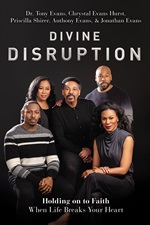 Divine Disruption explores the many hardships we experience in life and how God breaks through with the power of hope. An insightful biblical and conversational response from Dr. Tony Evans and his four adult children—Chrystal Evans Hurst, Priscilla Shirer, Anthony Evans, and Jonathan Evans—on how God uses the hard things of this life to draw us into a deeper faith in Him.
* * *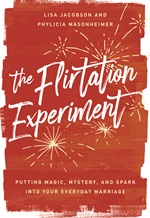 From popular Christian voices Lisa Jacobson and Phylicia Masonheimer, The Flirtation Experiment inspires you to strengthen your marriage with a fun, unexpected approach. Do you want passion and a stronger connection but not sure where to start? Change your marriage one small flirtation experiment at a time.
* * *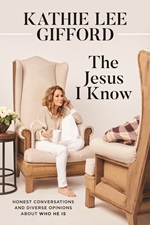 In The Jesus I Know, Kathie Lee Gifford reveals heartwarming, entertaining conversations between people and personalities who both agree and disagree about who Jesus is, his role throughout history, and his presence in our lives today. Those conversations include Kristin Chenoweth, Kris Jenner, Megyn Kelly, and others.
* * *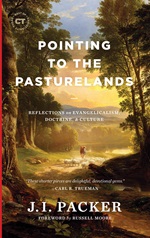 Pointing to the Pasturelands recovers several decades of Packer's contributions to the pages of Christianity Today. Encounter the wit and wisdom of one of the twentieth century's greatest evangelical theologians. In this collection of short thoughts on God and theology, a new generation of readers can experience J.I. Packer in a fresh way.
* * *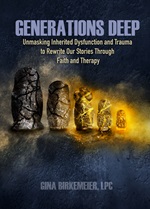 Generations Deep is a heartbreaking yet hopeful memoir wrapped in a redemptive worldview and supported by scientific research and Scripture. It also includes self-help components, questionnaires, and inventories developed by trauma-informed professionals. The book is a guide to understanding the power of legacy, how to break generational cycles, and write a new story for the generations that follow.
* * *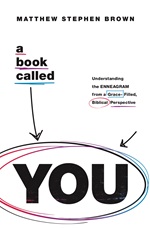 Who am I? Everyone asks that question, no matter their age or status in life.
A Book Called YOU looks at the Enneagram numbers of people in the Bible so you can discover more about yourself and gain specific wisdom about how and why you are uniquely made.
* * *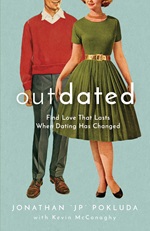 Trade the lies for truth. Start dating a different way.
This book is for anyone looking to understand how to date God's way. With true stories about relationships healed and love found, this practical book explains God's purposes for singleness, dating, and marriage and covers why you should date, who you should date, and how you should date.
* * *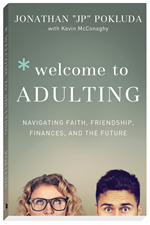 Adulting is hard. But sometimes we make it harder than it has to be. Combining entertaining stories, insights from the Bible, and compelling evidence from research, JP Pokluda lays out a roadmap for how to navigate life as an adult. For young adults struggling to find a footing in the world, this witty, non-patronizing guide is the solution.
* * *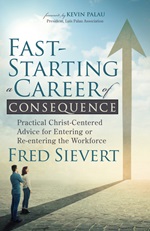 Jump-start any career with practical Christ-centered advice. This book combines five biblical principles and ten practical proven business tips that make it a perfect gift for anyone entering the workforce for the first time or re-entering following an extended absence due to military service, child-rearing or after reimaging a new post-pandemic career path.
* * *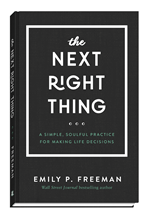 When we have a decision to make, what we want more than anything is peace, clarity, and a nudge in the right direction. If you have trouble making decisions because of either chronic hesitation or decision fatigue, Emily P. Freeman offers a fresh way of practicing familiar but often forgotten advice: simply do the next right thing.
* * *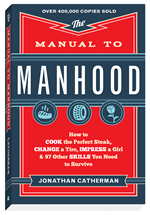 There's a lot a teenage guy needs to know as he grows up and makes his way in the world. This book is filled with great advice from world-class experts about getting life together. Jonathan Catherman offers this collection of one hundred step-by-step instructions on almost everything a guy needs to know from how to talk to a girl to change a tire and so much more.
* * *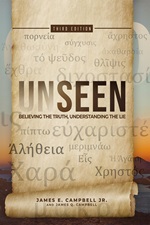 UNSEEN returns to foundational and critically important teachings of the Early Church in a practical fashion. It's a book about connecting the dots and making sense of a world and faith that, more often than not, seem to make none. It is what Jesus lived, the Apostles knew, and the Church forgot. Get your copy from Amazon.
* * *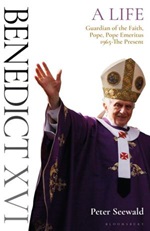 Part II of the authoritative biography of the captivating Pope Emeritus. Based on years of research as well as hours of recorded interviews with Benedict himself at the Vatican, this biography is the definitive account of Joseph Ratzinger's life, Benedict XVI's papal tenure, and one man's reflection on his legacy.
* * *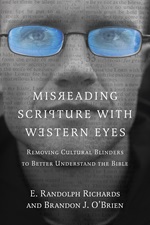 This bestselling Bible study resource sheds light on the ways that readers often misunderstand the cultural dynamics of the Bible and bring modern Western biases to the text. Want to identify your cultural blind spots and assumptions about the Bible? This book will allow you to see Scripture in fresh and unexpected ways.
* * *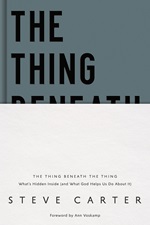 Start living your most whole, holy, and spiritually healthy life by unlearning the habits that keep you stuck. In The Thing Beneath the Thing Steve Carter helps you identify and heal from past wounds that have kept you from reaching your full potential so that you can live the life that Jesus has promised every believer.
* * *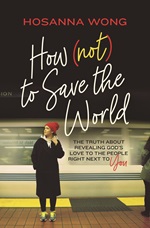 Are you ready to fight for the people you love?
Learn how to help others realize how valuable they are to God. With honesty and humor, Hosanna Wong shares the three most effective steps to take when fighting for a loved one who is in a tough place—and how to overcome the lies holding you back.
* * *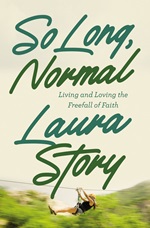 Having courage isn't about the absence of fear. It's acknowledging that fear and being willing to take the next step anyway.
So Long, Normal guides us to leave behind the idols of comfort, caution, and routine so we can live strong and well, even when life takes an unwelcome turn. Push past the loss of your "normal" with bestselling author Laura Story and embrace the soaring freedom found in living secure in God's love.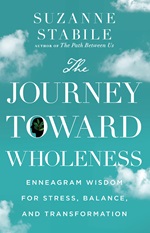 How do we achieve lasting spiritual transformation? Using the wisdom of the Enneagram, expert teacher Suzanne Stabile opens the concept of three Centers of Intelligence: thinking, feeling, and doing. When we learn to manage these centers in relation to our Enneagram number, we open a path to reducing fear, improving relationships, and finding wholeness.
* * *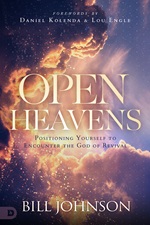 Experience revival every day.
If you are hungry for a fresh move of God, Open Heavens will guide you through preparing the altar, encountering the fire of God, and keeping it burning every day! In this landmark book, Bethel's Pastor Bill Johnson imparts his own passion for revival along with practical wisdom for sustaining a move of God.
* * *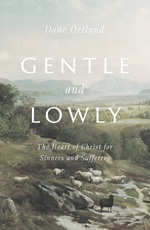 Christians know what Jesus has done—but what is his deepest heart for his people, weary and faltering on their journey toward heaven? In Matthew 11, Jesus describes himself as "gentle and lowly in heart." This book reflects on these words, unpacking a neglected yet central truth about who he is for sinners and sufferers today.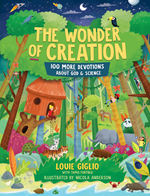 In this captivating follow-up to the bestselling kids' devotionals Indescribable and How Great Is Our God, founder of the Passion movement Louie Giglio offers more mind-blowing, faith-building scientific facts and biblical truths about the wonder of God's creation.
* * *
With eye-catching art, fascinating stories and facts, Bible verses and prayers, and simple action steps, this 90-day devotional from Levi Lusko will help your kids approach both fun moments and tough times with their hearts set on God's faithfulness.
* * *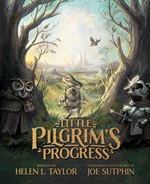 In this fresh, imaginative new edition, bestselling illustrator Joe Sutphin portrays the characters of Bunyan's tale as animals living in a woodland realm. Children will delight in the lavish illustrations, reading alongside their parents or on their own, leading them to declare along with Christian, "I am going to the King!"
* * *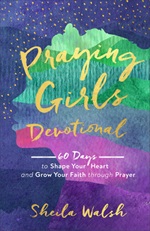 60 Days to Shape Your Heart and Grow Your Faith through Prayer
Bestselling author Sheila Walsh's Award-Winning Devotional offers girls ages 11 to 14 the tools to begin a life of prayer. If you long to see your daughters, granddaughters, nieces, and other girls in your life develop a strong prayer life, this beautiful two-color devotional makes the perfect gift for every girl.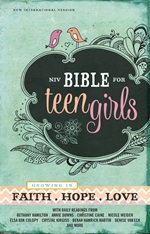 Packed with daily readings, highlighted promises of God, challenging insights, smart advice, and open discussion about the realities of life, the NIV Bible for Teen Girls is designed to help teen girls grow in faith, hope, and love. Now available in three designs teen girls are sure to love – hardcover, pink leathersoft, and teal leathersoft.
* * *
Introduce the special kids in your life to the good news of Jesus Christ with Bibles made just for them. Available in translations that little hearts can understand and designs and illustrations to engage their minds, making them want to spend time learning more.
* * *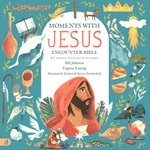 Help your child to make a forever-connection with Jesus! While other children's Bibles contain informative stories from the Old and New Testaments, the Moments with Jesus Encounter Bible uses first-hand storytelling and captivating illustrations to guide kids on an imaginative journey through the four Gospels, putting them face to face with Jesus.
* * *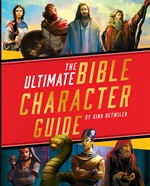 The Bible is filled with incredible and interesting characters—from Jesus to Eglon, Gabriel to Legion. This unique encyclopedia brings 150 of them to life with comic-book style illustrations and hundreds of facts for kids to explore. In true encyclopedia form, characters will be arranged alphabetically and indexed so that favorites can be found easily.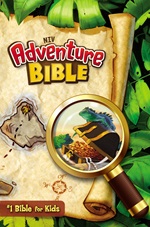 This trusted edition of the bestselling NIV Adventure Bible® maintains all of the features loved by kids and is now in full color throughout! Kids will be even more captivated learning about the people, places, and culture of the Bible with articles offering close-up looks and hands-on activities helping apply Biblical truths.
* * *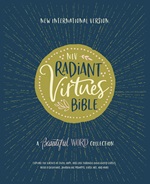 Featuring art from the NIV Beautiful Word™ collection, along with newly created art, all-new journaling prompts, weekly devotional readings, coloring pages, and more, the NIV Radiant Virtues Bible gives you everything you need to make Scripture and the virtues of faith, hope, and love a part of your daily life.
* * *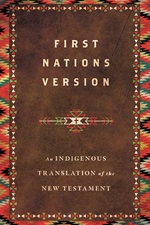 The First Nations Version is a dynamic equivalence translation of the New Testament that captures the simplicity, clarity, and beauty of Native storytellers in English. While remaining faithful to the original language of the New Testament, the FNV recounts the Creator's Story—the Christian Scriptures—following the linguistic traditions of Native storytellers' oral cultures.
* * *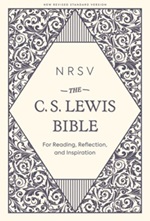 A perfect gift for C. S. Lewis fans, this Bible has over 600 readings from C. S. Lewis's spiritual classics set alongside relevant biblical passages in the NRSV—the translation renowned for its beautiful balance of scholarship and readability, serving the church in personal spiritual formation, in the liturgy, and in the academy.
* * *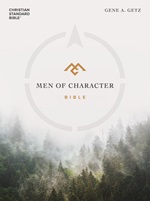 In a world where Christian role models seem increasingly rare, this Bible reminds us that some of the most worthy examples of godly character are the biblical figures who brought leadership, wisdom, and inspiration to God's people. Each of these men faced trials, frustrations, and even failure, yet they were empowered by God to persevere and achieve great things for his glory.
* * *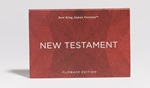 The NKJV Flipback New Testament is your answer to "Should I bring my Bible with me today?" This innovative design presents the New Testament in a pocket-sized edition but with regular-sized font. Perfect stocking stuffer for those on your list who want to take God's Word with them.
* * *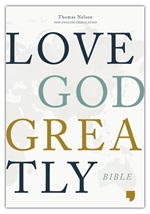 The Love God Greatly Bible offers insights that will encourage and equip you to meet God on the pages of Scripture and engage deeper through Scripture memory, prayer, and daily reflection. Bring the women in your life together with those from across the street and around the world to grow and strengthen your faith this holiday.
* * *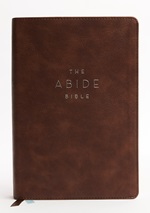 Are you seeking a more life-giving, intimate connection with God? This Bible can help! Created in partnership with Bible Gateway and the Taylor University Center for Scripture Engagement, The Abide Bible incorporates 5 Scripture engagement practices within the text that can open your spiritual eyes and ears to experience a more fruit-filled relationship with our heavenly Father.
The Woman's Study Bible is the best-selling, full-color Bible written for women by women. With contributions from over 80 women from a wide variety of ethnic, denominational, and occupational backgrounds, the Woman's Study Bible poignantly reveals the Word of God to women, inviting them to receive God's truth for balance, hope, and transformation.
* * *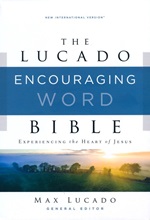 The Lucado Encouraging Word Bible strengthens believers along their journey with the Lord. His warm, conversational style in the marginal notes, short articles, and study tools meet you where you are, providing encouragement and insight. The Encouraging Word Bible will speak to you with Max's gentle yet powerful tone.
* * *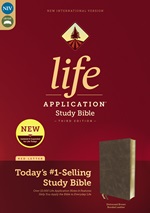 Impacting more than 20 million lives over 30 years, the Life Application® Study Bible is the #1–selling study Bible. Now it has been thoroughly updated to be even more useful and relevant to help you better understand God's Word and give you practical ways to apply it to your life every day. The Life Application Study Bible—A Bible For All Times!
* * *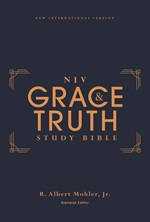 The NIV Grace and Truth Study Bible, with general editor Dr. Al Mohler, invites every-day Christians to delve into Scripture to encounter God's grace in a fresh way. The warmhearted and faithful notes will provide first-time Bible readers reliable guidance while simultaneously nourishing veteran students of the Word with fresh insights.
* * *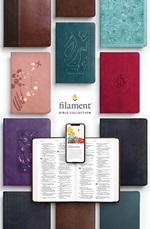 The Filament Bible Collection offers infinitely more ways for you to interact with God's Word. A beautiful text Bible in a variety of colors and sizes offer an engaging reading experience. With the scan of a page you open a gateway into extensive notes, reflective devotionals, interactive elements, worship resources, and more.
* * *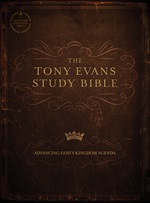 The CSB Tony Evans Study Bible includes extensive study notes, commentary, and other resources crafted and curated by Dr. Tony Evans and adapted from his sermons and writings. Including over 150 videos via QR code, these features are strategically placed alongside the biblical text to explain God's Word in a fresh way, guiding readers into a deeper understanding of Scripture.
* * *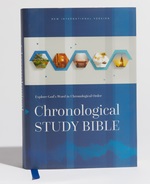 The Chronological Study Bible is the first study Bible arranged in the order of events as they unfolded over time. Complete with notes, articles, and full-color illustrations, this study Bible shows how sacred history fits into the context of secular history – grounding events in their cultural, religious, and geographical setting.
* * *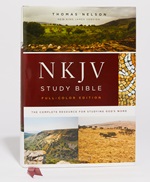 With more than 2 million copies sold, it's no secret the NKJV Study Bible is the most reliable guide for studying God's Word. It provides a complete resource of study, including thousands of notes, articles, extensive cross-references, and features contributed by top evangelical scholars. Available in full-color or two-color editions.
* * *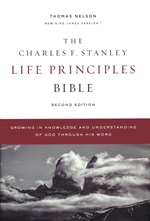 The Charles F. Stanley Life Principles Bible has been enjoyed by over 1 million people providing practical principles for an abundant life. With Pastor Stanley's insight and wisdom, we can rest in the knowledge that God is in control through all the ups and downs of life. Now available in NKJV, KJV, NASB, and NIV.
* * *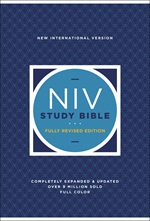 With over 9 million copies sold, the bestselling NIV Study Bible features a stunning four-color interior with photographs, maps, charts, and illustrations. This fully revised edition includes dozens of new articles and a thorough update to all its study features set in Zondervan's exclusive NIV Comfort Print® typeface.
* * *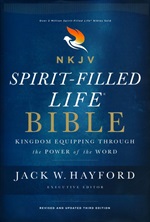 Encounter the power of the Word. Walk in the freedom God intends. Experience the Holy Spirit. The Spirit-Filled Life Bible provides a compelling look at Scripture and the work of the Holy Spirit – now in full-color with updated features. This best-selling Bible draws on the expertise of an expanded team of respected, Spirit-led scholars led by Pastor Jack Hayford.
* * *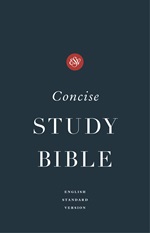 Inspired by the best-selling ESV Study Bible, the ESV Concise Study Bible allows you to enjoy the robust content of a study Bible in a concise and accessible format. The ESV Concise Study Bibleoffers fresh content for new believers and seasoned saints alike, explaining difficult phrases, defining key terms, identifying important people and places, and highlighting links between biblical passages.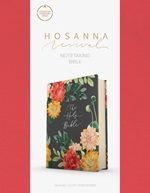 The CSB Notetaking Bible, Hosanna Revival Edition is designed in partnership with the creative team at Hosanna Revival. Each cover design is uniquely hand-painted and printed on cloth cover materials paired with a sewn binding and high-quality cream paper meant to record a lifetime of reflections, prayers, and insights.
* * *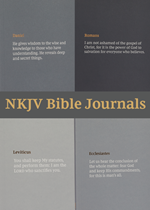 Go deeper in God's Word – one book at a time. The NKJV Journals provide a unique Scripture-engagement format with room to write your notes, reflections, and prayers. These journals are ideally suited for following a sermon series in church, participating in small group studies, and for individual devotion or study.