We read to know we are not alone," wrote William Nicholson in the play Shadowlands. Books bestow a special gift: seeing our pain, joy, and desire in another's story.
In a year of prolonged uncertainty and isolation, take the time to celebrate a loved one—your mother, father, or the graduate in your life—by giving a book and offering the opportunity for connection.
"For you, dear one, that you might know you are not alone."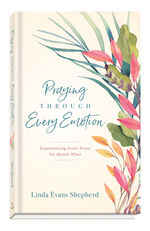 Linda Evans Shepherd
Topically arranged so you can go directly to your particular need, Praying through Every Emotion offers nearly seventy scripture-based prayers to help you change your perspective, heal your emotional wounds, and find yourself unburdened from cares and concerns.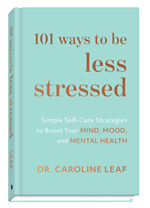 Dr. Caroline Leaf
Dr. Caroline Leaf reveals 101 simple and scientific ways to reduce stress in order to boost your mind, mood, and mental health. With these straightforward strategies for mental self-care, you can change the way you think—and change your life.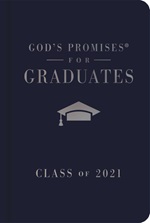 Jack Countryman
A favorite keepsake, the God's Promises for Graduates line of books is packed with inspiring, bite-sized Scriptures on topics new grads face, like perseverance, integrity, and friendships. Available in a variety of colors and biblical translations. Look for God's Promises for Graduates everywhere books are sold.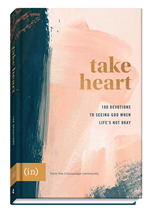 The (In)courage Community
In this 100-day devotional, the (in)courage community comes alongside you when your heart is grieving, your faith is shaking, or you're having one of those mundane hard days. You won't find tidy bows or trite quick fixes, just arrows pointing you straight to Jesus.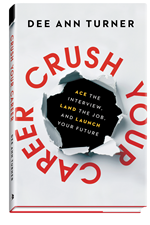 Dee Ann Turner
In a competitive job market, you need concrete, field-tested advice to help you ace the interview, land the job, and launch a career you love. Let Chick-fil-A's first female officer give you the insider tips you need to do just that.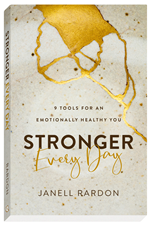 Janell Rardon
With inspiring Scriptures, quotes, prayers, personal stories, and case studies, Janell Rardon sets you on the path of emotional health so that you can be stronger than ever—every day.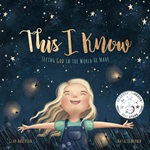 Clay Anderson
Join a family on an unforgettable road trip, as they witness the wonder of God's world in this beautiful children's book. The creation reveals its Creator, and confirms what the Bible tells us: Jesus loves me, this I know. Written in joyful rhyme with a Bible verse hidden on each page.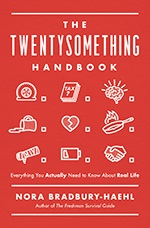 Nora Bradbury-Haehl
Send your new college graduate into the world fully equipped to handle life's challenges. Nora Bradbury-Haehl's essential go-to guide offers guidance for the practical aspects of life—work, food, money, a roof overhead—while at the same time addressing the hunger for meaning, connection, and purpose. This is a must read for all Twentysomethings.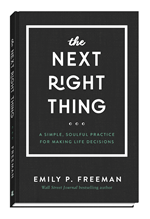 Emily P. Freeman
Whether you're in the midst of a major life transition or are weary of the low-grade anxiety that daily life can bring, Emily P. Freeman can help you clear the decision-making chaos, quiet the fear of choosing wrong, and find the courage to finally decide without regret or second-guessing.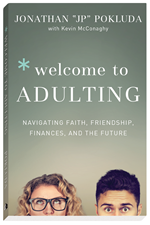 Jonathan "JP" Pokluda
Adulting is hard. But sometimes we make it harder than it has to be. Combining entertaining stories from his own experience, insights from the Bible, and compelling evidence from research, Jonathan "JP" Pokluda lays out a roadmap for how to navigate your life as an adult.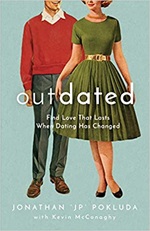 Jonathan "JP" Pokluda
Ready to date in a way that actually works? With plenty of true stories about relationships healed and love found, this practical book explains God's purposes for singleness, dating, and marriage and covers why you should date, who you should date, and how you should date.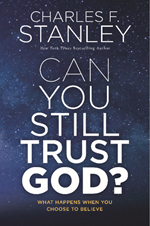 Charles Stanley
When painful trials, unmet needs, or lost dreams assail, do you wonder if God can still be trusted? What do you do when facing a challenge that seems insurmountable? Do you believe God can be trusted? In Can You Still Trust God?, Charles Stanley reveals three essential beliefs for trusting God through whatever you're going through and how to make it through to the other side.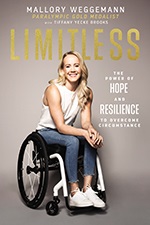 Mallory Weggemann
As a Paralympic gold-medalist and world champion swimmer, Mallory's commitment to excellence is rooted in her resolve to redefine limitations with grit & grace. Limitless proves that we have the capacity to face down whatever challenges and labels confront us—and to do so on our own terms.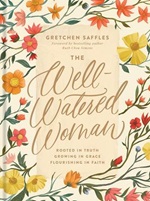 Gretchen Saffles
Discover the bottomless, refreshing Well of God's Word—and experience a fullness and peace beyond your circumstances. Using Scripture and her own personal story of surrender, Gretchen offers spiritually hungry women tangible tools to not only know Jesus more but to live a life that thoroughly enjoys him, seeks him, and follows him into freedom.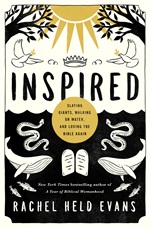 Rachel Held Evans
What do people mean when they say the Bible is inspired? Undaunted by the Bible's most difficult passages, Evans wrestles through Scripture's mysteries and discovers that it is not a static work but a living, captivating book that equips us to join God's loving and redemptive work in the world.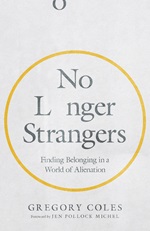 No Longer Strangers: Finding Belonging in a World of Alienation
Gregory Coles
Ever felt like you don't fit in, even within the church community? Greg Coles has felt the same way. In this relatable and winsome memoir, you'll find that even when you feel permanently out of place, true belonging can be found in Jesus. When we give up on belonging in order to follow him, we'll find ourselves belonging anyway.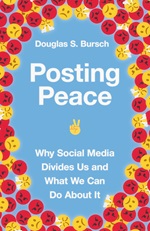 Posting Peace: Why Social Media Divides Us and What We Can Do About It
Douglas S. Bursch
Why is everyone so angry online? Pastor and former radio host Douglas Bursch provides a spiritual examination of why social media divides us and how Christians can address polarization through a ministry of peacemaking. Unpacking how technology radically changes our communication, Bursch offers practical examples of how to handle online conflict in redemptive ways.
The Preacher As Sermon: How Who You Are Shapes What They Hear
Steve Norman
As preachers, we spend hours in thoughtful study, observation, and reflection, in hopes of causing significant life change in our hearers. So it's easy to forget that we're meant to first be impacted by the message ourselves – that our preaching would be the natural overflow of our own spiritual transformation. Explore 10 specific roles we take on throughout the preaching process that help you cultivate a life that preaches.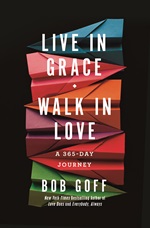 Bob Goff
Built on Bob Goff's trademark storytelling and unique way of helping us to see things in a new way, this 365-day devotional provides inspiring, unexpected, humble teachings on grace and love that will prepare you for the day ahead. This beautiful hardcover book also makes a great gift.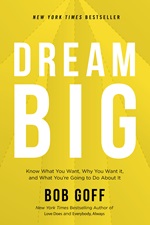 Bob Goff
Bob Goff is on a mission to help people capture the version of their lives they dreamed about before fear started calling the shots. In his revelatory yet utterly practical book, Bob takes readers on a life-proven journey to discover their dreams and turn them into reality.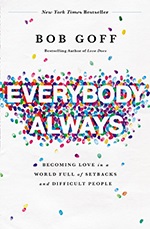 Bob Goff
Bob Goff takes readers on a life-altering journey into the secret of living without fear, care, constraint, or worry. Whether losing his shoes while skydiving solo or befriending a Ugandan witch doctor, Bob Goff steps into life with a no-limits embrace of others that is infectious yet extraordinarily ordinary .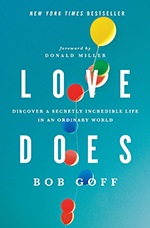 Bob Goff
Bob Goff believes a simple concept can shift your entire world. In Love Does, Goff challenges readers to stop focusing on having the "right answers" and to simply "do" love. Not the kind of love that stops at thoughts and feelings, but love that takes action.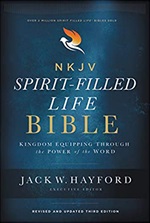 With over 2 million copies sold, the Spirit-Filled Life Bible continues to equip God's people to live in his kingdom, exercise gifts of the spirit, and lay hold of God's promises. This best-selling Bible draws on the expertise of an expanded team of respected, spirit-led scholars, led by Pastor Jack Hayford, founding pastor of The Church on the Way and chancellor of The King's University.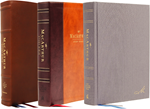 Drawing on more than 50 years of dedicated pastoral and scholarly work, Dr. John MacArthur's verse-by-verse study notes, book introductions, and articles display an unparalleled commitment to interpretive precision—with the goal of making God known through His Word. Over 2 million readers around the world have had their understanding of God's Word expanded by The MacArthur Study Bible. Now Available in NKJV, NASB, and ESV.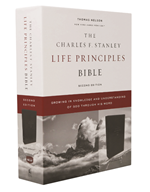 Charles Stanley Life Principles Bible
The Charles F. Stanley Life Principles Bible, with over a million sold, is designed to lead believers into a life-changing relationship with Jesus Christ. The updated second edition is the best way to experience this bestselling classic—with a completely new design featuring our easy-to-read Comfort Print typeface, 100 specially designed maps and charts, over 43,000 cross references and now available in NKJV, KJV, NIV and NASB.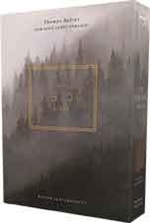 Abide Bible & Abide Bible Journals
Do you yearn for intimate communion with God? The Abide Bible is designed to help you experience just that by slowing down and developing Scripture-engagement habits. The Abide Bible Journals are a great resource for individuals or small groups to abide in God's truth one book at a time.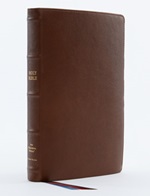 Combining lasting craftsmanship with the Word of God, these beautiful Bibles are crafted with European Bible paper, premium materials, elegant design, and printed with the exclusive Comfort Print typeface making it a heirloom-quality Bible that will last for years to come.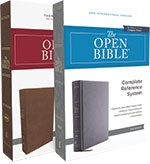 The Open Bible is the ultimate reference Bible drawing out the connections of Scripture with a time-tested robust reference system trusted and used by millions. Now offered in the NIV, you can deepen your knowledge and love of God with the most accessible and comprehensive Bible to date.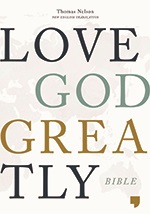 To love God is to know him, and the Bible is the best way to learn who he is. Using the proven SOAP Bible study framework—Scripture, Observation, Application, and Prayer—the Love God Greatly Bible helps you dig deeper into Scripture in an accessible and impactful way. Walk through each book with reading plans, encouraging articles, key verses, and thoughtful prompts. Plus, stay connected to and inspired by the global family of faith with over 60 personal testimonies from women around the world whose lives and communities have been transformed through their response to the God who loves them.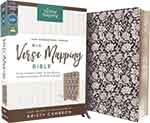 More than simply reading a verse or Scripture passage, verse mapping means using Bible study tools to research what you've just read in the Bible—to learn more about what God is saying to you and how you can apply his Word to your life today. In the NIV Verse Mapping Bible, author Kristy Cambron shows you how to compare Bible translations, pick out meaningful words, and delve into the true meaning of each verse using starter verse maps and prompts.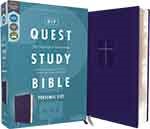 NIV Quest Study Bible, Personal Size
Get answers to the Bible questions you have... and questions you haven't yet pondered! The NIV Quest Study Bible features over 7,000 notes written in an engaging question and answer format that give insight into the common, uncommon, and sometimes perplexing passages from the Bible. The only question and answer Bible is now available in an easy-to-carry personal size, with exclusive Zondervan NIV Comfort Print for smooth reading.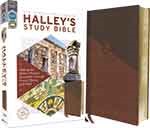 With content gleaned from the Halley's Bible Handbook—the bestselling Bible handbook of all time—the NIV Halley's Study Bible makes the Bible accessible to you through articles, study notes, charts, maps, and photos next to related Scripture.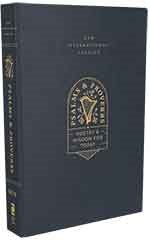 This special edition of the Psalms and Proverbs is a beautiful and engaging compilation of these beloved books of the Bible, laid out in a classic, timeless design to highlight the beauty of biblical poetry. Using the accurate, readable, and clear New International Version (NIV), each book is set in the exclusive Zondervan NIV Comfort Print typeface for a smooth and enjoyable reading experience.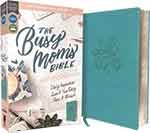 The NIV Busy Mom's Bible is a compact, go-anywhere Comfort Print Bible that gives you inspirational reading during the course of your day. Designed for moms on-the-go, it helps you stay connected with God—and gives you a moment to reflect on yourself. Devotional thoughts are written specifically for you, the busy mom, and cover topics from your kids to your marriage to your identity in Christ.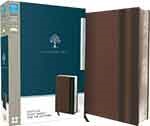 The NIV Student Bible is specifically designed to help readers understand and navigate the Bible text with tools like the Subject Guide, Highlights and Insights, and 3-Track reading plan. In the Guided Tour, author Philip Yancey takes readers on a journey through the Bible, highlighting important passages that show how the Bible is connected from Genesis all the way to Revelation.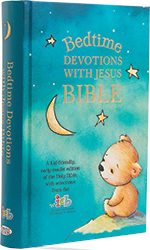 Introduce your child to the good news of Jesus Christ with Bibles specifically made for little ones! Available in NKJV, KJV, & ICB translations, these beautifully designed Bibles are created with age-appropriate tools to help early readers interact with Scripture.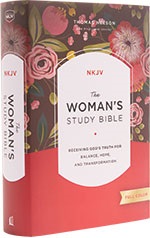 The Woman's Study Bible is the best-selling, full-color Bible written for women by women. With contributions from over 80 women from a wide variety of ethnic, denominational, and occupational backgrounds. The Woman's Study Bible poignantly reveals the Word of God to women, inviting them to receive God's truth for balance, hope, and transformation.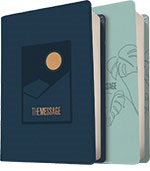 Mother's Day, Graduation, Father's Day. Important opportunities to bless someone with a memorable gift of God's Word. The Message Deluxe Gift Bible is a beautiful reading Bible now available in regular and large print. Choose your favorite cover for your loved one or a new believer.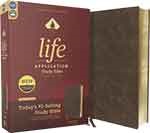 NIV Life Application Study Bible
Study the stories and teachings of the Bible with verse-by-verse commentary. Gain wisdom from people in the Bible by exploring their accomplishments and learning from their mistakes. Survey the big picture of each book through overviews, vital statistics, outlines, and timelines, and grasp difficult concepts using in-text maps, charts, and diagrams.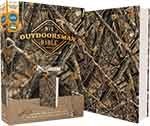 With a field-ready Lost Camo cover, the NIV Outdoorsman Bible conveniently lays flat when open. This frees your hands to stay on your gear without losing your place in a favorite Bible passage. The outdoor-themed articles inspire spiritual reflection and give you something meaningful to discuss when it's time to regroup with your hunting party back at camp.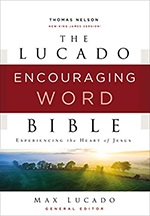 We are all living in challenging times, discouragement is everywhere. The Lucado Encouraging Word Bible strengthens believers along their journey with the Lord. His warm, conversational style in the marginal notes, short articles, and study tools meet you where you are, providing encouragement and insight. The Encouraging Word Bible will speak to you with Max's gentle yet powerful tone.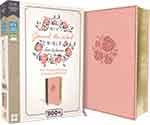 NIV Journal the Word Bible for Women
The NIV Journal the Word Bible for Women guides you through God's precious Word with reflections and thought-provoking questions placed beside Scripture. Explore God's Word for you and express your heart in the wide margins of this journaling Bible with room for responses, journaling, and artistic expression.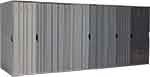 The NKJV Bible Journals—handy journaling paperbacks ideal for personal or group study—are available in 45 volumes spanning Genesis to Revelation. Each journal includes individual book introductions and a single-column Scripture layout with a full page of light journaling lines opposite each page of Scripture.