In the beginning, God conducted a perfect orchestra.
At least, that's how Philip Ryken, the president of Wheaton College, sees it.
"The story of redemption as told in the Scriptures is told as a musical," Ryken says. "It's not merely a drama, but a musical, from the moments when the morning stars sang together at creation to the Song of Moses and the Lamb. Key turning points in redemptive history call for a song. So, it's not enough for God simply to do saving things. It's not enough for him to be said as doing saving things, but actually to be celebrated as doing saving things through the arts."
Scripture refers to God as Author, Sculptor, Gardener, Craftsman, and Designer, Ryken observes. In Exodus, the Spirit of God equips craftsmen to make artistic works. The prophets tell us that God sings over his people, initiating a call-and-response as the created echo back the melodies of the Creator. The instructions God gives for constructing the temple brim with precision and beauty, beckoning skilled craftspeople to build, engrave, and decorate. And in Revelation, songs rise in worship to the One who is finally beheld face to face.
And yet, it's easy to lose sight of the role of beauty and excellent craftsmanship, reducing the arts to superfluous indulgences. But Christians are called to draw from the well of Scripture when it comes to their perspective on what is valuable, and the Bible's opinion on the arts lands far closer to lifeblood than luxury.
Leaders in Christian higher education institutions across America are taking up this charge, positioning the arts as vital to the college experience. Through curricula, financial investments, student life activities, and more, Christian colleges and universities have set out to form students who recognize the arts as a way to understand God and his world.
Beckoned to Beauty
At Wheaton College, Christians are working out what it means to live in light of God's love for craft and creativity. Instead of sidelining the arts as something to fund if there are extra resources, they have spent much of the past ten years investing in the arts, culminating in the completion of the Armerding Center for Music and the Arts. This $60-million complex for arts and performance features a 648-seat concert hall with excellent acoustics, a studio for student dance groups, and offices for Wheaton's Community School of the Arts—because, they say, their faith compels them to do no less.
Underscoring this significant investment is the "Year of the Arts, Faith, and Imagination," an interdisciplinary campus-wide celebration spanning the 2021–2022 academic year.
While the new Armerding Center for Music and the Arts is the college's most significant investment in the arts in its 161-year history, it does not represent a new agenda but rather a renewal of their commitment to the arts. In fact, the college has a strong musical tradition: the Conservatory of Music currently features nine ensembles ranging from concert choir to symphony orchestra, historically vital components of the Wheaton College community.
When Wheaton College was founded in 1860, one of the original eight faculty members was a professor of sacred music. Michael Wilder, dean of the conservatory of music and division of arts and communication at Wheaton College, points to this as a testament to Wheaton's prioritization of the arts. But this commitment isn't only for academic enrichment; it represents a theological belief about what God has called each of his children to do.
"As it relates to eternity, we're told with clarity: 'You are a musical creature,'" says Wilder. Wilder and his colleagues seek to cultivate campus culture in which that eternal view shapes everyday, earthly life. In keeping with that approach, Wheaton has long turned outward, inviting musicians and dancers to participate in the Wheaton College Artist Series—the county's oldest performing arts series.
"We've been making a significant investment in the arts for the past 10 to 15 years," Ryken says, citing a complete renovation of Adams Hall, home to Wheaton's art department. Under the President's Art Commission, established in 2010, Wheaton has installed collections of visual art, paintings, and a mosaic.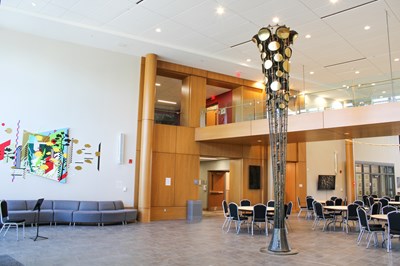 Most recently, Wheaton installed a 17.5-foot-tall brass sculpture in the atrium of the Armerding Center. Created by Romanian artist Liviu Mocan, the sculpture is one of five created to reflect the five solas. The sculptures were displayed at the 800-year-old Great St. Mary's Church in Cambridge in celebration of the 500th anniversary of the Reformation. And then, "Trumpet in the Universe," which represents destiny and soli Deo gloria, came to the Armerding Center through what Wilder describes as "a long and beautiful story" that leads him to feel that God always had Wheaton College in mind as the sculpture's home. At the base of the sculpture are a dozen inscriptions honoring the arts, sciences, and theology, which serve as the heartbeat of a Wheaton College Christian liberal arts education. Spheres and round plates shoot up from the peak of the sculpture, evoking everything from subatomic particles to planets.
When Wilder looks at the enormous sculpture and its juxtaposed intricacies, he sees a symbol of God's simultaneous focus on the universe in its entirety and attention to the smallest details of individual lives. For him, the sculpture beckons all who see it to create art that joins "in this statement of God's glory, of his creation, and of each of our not only personal destinies but the destiny of all humankind as redeemed by God."
Diverse Expressions
Wheaton College isn't alone in its emphasis on the arts. Just a few hours away in Grand Rapids, Michigan, Calvin University is facilitating creative conversations. One of their primary efforts to engage the world of the arts is the Festival of Faith & Writing, which began in 1990. For Jennifer L. Holberg, codirector of the festival and professor and chair of the English department at Calvin, to engage with the arts is to engage with the story God has written.
"God's first recorded act is creation," says Holberg. "A 'theology of making,' as Makoto Fujimura has termed it, is central to both the God we worship and our own sense of ourselves and our work. God makes things that are declared 'good,' and as we image God, we too are called to make good things." Holberg goes on to argue that we are to make and even offer criticism on what is made. "We live in a world that, for better and for worse, is deeply influenced by narratives all around us. So the way we engage with story is profoundly theological."
The Festival of Faith & Writing invites thousands of people into such engagement, enjoyment, and critique. During what Holberg describes as "an absolute feast" for attendees, the three-day festival hosts a wide range of diverse speakers who lead attendees in thoughtful reflection through a variety of mediums, including readings, discussions, concerts, films, and plays. Through initiatives that include a publishing institute, short films, and community events, the Calvin Center for Faith & Writing endeavors "to create spaces wherein people from many faith traditions are welcomed warmly, listened to with respect and generosity, and inspired to deeper engagement with the common good."
As Wheaton College shines at investments that celebrate the arts, and Calvin University excels in artistic hospitality and conversation, Pepperdine University in Malibu, California, is a bastion of critical thinking about the arts. Pepperdine's Seaver College, home to the school's fine arts division, offers undergraduate programs in art, art history, music, theatre arts, and theatre and screen arts. "Our unique programs are designed to prepare and inspire our students as we nurture creativity, develop critical thinking, and create the highest level of art and scholarship," says Bradley Griffin, divisional dean of fine arts at Pepperdine.
The fine arts department regularly hosts lectures led by artists who are excelling in their mediums and who prompt students to think more maturely about the arts. Fine arts students are encouraged to study internationally, leading many to take courses in Florence, Italy, or through Studio Art Centers International. Theatre majors are taught to study their texts deeply, learning the intricate details that compose a character, story, and performance. Thanks to the school's proximity to Hollywood, students can see state-of-the-art productions and learn from collaborative discussions that prepare them to engage the world of the arts as professionals.
Whether in a practice room in the Armerding Center at Wheaton, a festival workshop at Calvin, or a lecture with a multimedia artist at Pepperdine, students at Christian colleges and universities are being formed by a serious, loving, and joyful approach to the arts.
A Place to Prepare
These trends toward the arts cast a hopeful vision for faithful engagement. As Christian higher education institutions lead the way in weaving together faith and art—positing that a life devoted to God and a life of creating with excellence honor God's vision for the world—they are training students to celebrate God's beauty by reflecting it in their own work.
For those who study music or art, a creative career or professional performance may be their path after graduation. But others will find themselves interested in further education, teaching, business, or other creative expressions. Regardless, the skills, worldview, and knowledge gained during their undergraduate program propel them and the church forward. And, perhaps most importantly, an education that values the arts serves as an anchor to their faith—one that connects them to a God who created them to be creators.
Through instruments and voices, visual art and classroom debates, faculty and students at Christian colleges are rehearsing for the day when the curtain will close on their earthly lives. For it is then they will stand before the greatest Artist of all, worshiping him through music, dance, and all forms of beauty imagined from the beginning.