Pastor's Library
Access the complete Leadership Journal archives. Containing over 35 years of issues. These archives contain a trove of pastoral wisdom, leadership skills, and encouragement for your calling.
What it takes to make a whole new life.
Spring 2005: Bridging Barriers
Volume 26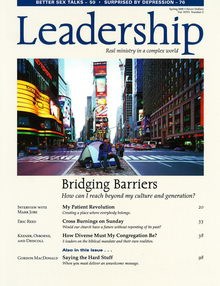 Subscribe to Christianity Today and get access to this issue and the entire CT Pastors archive.
10 award-winning print issues
PDFs of each issue
Full web access to ChristianityToday.com
60+ years of magazine archives
In this Issue
Features
Parse
Commentary
Toolkit
Bonus Article
Subscribe to Christianity Today and get 2 special issues from CT Pastors each year plus instant access to the digital archives.