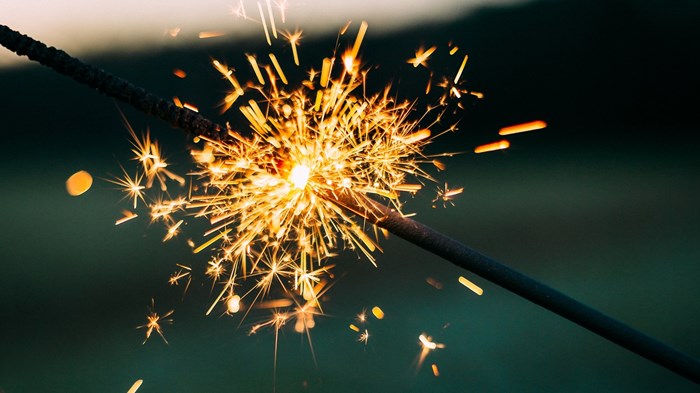 Image: Leonard von Bibra / Unsplash
New Year's Day, as we know it on January 1, wasn't adopted until in 1752. At that time, Puritans eschewed New Year's celebrations. Rather, they encouraged their children to meditate on the year past and the one to come. And one Puritan in particular took to making resolutions. Resolutions, and a determined ability to keep them, fashioned the character of the leading pastor and promoter of America's First Great Awakening. And, according to his biographer George Marsden, his revivalism helped to shape America as an independent country.
Jonathan Edwards made resolutions throughout his life, but it's a list he made after graduating from Yale that has earned the awe of admirers for the past three centuries. "Resolved, to study the Scriptures so steadily, constantly, and frequently, as that I may find, and plainly perceive myself to grow in the knowledge of the same." Nothing was so trivial that Edwards couldn't work to improve it. "Resolved, to maintain the strictest temperance in eating and drinking." There are 70 resolutions in all, which Edwards regularly reviewed and strictly kept.
His constant sharpening of his character, introspection, and honesty enabled Edwards to become one of America's most influential theologians. "He remains a looming presence in the American heritage," Marsden writes. "For a century after his participation in the great revivals of the 1730s and 1740s, he exerted an immense influence on American theology and church life. He and his works were the fountainhead of a movement that sought to shape the new nation according to the principles of Calvinist revivalism." Nearly 150 years after his death, Mark Twain bothered to call him "a resplendent intellect gone mad." Like him or not, Edwards has been a force to be reckoned with in American religion.
More than simply the preacher who stirred emotions in "Sinners in the Hands of an Angry God," Edwards held a vision of a loving, sovereign God.
Edwards did all this, writes Marsden in his biography, without ever writing what he hoped would be his magnum opus, A History of the Work of Redemption. As a full-time pastor of the church in Northampton, Massachusetts, and the frontier missionary church in Stockbridge, his resolutions brought about the habits that led to his amazing productivity as a theologian and pastor. "Resolved, never to lose one moment of time, but improve it the most profitable way I possibly can."
Hard Times
But Edwards's disciplines not only brought him success as a theologian, they brought him conflict and hardship as a pastor. In 1749, Edwards published An Humble Inquiry into the Rules of the Word of God, Concerning the Qualifications Requisite to … Full Communion. In it, Edwards set out his Communion views, which were becoming increasingly opposed to the views the congregation had been accustomed to since Edwards's grandfather pastored the church. "The book took aim at his grandfather's open Communion doctrine and at any notion of church membership that did not restrict itself to 'such as are in profession and in the eye of the church's Christian judgment godly or gracious persons,'" according to Allen Guelzo.
Edwards was reacting to the excesses of the Great Awakening, which he helped to promote through his writing and preaching. However much Edwards approved of the massive revival, he could not approve of many of its fantastic episodes. "The people were exceedingly moved, crying out in great numbers in the meetinghouse," Edwards wrote. "There were some instances of persons lying in a trance, remaining for perhaps a whole twenty-four hours motionless." In addition, "a great deal of caution and pains were found necessary to keep people, many of them, from running wild."
Not only were excited believers having fits in church, some were opposing their own pastors, calling into question their salvation. Soon, the Awakening earned many opponents, and Edwards was put in the position of defending the revival while condemning its excesses. Later, Edwards also regretted the lack of true spiritual growth among those for whom the Awakening had most enlivened. Eventually, he found his congregation increasingly worldly, while he could do nothing to enforce standards of Christian behavior.
So Edwards, who began his pastorate only slightly uncomfortable with his grandfather's policy of open Communion, began encouraging the Northampton congregation to abandon their long-held approach to church membership. An Humble Inquiry was supposed to provide a convincing argument. But the status-seeking Northamptonites would have none of Edwards's plan to exclude anyone from church membership, or anyone's babies from baptism.
Closer to God
Not a personable pastor, Edwards could not muster the loyalty among his congregation to approve the idea. Not politically adept, Edwards introduced the plan after he had fought with the church over his salary, mishandled a discipline issue, and was losing regional influence as many contemporaries abandoned Edwards's brand of Calvinist revivalism inherited from their Puritan forbearers. During the controversy, congregants accused Edwards of many things, but he was able to earn grudging respect years later for having acted upon his principles, rather than in his own interest. And through it all, he found the Christian life to be joyful. His resolution to "act so as I think I shall judge would have been best, and most prudent, when I come into the future world" served him well—even though it meant financial ruin in this world.
But it was those principles, formed in part by his resolutions, that made Edwards the theologian whose works continue to be widely read. While most people today resolve to lose weight or earn a promotion, the new year can be a time for each of us believers to resolve with Edwards "to renew the dedication of myself to God."
Rob Moll is associate editor of Christianity Today.
To see more of Edwards resolutions, read "70 Effective Resolutions" by Eric Reed.
To respond to this newsletter, write to Newsletter@LeadershipJournal.net.