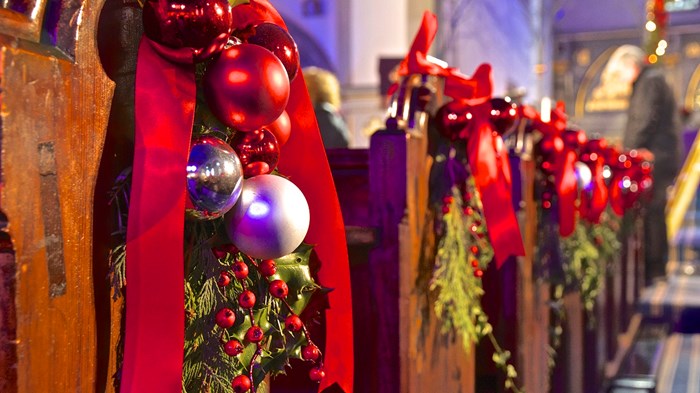 Image: PoppyPixels / Getty
A pastor-friend of mine calls them "Chreasters," those people who come to church only at Christmas and Easter. He is wistful about that sizeable segment of the congregation he sees only on Christmas Eve and maybe Good Friday. Why pull out all the stops for people who give only nodding recognition to the Almighty on the holiest of days? After you've done that a dozen or two years in a row to little visible effect, it is easy to become cynical about the value of your ministry to the holiday-only crowd.
Every year at this time, I remember a story told at least annually by Lula, an older woman in our New Orleans congregation. More than 40 years ago, she was new in town, a poor young mother with four children. She and her husband barely scraped together the rent on the lot where their small trailer sat. The husband developed a reputation through the years as a difficult man, but he never prevented her from going to church. It was her only escape.
A few times in that first year after she arrived in our city, she brought the children to church. They sat in the balcony. She says she didn't fit in. Back then, ours was a well-to-do church, and she lived in a trailer on the other side of the canal. But it was the nearest church on the bus line.
On Christmas Eve, she bundled them up and they came to church once more. She didn't know what she was looking for, she said. The music was nice, and she welcomed a few minutes of quiet in her troubled life.
Then, something happened.
This tiny woman who felt so lost and insignificant in a large city far from home found a place for herself at the manger. "It was as if God turned on a light switch in my heart," she'd say, describing her realization that Christ was born to be not only the Savior of the whole world, but her Savior, too. "That's when I believed. Christmas Eve, right up there," she'd say, pointing to the balcony seat 40 feet from her regular third-row pew. She became for us "Miz Lu," the director of our weekday preschool, surrogate mother to hundreds of children across the years, our own tiny Mother Teresa embodying Christ's love to a needy community.
I wondered sometimes about the pastor who preached that Christmas Eve service. Had he tired of the holy trudge from Advent to Epiphany? I would understand if this preacher had grown weary of the listless crowds who punctured the silent night with their scuffling feet and snuffling noses, knowing that after Christmas most of them would disappear for another year like Brigadoon on a short schedule.
Did he struggle as I have trying to find a new angle on the Christmas story? After recounting it from Mary's vantage point—and that of Joseph, the shepherds, angels, and Magi—did he consider Herod or the camels? A camel's eye view of Bethlehem. Did he resort to extra-biblical characters, like the innkeeper or the innkeeper's wife? Did he conduct extensive word studies on "betrothed" or attempt to prove with astronomic timetables the arrival of a large comet in 4 B.C.? Or did he simply tell the old, old story, knowing it is still the best?
My predecessor who pastored that church in the 1960s couldn't have known that one little woman, converted there on Christmas Eve, would have such spiritual impact on generations. But did he have hope for one salvation? If so, how did he handle it? Perhaps, like a pastor-friend of mine a couple of years ago, he literally paced his office wringing his hands when he learned that someone who had never heard the gospel would be in the audience. ("This may be my only shot to lead them to faith in Christ," my friend said.) Or perhaps he realized that this was just one of many exposures to the gospel God had planned.
On Good Friday three years ago, I had my own "Miz Lu" experience. I was invited to preach at the special service, but, I must admit, I wondered to what effect. I questioned whether anyone would attend, and surely those who did would know the passion account as well as I.
Shortly after Easter, one man shared good news with the pastor: at the Good Friday service, he committed his life to Christ. "I forgot my glasses, and since I couldn't see anything, there was nothing for me to do but listen to the sermon." He told how a particular line challenged him, and in that blurry hour, Christ's sacrifice on his behalf became clear. A couple of months later he was baptized, and the man and his wife became active in congregational life, eventually led children's ministry, and now, relocated to a new city, are still following Christ.
I will preach many holiday seasons on the fuel of that report. I won't fret the transient nature of the audience or the weight of the opportunity. I'll tell the old, old story, plainly and simply, and pray for God to turn on the light.
Eric Reed is managing editor of Leadership and continues to serve interim pastorates in the Chicago area.