Finding Your Own Preaching Voice
Lawrence E. Aker III discusses learning from mentors while discovering your own style.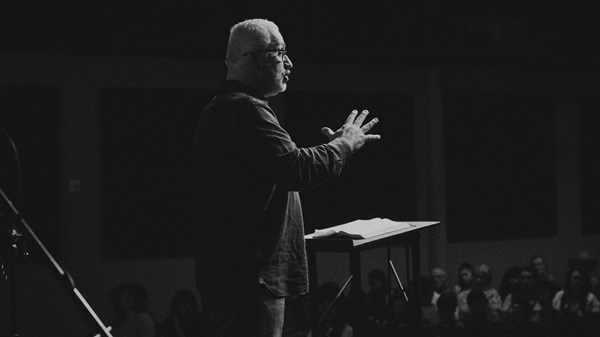 Finding Your Own Preaching Voice
Lawrence E. Aker III, senior pastor at the Cornerstone Baptist Church in Brooklyn, New York, followed in the footsteps of two larger-than-life preachers. His predecessors, Dr. Sandy F. Ray and Dr. Harry S. Wright (who pastored at Cornerstone for a combined 56 years) were both living legends of powerful African-American preaching. Dr. Ray also opened the pulpit to an energetic young preacher who was often passing through town—Dr. Martin Luther King, Jr. In the midst of this rich legacy of great preachers, Lawrence is learning what it means to find his own voice as a preacher.
How would you define what it means "to find your own voice" as a preacher?
After I had preached one Sunday, a colleague came up to me and said, "Congratulations, Lawrence!" I said, "Thanks, but for what?" He replied, "I think you've finally found your own voice."
To me that implied that I'd finally found the freedom, power, and authority to let the Holy Spirit use me. It meant that I finally felt comfortable in my own skin as a preacher. I had learned so much from other preachers—especially my predecessors—but now I wasn't just mimicking someone else.
What did your mentor Dr. Wright do to help you find your own voice?
He never wanted me just to mimic his voice. For instance, I distinctly remember what he said to me during our final time together before my transition from pastor-elect to senior pastor: "Lawrence, this is your ship now. So let Sunday morning be your joy. Let that preaching hour block everything else out. Regardless of what you've been facing or what you will face next week, let your sermon be a time of renewal. Just stand in the pulpit and let God use you for that ...
You have reached the end of this Article Preview

01/16/2013