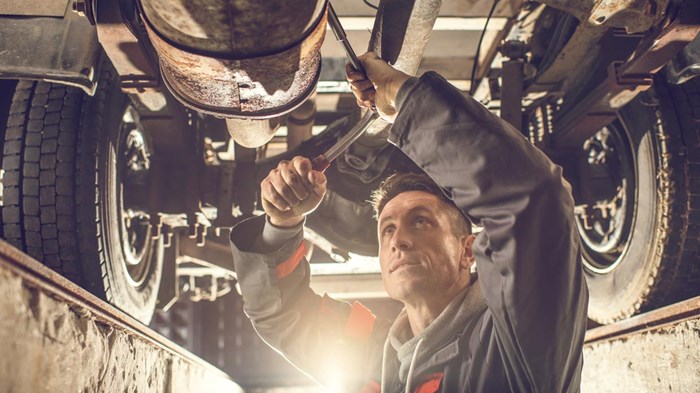 Image: BraunS/iStock
Years ago, I read John Stott's book, Between Two Worlds. Chuck Swindoll had recommended the volume to a group of pastors, and in the eyes of this 23-year-old pastor, a book recommendation from Swindoll was required reading. Stott's vision of preaching shaped my understanding of pastoral ministry and has stuck with me through the years.
The job of the preacher, Stott argues, is to form a bridge between world of the biblical text and the contemporary world. In order to accomplish this, the preacher must simultaneously exegete both worlds, trusting that "God will still speak through what he has already spoken."
Yet as I quickly discovered, exegeting the contemporary world—especially the diverse workplaces that Christians inhabit every day—is no easy task. Should a pastor be expected to be conversant with car sales or urban planning? I have repeatedly heard pastors confess that they are intimidated by the complexities of the work world of their congregants. It is much safer to stick to the world of the biblical text that never changes. The pastoral challenge to bridge the worlds of Scripture and work is not for the faint-hearted.
Recently, I've had the privilege of interviewing dozens of pastors striving to help Christians connect their faith and work. Here are a couple of their stories that have taught me lessons about bridging the Sunday to Monday gap.
Rediscovered vision
Roy Inzunza works as a corporate chaplain serving the 500 employees at Hoehn Motors in Carlsbad, California. Roy is constantly on the move, engaging the employees in their workspaces. This requires additional skills to the ones he acquired in seminary. Life and death crises are central to the work of hospital and military chaplains. But the work of corporate chaplains focuses more on serving people in the midst of their day-to-day work challenges. When I asked Roy to describe some of the issues he encounters on a regular basis, he listed the following: sales pressures, anxiety attacks, marriage and childrearing challenges, personal finance problems, and forgiving co-workers or family members.
Should we expect pastors to be conversant with car sales and urban planning?
One story stood out during my interview with Roy. It was a story about Tim, a technician with a gruff demeanor. Tim described himself as spiritual but not religious. He largely ignored Roy as he made his weekly rounds, but recently things started to change. Upon returning from a medical leave, Tim became more open to talking with Roy. During his time off, Tim did some thinking about the passion that first led him to pursue his work as a technician. He realized he began his career wanting to make the world a better place by being a mechanic that customers could trust to provide quality car care with honesty. "Somewhere along the line," Tim explained to Roy, "I got off track and fixated on simply trying to make more money."
Tim wanted to change—to return to the passion for his work he had at first. But since returning to work, Tim had struggled to counter some of his habits that go against the grain of his rediscovered values, so he sought Roy's counsel. The first step: he wanted to erase the distance he'd created between himself and his co-workers. "I want to send out positive energy at my workplace, and I want to make this world a better place," he told Roy, "and it begins with how I treat those around me." But change didn't come easily. Over the course of many conversations, Roy helped Tim change the way he spoke to coworkers and helped him get in touch with that 18-year-old who saw his work as a way of serving others. "You have influence and a strong voice," Roy told him, "and you can be an instrument of change in your work context."
A lot of Roy's time is spent in similar conversations. This personal contact is foundational for his work as it allows him to enter into the experiences that affect people's work and well-being. The latter is of particular importance to Roy, who sees his role as helping people get in touch with their inner lives—with who God has created them to be. Roy's presence touches their humanity in the midst of the stresses and joys of work. Roy has had such a profound impact; employees actually get upset when he misses his weekly visit to their worksite. Roy's story showed me the importance of a regular pastoral presence with people in their daily work contexts.
Fresh approaches
Tyler Johnson is the pastor of Redemption Church in Arizona. His role involves giving vision to pastors who serve the six Redemption Church congregations throughout Arizona. He sees the role of the pastor as helping lead people to live under the Lordship of Jesus in all aspects of life, especially through their work. To accomplish this mission, Tyler tries to create church gatherings to equip Christians for their work in various sectors of society. He stresses that workplaces are frontiers for God's mission in the world.
There are many stories of how Redemption Church is seeking to help people think differently about their vocation. A barista at a coffee shop, for example, was challenged by a pastor to imagine how something as simple as her latte art can bring her a sense of fulfillment while bringing delight to her customers. At the congregational level, one of the Redemption Church pastors concluded a sermon by challenging those present to write a thank you letter to their neighborhood garbage collector. He wanted the church to affirm the positive contributions this largely thankless job makes to their lives. This past spring the church took up the topic of "Faith and Food." The pastoral staff assembled a panel with people from a variety of food-related vocations to discuss the ways Christians should think about their food choices, from food production to consumption. The panel included an urban farmer, a chef, and a registered dietitian who each spoke out of their expertise. The event included a presentation by a representative from mealmatch.com, an Arizona-based organization working to end hunger around the world.
By enlisting the expertise of people in their own congregation, the pastors at Redemption Church affirmed the vocational work of those parishioners while simultaneously helping educate the entire congregation on the complex issues surrounding the sustainability, nutrition, and justice bound up in everyday food choices. Redemption Church's practices show a variety of ways in which creative approaches to church gatherings can foster a vision that bridges the gap between faith, culture and work.
Bridging the gap
One of the first things that Tyler teaches the pastors at Redemption Church is the need to know their role and limits. Congregations don't need pastors to be experts in software development, real estate, or social work. What they need is for pastors to engage them in a conversation that will bring biblical knowledge to bear on work matters. Leadership requires serving people by beginning a conversation where each person plays the role of teacher and learner.
People don't need pastors to be experts in everything. They need them to bring biblical knowledge to bear on work matters.
Roy taught me that space matters as well. A pastor's willingness to meet congregants at their place of employment during the workweek makes a strong statement about the significance of the congregation's work. If congregants are willing, the pastor should attempt to meet at their worksites instead of the church. As Roy explains, "This can be a reminder that God is not only the Lord of Scripture but the Lord of contemporary worlds of work as well." God's mission extends to each of the various vocational callings of his people.
The best way to begin entering into the work world of others is to be intensely curious by engaging them with open-ended questions. When I asked Roy how he begins conversations with employees, he responded with some basic questions: "How's the work day going? How did that meeting you told me about work out?"
"These types of questions are safe to ask," Roy said. "They convey to the person that you're interested in their work ... and so is God." If he is introduced to someone new and needs to build rapport, broader questions like, "What do you do for work? How long have you been doing it? What's it like for you?" are a good place to begin. As trust is built over time, the conversations often evolve to include problems they face at work and the difficulties they have with integrating work and faith.
The stories of Roy and Tyler are helpful models for pastors seeking to help Christians approach their work as part of God's mission in this world. We can give a fresh vision for God's mission in this world if we rethink how church structures, staff, and programs can better equip congregants for their work. For some this might mean regularly visiting their congregants' at their places of work, or perhaps even devoting a staff member to serve as a corporate chaplain. For others, it might involve reconfiguring missions and devoting as much energy towards serving Christians in their workplaces as we do to overseas missions. Whatever approach we take, it is important that we find fresh ways to serve congregations by bridging the gap between the world of Scripture and the world of work.
Cory B. Willson is a PhD candidate at Fuller Theological Seminary and editor of Evangelical Interfaith Dialogue journal.