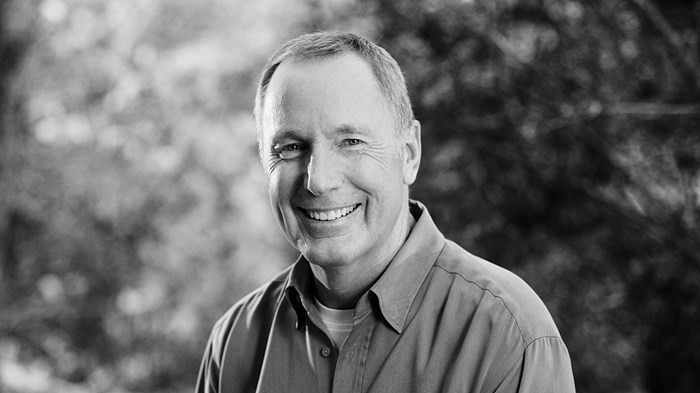 When you're Max Lucado, everyone asks you to pray. At church. At parties. At sporting events and birthdays and reunions and open houses. If you lead a church, you know the feeling. Most people think of prayer as a solitary act, but for you, it's much more. It involves standing before others and addressing God on their behalf. It means giving voice to the needs and desires of an entire community. In his latest book, Before Amen (Nelson) Lucado shares his thoughts on the "power of a simple prayer." We wanted to know what he's learned about praying in public and leading others in prayer.
What does a good prayer do?
A prayer is simply an honest conversation with God. A good prayer creates a sense of communion between the one who prays and the One who hears the prayer. At our core we're afraid of being left alone. Ever since Adam and Eve hid in the bush, we've all battled with this sense of distance between us and God. So a good prayer reestablishes a sense of communion with God. We know we're not alone.
In your latest book, you confess to being a "prayer wimp." How can you acknowledge shortcomings in this area without losing credibility in the eyes of the people you lead?
People often assume that all church leaders have really solid prayer lives. So it's encouraging any time leaders can acknowledge they struggle in this area. And certainly I do.
Some days are very busy. I'm in the middle of one right now. I got in early this morning from a trip that was delayed. I had trouble getting out of bed on time. Then I remembered my daughter was using my car, and I had to arrange for somebody to bring me to the office. I got off to a rocky start. I'd love to say I get up early each day and have a good, long prayer time. But I don't. And on the days that I don't, that's okay.
But it's a balancing act. While I admit that I'm a prayer wimp, I also say I'm a recovering one. I'm making progress. We leaders can communicate that we are struggling in areas of our life but we're working on them too. We don't want to pull the church down into our failures. What is healthy for a church, for a group, is for the leader to say, "Yes, I struggle with this too. Here's what I've learned."
How do you pray publicly in a way that's helpful to listeners? Does praying in public change the way you pray?
Yes, it does. To pray on behalf of others is a huge privilege we have as pastors. What an honor to stand before them in God's name and ask God to bless and encourage and strengthen his people. When we get to heaven, we may find that was the best part of everything we ever did.
To pray on behalf of others is a huge privilege. When we get to heaven, we may find that was the best thing we ever did.
It also gives us the chance to model sincere prayer. Jesus was really hard on those religious leaders who made theater out of their prayers. We have an opportunity to model honest, heartfelt prayer. May the Lord deliver us from using those prayers as a time to showcase our own spirituality.
Every weekend I say, "Lord, forgive the one who speaks. His sins are many." I do that genuinely. And through the years, people have said, "The fact that you're willing to acknowledge that before you preach makes me more willing to listen as you preach."
We all have times when we're not feeling very spiritual or we're downright discouraged. What's the appropriate way to pray for others when you're in that place?
I became a Christian when I was in college, and I began attending church. I was so surprised when the minister began a sermon one day by praying, "Lord, I don't feel very religious today. It's been a hard week. But if you can use me to encourage this church, I'd really appreciate it." That was profound for me to hear as a young man. I didn't know that was permitted.
No preacher feels strong and righteous every Sunday. For that pastor to acknowledge that endeared him to me. And I believe it was the appropriate way for him to handle his emotions. I've done that a few times over the years.
To be honest, I love preaching. And so when I stand up to preach, I'm usually pretty enthused, because of all the parts of church leadership, that's the part I like the most. But there have been times when I've said, "Lord, you've got to help me today, for whatever reason, I'm not firing on all cylinders."
Are there common mistakes you see pastors making with public prayer?
It's always a mistake to try to impress people with your knowledge or your eloquence in prayer. I just don't see that there's ever a time to use prayer for self-promotion. And people have a keen sense for hypocrisy from a church leader. They sniff it out. It really discredits a minister when he or she uses prayer, of all things, as a time to display their spirituality.
What we can do is model the earnestness of prayer, the genuine importance of prayer. When prayer is honest and genuine, it is worth a hundred sermons on prayer. Prayer doesn't need to be long, but it needs to be sincere.
Can prayer serve a similar function as preaching? To not only communicate with God but also to convey something about him?
Many of the psalms declare the characteristics of God. They declare his holiness, faithfulness, and recount how he led the children of Israel out of captivity. So yes, there is a place for that in prayer.
We have a leader in our church who, when he prays, often restates the characteristics of God. At first I reacted against that: Why is he saying, "God, you are faithful. God, you are good. God, you are kind."? Just get to the requests. But now I think he's onto something. We need to be reminded of God's characteristics. "Our Father, who art in heaven, hallowed by thy name," Jesus taught us to pray. What we're doing there is we're declaring. Our prayer isn't making God more hallowed or more holy. We're just declaring that for our own hearts, and I think we're declaring that in the presence of the devil. The devil needs to know that we believe God is holy, and that we're aligning ourselves with him. So I think there is a time to declare the attributes of God in prayer.
We've all been part of a service where prayer seems to galvanize people and unite them. What role does prayer play in the formation of the church community?
We've seen this dynamic in our own congregation. To experience the joy of answered prayer is a wonderful bonding experience for the church. We've seen the power of prayer as we've gone into a major initiative.
Right now we're trying to discern if it's time for us to do some important capital improvements. Our elders have already spent 40 days in prayer, and now we're collecting data on what it's going to cost. We'll take that to the church and say, now you pray about it for 40 days. Then we'll come together and make a decision. Couching major initiatives in prayer is essential. When the church is praying about its decisions, it teaches individuals to pray about their personal decisions as well.
I'm guessing in most contexts when it's time to pray, people turn to you. That's a privilege. Is it also an annoyance?
It really is a privilege. It happened just a couple weeks ago at an open house in our neighborhood. I went more as a neighbor than anything else. But the owner of the house called everybody together and said, "Hey, thanks for coming to look at our new house. We're happy to be here. And, hey, there's Max. Max, will you come up and pray for us?" I saw it as a neat opportunity.
As ministers we need to be grateful for those opportunities. We should be grateful that anybody would invite us to pray. You can't resent that. Even in our increasingly secular society, people want to pray. They want to talk to God. They have something within them that longs to connect with their creator, however they define that. So this is a great privilege for us as ministers to be called upon to pray and to genuinely lead people into the presence of God. Let's seize every opportunity that comes our way.
There was a time when I would go to the hospital and was uncomfortable asking a stranger, "Would you like me to pray for you?" But now I feel no hesitation. Every person wants to be prayed for. Even if they don't ask you to pray for them, if they're in a hospital bed, they need strength. And that's a great opportunity.
Many times new believers are hesitant to pray. How can we get new believers to start praying?
Well, that's really the target audience of this book, Before Amen. It's for people who struggle to pray, because I do think people are afraid that they will mis-pray, that they won't have the right words for prayer, or they'll say something wrong. We can help erase all those fears for people. We do them a wonderful favor just by reminding them of what our Lord Jesus taught us, and that is when you pray just say, "Father in heaven, hallowed be thy name."
We begin by talking to God as our heavenly father. And there is great power in remembering that God wants to be known as a father. And good fathers do not turn their children away. Just advancing that simple truth takes someone miles in understanding prayer.
Are there any prayers that you have prayed publicly that you look back on and say, "Oh man, that was a bad prayer"?
There have been times I've prayed publicly and very passionately, and later that day I think, I got carried away in that prayer, didn't I?
After each sermon we invite people to come forward for prayer. Last weekend we had a lot of people come forward, and they filled the aisles. I prayed one of those shaking-my-fist-at-heaven type prayers. I was pleading with the Lord, "Please bless these people. Heal these people!" It was a very passionate prayer.
Later in the day I worried that I'd gotten carried away. But then I checked myself and said, no, there's a place for it. It's okay to have earnest prayers, fiery prayers, fervent prayers. Those are well heard in heaven.
My role as one of the ministers in our church is to offer fervent, public prayers to God. Better to come across as appearing overly dramatic if you're sincere than to come across appearing hypocritical if you're not.
Sometimes I'll kneel in front of the church. When people come forward for prayer, I'll kneel down with them, because I don't know what else to do sometimes.
People come to church with so many problems, and this is such a crazy thing we say. "Bring your problems to God, and he'll help you." That's a huge thing we're saying. So I have to say, "God, you got to do your part now. I've told them to come and talk to you."