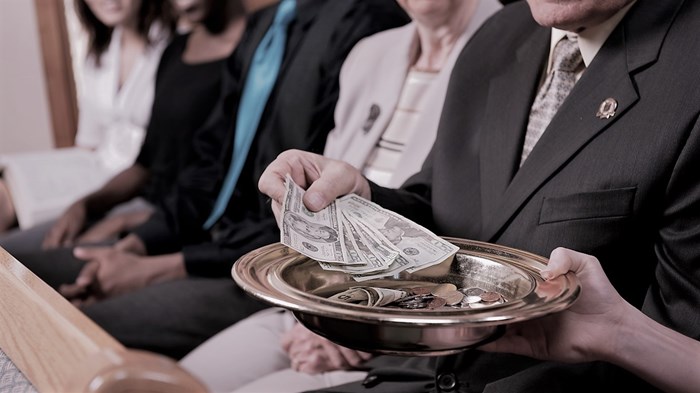 Image: FatCamera / Getty
When Karl Barth finally finished his formal education in the first decade of the 20th century, he, like many other rookie theologians, had trouble finding an academic post (some things never change). Unsurprisingly, Barth was in the upper echelon of the Western European liberal theological community, yet still struggled to find a teaching gig. Although he was Swiss, Barth was trained in German Protestant liberalism and was positioned to be the next big thing in the scholastic movement. That is, until he graduated.
Upon completing his training, Barth took his academic achievements into a job that was available: he became a pastor at a rural Reformed church in the village of Safenwil, in Switzerland. He began the regular pastoral duties of preaching and teaching in this small, simple congregation. He philosophized and theologized with grandiose word pictures and complicated strands of thought each Sunday only to watch his congregation's eyes glaze over. All of the theology that seemed to work in the academic world of Germany seemed to fall flat in rural Switzerland. He could not connect the word of God to the villagers. What was he doing wrong?
It was only in Barth's preaching through the book of Romans that he began to discover just how far he had been led astray while in school. Barth became somewhat famous for disagreeing with most of his academic mentors back in Germany as he began to watch the simplicity and power of the gospel take hold of his congregation through Paul's letter to the church in Rome. As Barth backed away from high philosophies and high theorizing, he let the Word loose, changing him and his congregation forever.
About 15-to-20 years later, as Barth moved on and became a professor, he also turned into an academic idol for a young Dietrich Bonhoeffer, who had just accepted a Sloan Fellowship to study theology at New York's Union Theological Seminary. In New York, Bonhoeffer would encounter a similar struggle as Barth in American pastors. Much like Barth, they couldn't seem to get the power of the gospel on the ground to their congregations. Bonhoeffer became bitterly disappointed in the churches in New York for their theological gymnastics that ended far outside of gospel of Jesus. "In New York," Bonhoeffer famously said, "they preach about virtually everything except … the gospel of Jesus Christ."
As highlighted in Charles Marsh's excellent new biography on the man, it wasn't until Bonhoeffer joined Abyssinian Baptist Church in the ghetto of Harlem that he would say he "heard the gospel preached" for the first time. All through the large, well-known churches of New York City, there was little good news being proclaimed. From Bonhoeffer's view, it was in the "Negro churches" of the ghettos and the poor rural landscapes in the great American South that the gospel was alive and well. He was transfixed by the preaching in the black churches during the struggle for civil rights and often wrote about the "ecstatic joy 'in the soul of the Negro.'" Bonhoeffer found the joy of the gospel of Jesus, but only in what he called, "the church of the outcasts in America."
The idol of a rich gospel
These stories should give us pause as we consider where and how we proclaim the gospel in our different contexts. It is possible to create for ourselves an idol of theorizing "the gospel"—to be able to explain all of the intangible mechanics without proclaiming its reality and availability to all. It is easy for us to become "rich in spirit," thinking we need to create spiritual insiders instead of allowing God to remake humble worshippers. We are certainly able to have, as St. Paul would put it, "an appearance of godliness, denying its power."
The gospel seems to be active in the rather unexpected places, migrating and shifting towards the vulnerable, not the comfortable.
The gospel seems to be active in the rather unexpected places, migrating and shifting towards the vulnerable, not the comfortable. As the historian Andrew Walls has argued, the central geographic point for Christianity seems to be constantly moving. What started in Jerusalem made its way to the Greco-Roman world, Europe, the United States, and now Africa or China, depending on who you ask.
When the gospel rests in a place of power or riches—whether the Roman Empire, prestigious early 20th century Academic centers of Europe, or the Upper East Side in the 1920s—"the radical message of sin and grace and the cross can become muted or even lost," Tim Keller has said. Because the message of the cross is so perfect for our weakness, the gospel will always be on the move as it shows blessing to those meek, poor in spirit, and in mourning. There is, therefore, reason for pastors and religious leaders of the rich to continue partnerships and friendships with these kinds of communities.
My church sits in the middle of a wealthy suburb, and it is painful to see myself and many others fall into a type of comfort within Christianity—to stare blankly, unmoved as we sing lines such as, "O to grace, how great a debtor, daily I'm constrained to be … "
For this reason alone rich Christians—like those in my church—need to serve alongside those in more materially poor communities, to do as Jesus commanded us and identify with the vulnerable in any way we can. For us, that has looked like mission trips, service opportunities, and financial support. In the ghettos and the villages of the poor we contribute the little we can while receiving the magnificent gift of re-hearing the gospel and seeing its power afresh.
To hear the Word again
In all of his learnings from his pastorate in rural Switzerland and his own reading of Scripture, Karl Barth made a type of conclusion in The Word of God and the Word of Man, saying, "We must take the trouble to go off far enough to hear the Word again." Both Barth and Bonhoeffer had to go away to re-hear the good news they had awoken to first years ago, to be reminded of what to Paul was "of first importance." As a young preacher and pastor in America, I am reminded of what Andrew Walls would call, "a certain vulnerability, a fragility, at the heart of Christianity" (that is, the cross of Christ). In the midst of the evangelical industrial complex that has been built here in the West, we must not modify this "good news for the poor," or try and rephrase it so that it might "work" for the satisfied, popular, and wealthy.
Perhaps this is why Jesus commanded us to care for and identify with the poor. I've realized that I lose track of the gospel when I lose track of other people He is working in.
I've realized that I lose track of the gospel when I lose track of other people He is working in.
Our church has committed to long-term relationships with churches and organizations that operate in very different gospel ecosystems—that is, they are planting the seed of the word in different soil than we are. These partnerships—friendships, more accurately—help both of our communities re-hear the gospel. We get to re-hear the gospel as told to us by our friends in Africa and our souls are stirred as we understand the power of Jesus in their cities. Likewise, they see the work God is doing here in Oregon—and they are moved to tears oftentimes, as their faith in God's faithfulness increases. Because we are friends, we celebrate what they celebrate, and struggle as they struggle.
Each of us—rich and poor—now has more opportunity to hear the true gospel of Jesus as it meets both of our communities in our weakness. This, to me, is what it means to truly have camaraderie centered on the gospel: each one working our own field, lending one another water, and watching God grow it all into an abundant harvest.
"To hear the Word again." Yes, to constantly rehear it, even if it means we need to go to the villages and ghettos to do so.
Chris Nye is a pastor and a writer living in Portland, Oregon with his wife, Ali. Connect on Twitter: @chrisnye