63 Ways to Say 'Thank You, Dad'
It's time to change what we say to fathers.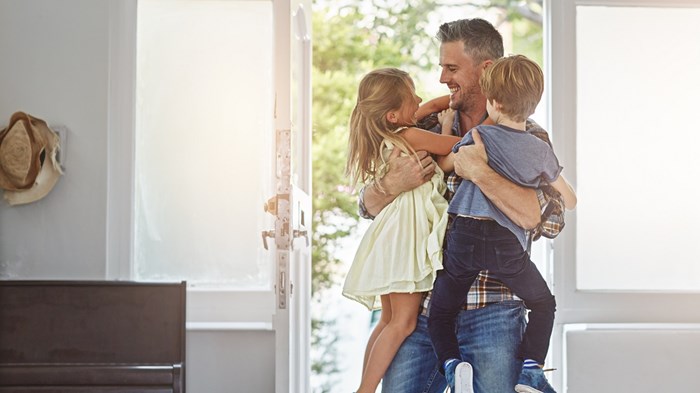 An American dad typically receives two messages. The first is made up of motivational teaching, coaching, and cajoling about what he must do to be a better dad. But he hears, This is where you fall short. The second message focuses on absent dads as the core of all that's wrong with families, communities, and our nation. This delivers an even lower punch: You and your kind are the problem.
This is quite a drift from how the Bible refers to dads—often with references to honor, respect, and strength wrapped within weighty responsibility. How has this happened?
I'm going to leave the battle for whom to blame for another day. For today, let's blatantly ignore what dads do wrong and the problems that absent fathers cause. Not deny; ignore. Instead, let's look at reasons to thank our dads—yours and mine and all the dads out there. A multitude of folks contributed ideas to create this list. Read on, and find your dad—or yourself—on it. No dad could ever live up to them all, and none would ever be so foolish to try.
Please make sure to read through to the end; your dad is worth at least a couple minutes of your time.
Thank you, Dad, for …
Your smile that blesses me deeply—and stays with me a long time.
All those times you asked me a thought-stirring question rather than lecturing me.
Coming into my room before I went to bed for the night to explain why, so that I wouldn't go to sleep angry or confused.
Loving Mom no matter what.
Loving me no matter what.
Getting your food after everyone else; I noticed when you settled for less without saying a word.
Making me feel safe; if you were scared you sure hid it well.
Worrying about me. And then calling to just say "hi."
Believing in me enough to let me drive before I had my permit.
Trusting me enough to let me make decisions for myself.
Bailing me out of trouble.
Not bailing me out of trouble all the time.
Your calm voice and tone.
Always knowing what to say at just the right time
Giving me a nickname.
The hours you sat in the stands and stood on the sidelines to cheer me on.
Reading to me and creating a voice for every character.
Hugging me when I needed it.
Hugging me even when there was no big reason.
Making me laugh.
Listening to me. Always.
Fixing things around the house. I admire your hands and marvel that you know how everything works.
Not fixing me but, instead, giving me the courage to fix myself and figure out how my life works.
Always having time for me, even when you really didn't.
Waking up early so you could get stuff done. Or just to buy donuts.
Providing for our family.
How you didn't ignore the family in the name of "providing" for us.
Turning down opportunities for the sake of your family—we noticed.
Getting up in the middle of the night to check on a scary sound.
Not getting mad when we nudged you in the middle of your sleep when you made scary sounds.
Teaching me to high-five, tie my shoes, ride a bike, throw a ball, shake hands, operate dangerous tools, drive the car, show respect, order breakfast foods, and paint with a roller. I never told Mom about the tools, just like we promised.
Encouraging me to keep going, to never quit, and to not judge others.
Showing me how to not complain and, instead, renew my determination.
Stubbornly believing that I'm great and constantly telling me so, even though we both know I'm not. It felt good when you did.
Making a big deal of my homemade cards for you.
Convincing me of the high value of honor, honesty, courage, and curiosity.
Making me feel nearly like an adult before anyone else.
Making me feel like a fellow knight.
Making me feel like your princess.
Making me feel special.
Laughing at my jokes.
Getting to know my friends.
Telling me that I did a good job. Even when it was barely okay.
Knowing when the best thing for me was ice cream. Or your special milkshake.
Explaining how stuff works. Over and over.
All your wisdom—I repeat it with my own kids.
Working hard at your job, and at home.
Reminding me to take the high road, and setting it as an expectation when you saw that I needed "encouragement."
Figuring out how to make vacations extra fun. Even the long drives. Kind of.
Lightening up the mood with humor.
Not taking yourself too seriously.
Taking me seriously.
Helping me find a job. (Yes, I know you helped.)
Telling me about God and Jesus.
Living out your faith, especially when you didn't know I was watching.
Letting me tell you about God and Jesus.
Convincing me that I matter a whole lot to you.
Letting me fall in love.
Letting me grow up.
Letting me fail without judging me or saying "I told you so." And then reaching out your hand to help.
All the stories you tell.
Telling me know how much you love me. Always.
Every time you told me I have what it takes. You're the only one who can do that.
G.K. Chesterton once said, "I would maintain that thanks are the highest form of thought, and that gratitude is happiness doubled by wonder."
Every dad's heart will pound fast to hear his child (young or not so young) share a specific reason or two directly from this list—or possibly something inspired by one of the 63 items. On Father's Day, or any day for that matter, tell Dad what he does or did that fills your heart with gratitude. Then prepare to share a wonder-filled moment easily double that of a casual "Happy Father's Day."
"Honor your father … "
Exodus 20:12a
Bonus item for dads: Click here to receive encouragement by listening to a podcast featuring David Staal and hosted by Mark Merrill from Family First.
David Staal, senior editor for Building Church Leaders and a mentor to a first grader, serves as the president of Kids Hope USA, a national non-profit organization that partners local churches with elementary schools to provide mentors for at-risk students. David is the author of Lessons Kids Need to Learn (Zondervan, 2012) and Words Kids Need to Hear (Zondervan, 2008). He lives in Grand Haven, MI, with his wife Becky, son Scott, and daughter Erin.