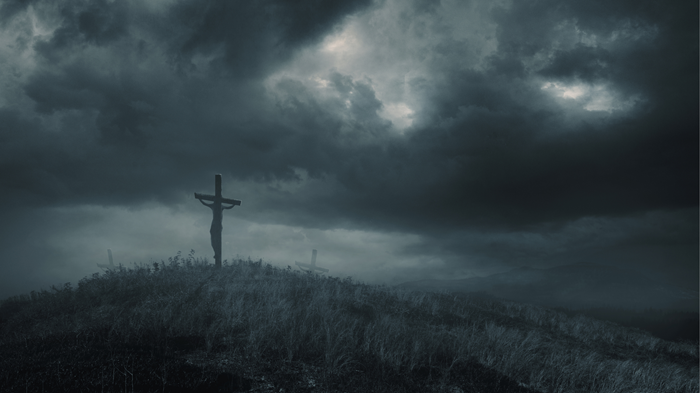 When I was young there was one Sunday every Spring different from all others. My parents purchased new pastel, floral dresses for my sisters. My brothers and I were forced into the discomfort of a coat and tie. Our family arrived at our church's building early to beat the larger than normal crowds.
The mood during the worship service was decidedly upbeat, and everyone was in a good mood. The pastor started by saying, "He is risen." The congregation replied, "He is risen indeed!" After the worship service we got home as quickly as possible to enjoy the feast waiting to be devoured.
I am speaking, of course, of Easter Sunday.
It honestly meant very little to me. There was the talk about the women gathering spices for Jesus' body, a garden, a tomb, and an angel saying Jesus wasn't there anymore, but by Monday afternoon what we celebrated on Sunday seemed a distant memory. Jesus' resurrection felt quite shallow.
I've often wondered why this was, and I finally found the answer when my wife and I first observed Lent. The word Lent is our connecting point to the season of life. Its Latin root means "to lengthen." It reminds us that during the season of spring, the sun takes a little longer each evening to settle beyond the horizon. With this, the weather grows warmer, and life emerges once more.
But this is a messy season. As the snows of winter lie on the ground things get covered, trampled and windblown. Winter brings with it chilling winds that push things over, mess things up, and even break things. As the snow melts we are left to discover the trash, the litter and branches hidden beneath.
It's much like our lives. Over time our hearts and souls, when left unattended, get messy. Lent invites us to deal with the mess. It asks us not to quickly clean things up and pretend they were never there, nor does it call us to ignore the mess.
Rather, we are invited to roll up our sleeves and sort through the debris. We are reminded of our own mess, and so on our foreheads we rub dirt reminding ourselves that just as Eden has gone to ashes, so, one day, we will too.
The first time I observed Lent, I attended an Ash Wednesday service. Ashes were applied to my head and words were spoken over me, "Remember that you are dust and to dust you shall return." In that moment, something new in my soul began to grow. I learned in a new way that I am a mere mortal, and at same time created in the image of God.
That first Lent was, for me, a difficult time of coming to grips with my brokenness, staring at my sin and searching my heart. All of this culminated in Good Friday. I had never been part of a Good Friday service either. So I attended one, and participated in the Stations of the Cross.
The words, "My God, My God, why have your forsaken me," were read aloud, and something in me broke. The best way I can explain it is that for the first time, I saw the darkness of Jesus' death—God had abandoned him.
I left that Good Friday service and ached for Easter. For the first time in my life I spent the Lenten season brushing up against the death of Jesus as I sorted through the death that was in my own heart. On that Friday his death and my sin crashed into one another. For so many years Easter Sunday and celebrating the resurrection of Jesus meant nothing to me because there was never any death. You cannot have the resurrection without the death.
As it does, our longing for Easter grows. A couple of years ago I, along with several pastors from Denver, joined together to do a sunrise service. We stood together and read the words, "Why do you look for the living among the dead? He is not here, he is risen!" Just as those words came out of our mouths, the first rays of sunlight broke over the skyline of Denver, and tears of joy welled up in my eyes.
The tomb was empty. And this time it meant something.
In the Kingdom of God, death doesn't have the last word; life does. Through Ash Wednesday, Lent, and Good Friday, the resurrection has become something I desperately long for.
As we enter into this Lenten Season, may we remember we are dust and to dust we shall return. May we examine our frail, flawed soul, and with Jesus enter the darkness of our sin and death and journey with him to the cross. May we be crucified with Christ, and buried in the likeness of his death, so that when we hear the words "He is risen!"—perhaps for the first time, we might truly celebrate the resurrection—because we have chosen to die so that we may have life.
Michael Hidalgo lives in Denver, Colorado and is the Lead Pastor of Denver Community Church.