To Share or Not to Share
5 principles for self-disclosing personal information.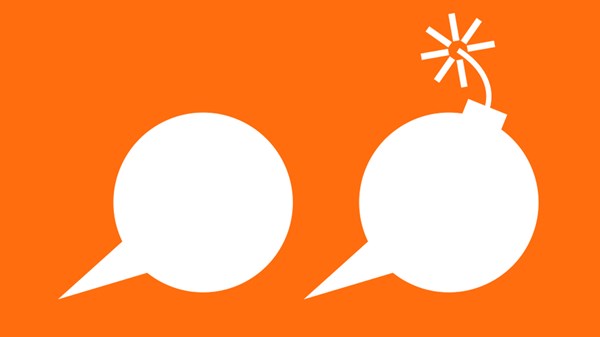 To Share or Not to Share
"The moment the words left my mouth, I was sorry I said anything at all," Larry* said.
Rita, a long time attender of Larry's church, had requested counseling from him to address her sexual abuse at the hands of her maternal grandfather. She had been to counseling with him once a week at his office for about a month when he ran into Rita's sister at the local coffee shop.
As he was entering and her sister Stacy was exiting, she stopped him to thank him for meeting with Rita. She told him Rita seemed much happier.
"I'm so glad! Talking to her has actually helped me too," Larry responded.
"What do you mean?" Stacy asked.
"My family has a history of abuse too. Hearing her talk about your family's story has really helped me process my own issues," Larry said. He could tell from Stacy's horrified expression that he'd said too much. What he thought was just a bit of personal self-disclosure turned out to have been an inexcusable case of oversharing and a breach of confidentiality.
When Rita found out what he'd said, she was livid. And her family was enraged that Rita had told anyone their family's secret. Larry's belated apologies did no good. Rita not only stopped counseling with Larry, she also stopped attending his or any Christian church.
The path of discernment
I have been doing counseling, training, speaking, writing, and consulting now for more than 20 years. A large portion of my consulting is with individual pastors and entire pastoral staffs related to this issue of setting, maintaining, and communicating appropriate professional boundaries when sharing personal information. As Larry's experience shows, items of a sensitive nature require careful expression with staff, counselees, and most importantly, with their congregations or the public.
I've shared Larry's story of disclosure gone wrong. Now I'd like to share with you the story of a pastor who did disclosure right, followed by five principles that will assist you in being more wise and discerning in your own disclosure.
A wiser way to disclose
Walt* had been a pastor for more than three decades. He grew up with an alcoholic father who used to physically and verbally abuse his mother. Many times, he and his four siblings would go to bed with what sounded like a "pro wrestling match" in the other room. Walt was very aware of family dysfunction and his own failings and frailties as a person.
"I swore that I wasn't going to become like my father," Walt said. "When I was a kid, I swore I'd never touch a drop of alcohol … and never have, but I also knew enough that I didn't have a good model for being a godly father or husband. I didn't have a clue as to how to do it God's way."
Immediately upon the birth of his first child, Walt sought individual counseling to address his personal demons and a personal mentor who was both a godly father and husband.
Recently Jeremy, a young man in his twenties, came to see him about "a situation." Jeremy had been intoxicated while at work. He received two warnings, and his company even offered to pay for him to attend a detox program and get counseling. When Jeremy refused, saying that he could stop drinking by himself, the company fired him. Then his wife moved out. And that brought Jeremy to see Walt for counseling.
The first couple sessions went well with Walt asking questions related to Jeremy's family, work, childhood background, interests, and hobbies but not directly addressing the elephant in the room. Near the end of the third session, Walt asked Jeremy directly about his alcohol abuse. There was a long, pregnant silence of almost a minute. Jeremy broke eye contact, looked down and began to softly cry, but was attempting to choke back the tears. Walt could tell that Jeremy's pain was profound, but "right near the surface," so he prayed a quick, silent prayer and softly said, "You know, Jeremy, I don't share this with many people, but I think I know what you're going through … I've lived that same agony. I grew up in a household where alcohol was abused."
Walt later recalled, "That was all it took! Jeremy burst like a dam after a hard rain." For almost an hour, Jeremy opened up and began to honestly share his struggles, his failures, his fears, and his pain.
Shortly after that, Jeremy began to make positive strides in his counseling. His wife hasn't yet returned home but is attending counseling with him. He not only got his old job back, but has now become a supervisor. He reports that his relationship with God stronger than ever.
Looking back, Jeremy said, "That little nudge was all I needed. I mean, I didn't know how the pastor—being the kind of successful and super-godly man that he is—would ever understand or respond to what I had to say. It's pretty cool that he really seems … real … he really seems to get me!" Walt's well-timed self-disclosure was a key element in Jeremy's recovery.
5 principles for disclosing personal information
I've found five key principles regarding the disclosure of personal information. If understood and used correctly, these will help a pastor minister more effectively without the unfortunate complications.
1. Know your issues and your motives. It's safe to say that pastors—like many in ministry, medical care, or other helping professions—have baggage! That's why a lot of folks choose to go into full-time ministry. They want to protect others from something they experienced and use what they've learned to help others through it. But, try as we may, sometimes our own stuff is so overwhelming and powerful that we end up disclosing too much personal information. Walt was able to share appropriately because he had already worked through his father's alcoholism.
The principle is found in Ephesians 4:29—"Do not let any unwholesome talk come out of your mouths, but only what is helpful for building others up according to their needs, that it may benefit those who listen" (emphasis mine). We must be aware of our own hot-button issues (e.g., our own history of abuse, neglect, trauma, or grief/loss) and learn to present them appropriately. You may need some individual counseling yourself to understand how your own issues inevitably effect your ministry.
2. Don't share everything. It's great to know what you're working with, both good and bad, but just because you know it doesn't mean you should share it. Many times there is a sense of freedom, relief, and release for someone who has been bound by a life-inhibiting secret for years. You want to tell the world! However ministering to others isn't about your own therapeutic disclosure. Good emotional boundaries and common sense dictate that you never share everything. Walt shared only what was needed in order to encourage Jeremy to open up. Remember, you are here to help people, not weigh them down with your own stuff.
3. Be discerning about who you share with. Say the right thing, in the right way, at the right time, to the right person." Before you share sensitive personal information, ask yourself:
Why am I sharing this information?
What is the spiritual and emotional maturity of the person to whom I am sharing this information?
Do I need to clarify the context in which this event or situation happened?
In today's culture, people—yes, even pastors—are eager to be seen as "authentic," "vulnerable," and "sensitive" to others' needs. This perceived need can lead us to share too much with the wrong people. Sometimes we can misread the level of the relationship and then find out through the grapevine that the individual felt uncomfortable—or even offended—by the disclosure. Think of the heartache and conflict that Larry could have been avoided if he'd followed this advice.
At the beginning of every interaction, say a private prayer that God will lead you in how much to share. Remember, the entire purpose of sharing is not to make yourself look good, but to engender trust and to build a relationship that will lead others to remove obstacles to better hear the voice of the Holy Spirit.

4. In general, share only when first shared with. As a rule of thumb, you should only be sharing personal information of a sensitive nature in response to something someone has first shared with you. But this is where being sensitive to the Holy Spirit is vitally important, because there are also cases when you may feel that the other person is wanting to share something of deep personal importance with you, but either they don't know how, or they are afraid of how you might respond (e.g., you might be judgmental, critical, or dismissive, etc.). They may test the waters to gauge your response. These cases call for wisdom, discernment, truthfulness, gentleness, and tactfulness. As in the case of Walt, sometimes all it takes is a well-timed self-disclosure to give someone the freedom to share.
5.Use your sharing to build trust and emotional currency. The apostle Paul suggests that the goal of empathy is ultimately sharing the gospel (1 Cor. 9:19-23). Everything you do should be done to gain trust, build relationships, and invest emotional currency that will allow another to be open with their own experience and prepare the way for the gospel message. Walt's well-timed self-disclosure paved the way for Jeremy's confession, and allowed Walt to share truth with him. The goal of sharing your stuff isn't to impress others with your spiritual or emotional maturity or insight. The goal of sharing is to bring them into a right and growing relationship with Jesus Christ.
* Names changed to protect the subjects' identities
Omar Miranda is a counselor for Abundant Life Ministries and is editor and director of Insight Magazine.

03/16/2015