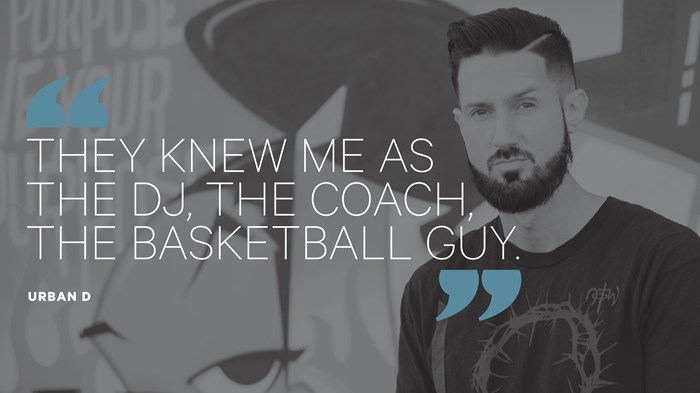 The fact that rapper, writer, publisher, and pastor Tommy "Urban D." Kyllonen feels called to minister to the inner city is no great surprise—"urban" is literally his middle name, after all. What is surprising, however, is the number of ways in which he's managed to do it. Whether serving as lead pastor for Tampa's multi-ethnic, multi-generational Crossover Church, performing hip-hop and spoken word concerts around the world, or writing books like Un.orthodox or ReBuild, Kyllonen has spent the last 20 years in ministry venture after ministry venture, bringing the gospel into every available nook and cranny of the city he calls home.
But for someone who's so keen on serving in neighborhoods where many churches won't go, there are still some lines Urban D. won't cross. For instance, while he's been at the forefront of cultivating a hip-hop-friendly culture at Crossover, he's also learned the hard way that when a church copies the world's culture rather than creating one of its own, it can lead to confusion over what that church is really all about:
We used to have a DJ who would play instrumentals from songs that were out—popular songs. . . . We'd play the latest song that was out on the radio; we'd play the instrumental to it, and we'd be singing a worship song over it. But you'd have a lot of people who were coming in unchurched—they were singing the other words, and they were standing there like, "Why are y'all playing that here?" They were just confused.

Then we had a lot of people who started coming up to us—and these are unchurched people, youth and young adults—like, "Hey man, I love that you have the hip-hop flavor here, and you bring rappers in, and you guys are even telling us to change our music listening habits and listen to stuff that's not got profanity, it's not degrading women. We get that. God is doing something in our lives. We're changing. But when you keep playing those beats, it reminds us—it brings us back to those days. It brings those words back. And there're other kids who are coming here, and young adults who are new, and they're singing the other words, and some of them are confused."

There was a high school student who came to us and said, "Man, our church has a bad reputation at our school." I'm like, "Why?" "'Cause everybody says it's not a real church, 'cause y'all are playing Busta Rhymes, playing Eminem." I'm like, "For real?" "Yeah, man; everybody's like, 'A church shouldn't be doing that.'"

And so it was like—really? The world is saying this. And, of course, there are still going to be some people who are going to be like, "You shouldn't do hip-hop in church at all." But this is actually unchurched, young adults who like hip-hop who are like, "Wait a minute—you shouldn't be playing Busta Rhymes at church. That's weird."
If that tension sounds familiar, you're not alone. Join us this week on The Calling, as CT managing editor Richard Clark chats with Urban D. about his brief stint as a Bible college rebel, how he used basketball to build a youth group, and what two decades of urban ministry have taught him about the church's crucial role in America's metropolitan future.