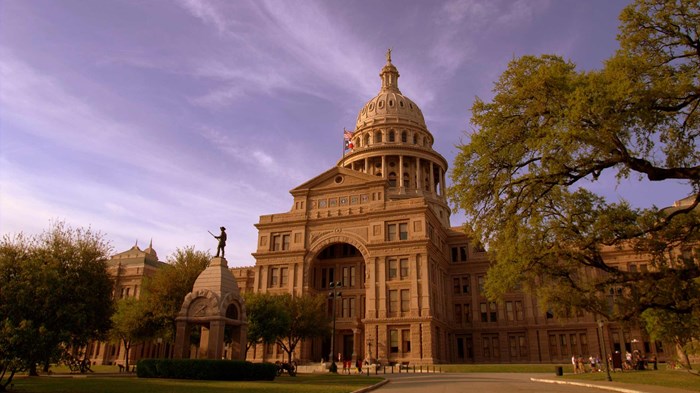 Image: Stuart Seeger / Flickr
At a time when religion's place in the public sphere seems to be in constant flux, the Reverend Dr. Chad Chaddick, pastor of First Baptist Church in San Marcos, Texas, isn't afraid to let his private faith shape his civic action. In recent years, his commitment to local church ministry extended well beyond the sanctuary doors, bringing him as far as the Texas legislature to advocate for change in the policies of payday lenders whose predatory practices were gutting the finances of some of his church's most vulnerable members.
Chaddick's work is featured in Deidox Films' The Ordinance, a documentary that explores the efforts of churches like his who are fighting predatory payday lenders throughout Texas. To mark the occasion of The Ordinance's release, The Local Church sat down with Dr. Chaddick to talk about his commitment to enacting his faith in the public sphere:
How did you first become aware of problems associated with "predatory" payday lenders? How and why did you first get involved—both on personal and legislative levels?
My involvement with payday lending began when a family joined our church in San Antonio. With six kids, a dependent mother-in-law, and one income, they were understandably financially fragile. The church gave them some financial assistance not long after they joined.
Six months later, they requested more financial assistance from the church. The policies of the church provided that we do not require much from the individual church member-with-a-need other than to answer a few questions regarding the need and how it came to exist. If requests are made a second time, however, we required that those with the need meet with another member of our church who could assist them in developing a household budget and who could provide a measure of accountability with regard to living within that budget. The needy family in question willingly met with our Vice Chairman of Deacons and his wife.
In the course of developing the household budget, our deacon discovered that the family would be able to live within their means except for one item of debt that was dragging them down: a $700 payday loan they had taken out roughly four months earlier to help with a rent payment on their home. The terms of the loan: $200 every two weeks was automatically deducted from the husband's bank account and timed with the deposit of his paycheck. This $200 did not reduce the original amount of the loan. It merely allowed for the $700 principal to roll-over until the next pay-period. In the course of the four months the family had maintained this loan, they had rolled the principal over nine times—at a cost of $1,800. Had they continued to pay on the loan for a year, they would have paid $5,200, for an effective APR of over 740%! Now, as they approached the church again for help, they needed help to pay their rent or face eviction.
My first thought when I was told about the nature of this loan was "this cannot be legal!" Almost immediately, I made a call to the Christian Life Commission of the Baptist General Convention of Texas. Talking to the director, Suzi Paynter, I discovered it was legal, but there was an opportunity to promote legislative change coming up. A couple of weeks later, I found myself in Austin talking to my representatives about it. A few weeks after that, I was back telling my story before a legislative committee.
Efforts for reform did not make it past the committee that year, and during the next couple of years, I worked on several fronts educating people about the nature of the loans, promoting a proposed ordinance in the city of San Antonio that offered reform and partnering with other agencies and churches to talk about and explore alternatives. At the next state legislative session, I again testified before a committee regarding the egregious nature of these loans and their effects on families and on charitable institutions.
Since then, I have served on several panels that have sought to bring the issue of predatory lending into the awareness of the public, and I have followed the national Consumer Financial Protection Bureau (CFPB) efforts that have recently culminated in a set of proposed rules.
Why are these lenders called "predatory?" Who are their victims, and in what ways do the lenders prey on them?
The predatory nature of these products is two-fold. First, they target the financially vulnerable—those with poor credit or no credit, but who are employed or have a means of income (often government assistance). Second, the products are designed to help the customer fail.
Let me illustrate with the case I mentioned earlier. A recurring payment of $200 every two weeks had been set up when the family took the loan. This was the roll-over fee. It did nothing to reduce the principal amount. It was expected that the family would not be able to pay off the loan at the end of the two-week term, and so an automatic rollover was set up. By setting up this automatic draft, the company made it easier to continually bleed the family of $400 a month and made it harder for them to actually pay off the loan.
In fact, when the church agreed to help get this family free from their payday loan, we hit an unexpected speed bump: it took us three days to determine exactly where the loan should be paid and discover a means acceptable to the company for paying off the loan (our offers of a check and an initial credit card were rejected). The system was certainly not set up to make it easy to pay off the loan. By the time we had located the company, talked with a representative who could authorize this pay-off, and agreed how the loan was to be paid, we had accrued nearly $100 worth of additional fees. The process was so cumbersome because it was designed to ensure the customer's continued failure to repay the loan. That's the predatory part of this lending: it's a model based on customer failure.
Your church website bio says you are a "firm believer that faith has a public dimension." What do you mean by this?
I think there is an assumption that faith is purely a private matter. It is not. It is deeply personal, but it has public implications. Faith affects the way we live and the way we interact with other people. That interaction is a public effect. Thus, in faith, I was helping my neighbors with their financial situation.
That same faith required that I address not only their particular situation, but also the underlying cause of their difficulty—in other words, I needed to offer real, lasting help, and not merely a short-term fix. That real, lasting help just turned out to involve advocacy for a more just lending system so that not only my own particular neighbors might be helped, but also others like them.
Some might argue that changing public policy does not change hearts, so Christians should spend our time elsewhere. Why do you see this issue as deserving of your time and energy?
It is true that changing public policy does not change hearts, but our faith compels us to do justice (Mic. 6:8). It is not enough to talk about it; we've got to do it. Sometimes justice comes in the form of changing unjust systems, and that is where advocacy becomes important. Those who are oppressed by these systems don't have the voices or the influence to make the necessary changes. They need outspoken advocates to help them. If I can make a difference on their behalf, then I feel obligated by love to do so.
How can Christians press for changes in legislation regarding predatory lending in our own communities? Are there other ways we can get involved?
Regarding predatory lending, I urge Christians to do three things. One is to educate. Educate yourself about the issues. Educate your church. Educate the people you can reach about good financial policies, budgeting, etc. Offer stewardship training in the church. Education will equip people with the tools to make better decisions and to avoid predatory loans.
But not everyone will have or take the opportunity for education. The second thing Christians can do is advocate for change. In Texas, we have a model city ordinance. It is available at the Texas Municipal League's website. This is a great way to advocate locally. On a broader scale, Christians can partner with state or national groups that are seeking to bring fairness to the system. The group Faith for Just Lending can be such a partner.
The third thing Christians can do is develop alternatives to predatory lending. There is a need for small-dollar lending, and most banks are not offering such products. Many credit unions can and do, and many more are willing to consider doing so. Churches and non-profits are also finding creative ways to help buy out predatory loans and replace them with products with fairer rates and terms. If you or your church has someone with some business or banking savvy, this might be a rewarding ministry for you.