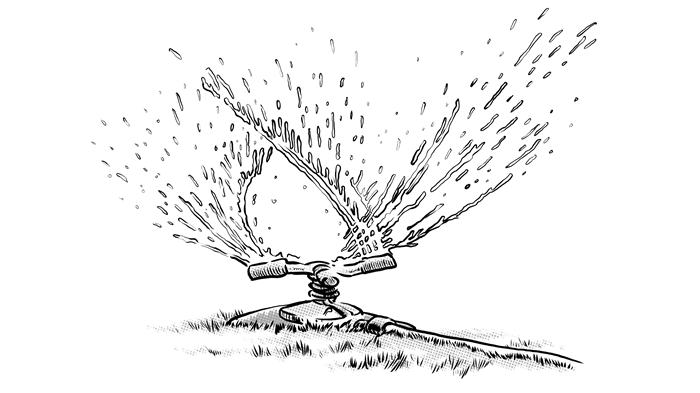 Image: Seth Hahne
"Who are you?" When someone asks a question about my identity, the first response that comes to mind is "I am a black girl from Orangeburg, South Carolina." Long before I became a graduate of the United States Naval Academy, a US Marine, an author, or a minister of the gospel, I was a black woman. And the root of this knowing was in the heritage of my family, the soil of Orangeburg, South Carolina, and the waters of the Edisto River.
Orangeburg is a community filled with black people and culture, the home of two historically black colleges and universities: South Carolina State University and Claflin University. There I tailgated at college football games and enjoyed HBCU homecomings that included the "battle of the bands" and step competitions. Little girls played in the backyard with their cousins and devoured home-cooked meals made at the hands of their big bosom mothers, grandmothers, and aunts.
During the summer months, we would run through the sprinklers in our bathing suits and swim caps (because there was no way we were getting our hair wet). We would spend countless hours enjoying the sunshine on those hot summer days in June, studying the moss hanging from our trees. Sometimes we would sit inside and watch TV as we listened to the violent summer rain.
On Sunday mornings and Wednesday nights, we would go to church. Sundays were for worship; Wednesdays were for Bible study, Vacation Bible School, or hanging in the back room until mom finished choir rehearsal. These precious times were filled with sacred artifacts: pews, wooden floors in old Baptist churches, the sides of brick store fronts or white slab buildings with small crosses that showed passersby who we were and to whom we belonged. We belonged to Jesus. Our simple songs clearly proclaimed this truth.
These small churches most likely had dirt or gravel parking lots and a small cemetery off to the side, the tombstones surrounded by uncut grass and ant hills, with fading names above the birth and transition dates of those who had gone on before us.
When I heard about the pain and suffering Dylann Roof inflicted on the families of Cynthia Hurd, Susie Jackson, Ethel Lee Lance, DePayne Middleton-Doctor, US Senator and Reverend Clementa Pinckney, Tywanza Sanders, Daniel L. Simmons Sr., Sharonda Coleman-Singleton, and Myra Thompson by murdering them in the sanctuary of God that is Emanuel AME Church in Charleston, South Carolina, I was not shocked because of the reality of the deaths that took place on June 17, 2015. These things happen every day.
I was shocked because I have family members who knew people who died in Emanuel AME Church on that Wednesday night. Sharonda Coleman-Singleton was a graduate of South Carolina State University. I was stunned by the overwhelming history and mystery wrapped up in this racially motivated massacre that took place in 2015.
This was too close to home.
The Black Lives and Charleston
What happened in Charleston was another instance in the long history of the American narrative that says, "Black lives do not matter. Black lives are not sacred. Black lives are not made in the image of God." But they do, and we are.
On any given June summer night in South Carolina, one of my family members can become a victim of a racially motivated murder. There is no safety inside or outside for a black life: not even in the church, and not even in 2016.
I love going to Bible study during the week in a black church. It could have been me, slain over the breast of my grandmother on that Wednesday, as she exhaled her last. My daughter could have been left without her mother. This pain and this suffering crosses generations.
A few weeks ago, my eyes were drawn to a friend's profile picture on Facebook. She is a fellow Christian, an Asian-American, and she wore a T-shirt with pure white letters stating, "Black Lives Matter," with "Imago Dei" printed in red dye under the statement. I smiled and hit the "like" button.
She and I have shared our suffering of being double minorities—both ethnic and women—in white evangelicalism. Her understanding of the sacredness of black lives is what caused her to rock that attire, and in turn, my understanding of the sacredness of Asian lives causes me to listen well, read or share Asian-American stories, and sometimes write about them.
I had to have that shirt. I wanted to make a statement. When it arrived in the mail, I read the back of it silently and deliberately over and over again:
Imago dei (Latin for "image of God"); a theological term, applied uniquely to humans, which denotes the symbolical relation between God and humanity. The term has its roots in Genesis 1:27, wherein "God created humankind in his own image." Humans are in the image of God in their moral, spiritual, and intellectual nature. Black lives are made in the image of God.
When I say "Black Lives Matter," this is what I mean: black lives have worth and value because they are created in the image of God. Too often, when this statement is made in evangelical circles, a disclaimer is offered, a judgment made, or justification given when what is most needed is a "yes" or an "amen."
When my friend stood in the gap as a sister in Christ and proudly wore that T-shirt, she wore it in solidarity for people like me. This simple act affirmed that she is open to hearing, learning, and loving well, even if she doesn't fully understand my history or struggle. Her T-shirt advocacy on that day affirmed that she sees me as human—an image bearer of God whose life has value and purpose.
Somebody Say Something
As a believer, I am firmly committed to the gospel as the good news of reconciliation. The cross makes it possible for me to live in right relationship with God and with others. For this reason, I am a member of a multi-ethnic church. I was so thankful to hear my pastor, a white man, name the sin of racism and proclaim the kingdom of God on the Sunday following the Charleston massacre. I desperately needed him to do that.
But I was grieved by the virtual silence from white brothers and sisters in the evangelical community. When several African Americans raised the question across social media as to whether or not white congregations mentioned Charleston on Sunday, the response was an overwhelming "no." I cried. My emotions ran somewhere between sorrow and righteous anger. I wondered, "Why aren't more white believers and pastors saying something, anything about this?" Their silence communicated that somehow, this was not a loss for the entire body of Christ: that somehow, there was a lack of compassion or understanding to weep with those who weep (Rom. 12:5). My African American sisters and brothers were weeping. A united family grieves together.
I've heard plenty of talk about race, racism, racial structures, white supremacy, and the abuse of power and oppression in the church. I am all too familiar with the tendency to remain silent when a racialized culture does not negatively impact your family. But aren't we family?
Why didn't this seemingly seismic event ignite real and courageous change, conversations, and actions in the evangelical church? Why aren't local churches and congregations taking advantage of this opportunity to lead and show the world a better way?
Within the last year, I've meditated on the words of Jesus' prayer:
I pray also for those who believe in me through their [the disciples'] message, that all of them may be one, Father, just as you are in me and I am in you. May they also be in us so that the world may believe that you have sent me. I have given them the glory that you gave me, that they may be one as we are one—I in them and you in me—so that they may be brought to complete unity. Then the world will know that you sent me and have loved them even as you have loved me. (John 17:20b-23)
Whether or not we embrace this suffering, these stories, these voices, and these lives is not merely a matter of our individual or political preference. It is a matter of evangelism and a testament to our gospel witness. What our congregations say or don't say about black lives sends a message to the world about Christ.
But God is raising up people who are seeking out the rich traditions of storytelling, songwriting, and oral histories. History does not always report what is factual or true. History is as you tell it. We have a responsibility now to tell the truth. And I am so glad to be among the black voices, writers, poets, musicians, and advocates of justice who are rising to document this history and tell our own stories.
By claiming our identity in Christ, by raising our voices, by telling these stories, we are standing on the shoulders of our ancestors and affirming that all of our lives matter. For many years, within the four walls of a black church in South Carolina, we sung the words to the old Negro spiritual "Nobody Knows the Trouble I've Seen":
"Nobody knows the trouble I've seen. Nobody knows but Jesus. Nobody knows the trouble I've seen. Glory, hallelujah."
In reflecting on Charleston, we all have an opportunity to enter into this suffering, to consider our American history and how we might truly live as reconciled people in the kingdom of God. We cannot forget the names, stories, and sacrifices of these fallen. We cannot forget the long and tragic history, or those shoulders on which we stand. We cannot forget the deliverance we have received from the Lord, time and time again, when all seemed hopeless. We will remember the fundamental truths of who we are, and we will remember our intrinsic value, forever sealed by the purposes of God and the blood of the Lamb. We will write, sing, and proclaim our history.
We will remember Charleston. It's too close to home to forget.