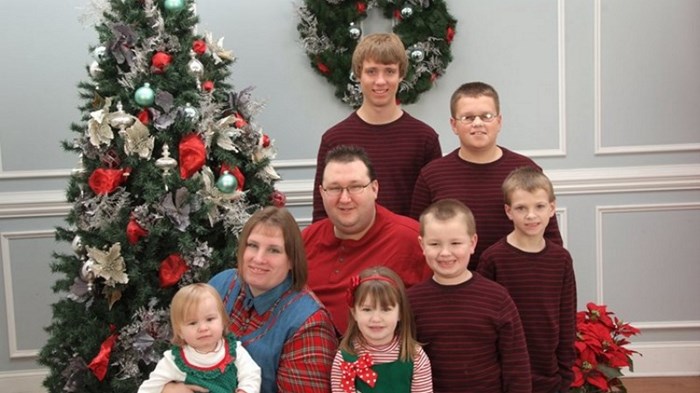 Ricky Self could not have prepared himself for the phone call he received on April 26. As associate pastor at Pineview Baptist Church in the tiny town of Harvest, Alabama, he'd been spending the last two days helping his congregation grieve the loss of Jennifer Norsworthy, a mother of six who had passed suddenly at the age of 40 from a blood clot.
Now, Self learned—just 48 hours later—there was an ambulance at the Norsworthy residence again. Jennifer's husband, Toby Norsworthy, had passed from a heart attack in his sleep, leaving the couple's six children orphaned. (Relatives suspect that the stress of losing his wife was a factor, The Huntsville Times reported.)
The couple had been married for 10 years, Self said, and had three children together—Mickey, 11, Aurora, 9, and Lainie, 6, according to the Times. Jennifer also had three children from a previous marriage—Quinten, 20, Riley, 17, and Bradley, 13. Toby, a computer programmer, led the church's Awana youth program and taught middle school boys in Sunday school, while Jennifer Norsworthy, a stay-at-home mom, had led Sunday school for high school girls and was involved with the women's ministry.
"God really transformed their life," Self said about the couple, adding that they were Alabama transplants who had converted to Christianity the first year in the state after being invited to Pineview in 2010. "They didn't grow up with that," he added. "They weren't just Sunday Christians. Brother Toby read the Bible three times in the first year."
In the wake of their passing, the church spent two consecutive Sundays grieving together. Self noted they have had more than their fair share of suffering for a church of upward of 250 members, with two other members passing from cancer in their 40s. "Our senior pastor described it as a very broken church," Self said. "It was hard to preach and do worship."
The service the morning of Toby's death was full of weeping, encouragement, and prayer, Self said. "To me, grieving together is a time that all of us are heartbroken," he said. "I thank God when he designed the church the way he did—designed to support each other."
In response to the tragedy, the church has been heavily supportive. Pineview has provided meals, a financial account in which 100 percent of proceeds will go to the children, and other practical needs. They've also offered emotional support, even as they learn the value of prayer in tragedy.
"We're like a lot of people: we like to be hands-on and like to fix things. But one of the things we encourage people to do is pray for our family," Self said. "As Christians, we're so hands-on wanting to fix the problem, to show themselves to the family. We just tried to show the hope that we have; we know that we're going to see them again."
In addition to the church's fund—which has raised more than $17,000 in support—a childhood friend and former classmate of Toby's set up a GoFundMe page that raised more than $86,000 in less than two weeks. Donations can be made to Pineview Baptist or to the GoFundMe page.
"As a church, it's our job to be there for that and love on them and pick up those roles," Self said. "It's what Jesus told us to do—to help the orphans and widows."