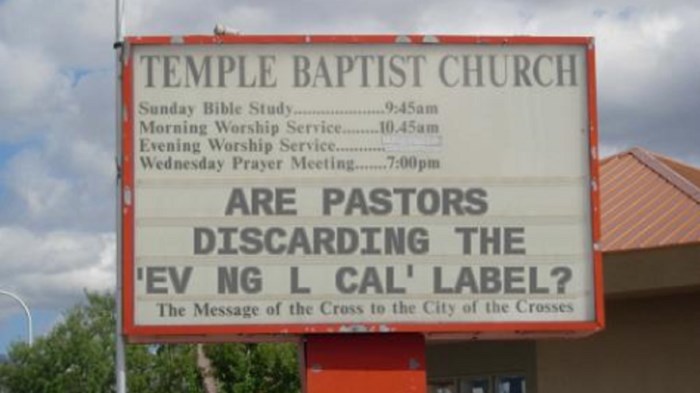 Three days after the election of Donald Trump, Skye Jethani tweeted "#FarewellEvangelicalism" and published an open letter explaining his dissatisfaction with the term. The author and pastor predicts the label will soon fall out of use: "When our successors write a history of these times, I suspect the modern American evangelical movement will rest neatly within the lifespan of Billy Graham." Other Christian leaders—including Russell Moore, Shane Claiborne, Katelyn Beaty, John Fea, and Preston Yancey—have expressed similar frustration with the term or abandoned it during the 2016 election season.
Others have held fast to the evangelical label, despite reservations. Mark Labberton and Richard Mouw released a statement defining Fuller Seminary's association with the term. They write,
Because of its non-negotiable commitment to the evangel, God's good news, Fuller Seminary will continue to identify itself as evangelical. We must understand evangelical … as our commitment and aspiration: our deep desire that the daunting and urgent hope of Jesus Christ will transform us so our speech truly proclaims and our life faithfully enacts God's good news of love, justice, and mercy.
Still others believe there is more reason than ever to hold evangelical in high esteem. In a newsletter, Gary Bauer—politician and activist of the Religious Right—declared the election a "Victory for Values Voters":
Donald Trump owes his victory in large part to historic participation by evangelicals. … Many people expected evangelicals would forget about the issues and vote only on the character flaws of the two candidates, if they voted at all. But that is not what happened. … The Reagan Coalition—working class Americans, conservative Catholics and evangelical Christians—once again proved what a powerful force it can be.
So which is it? Has this year's election caused a tidal wave of evangelical leaders to opt out of the term, or is this one more conversation resulting in little change to widespread usage of the E-word?
To find out, we surveyed CTPastors.com readers (38% Senior/Solo pastors, 17% other pastors, 25% lay leaders, 20% business admin/other) regarding their comfort with the term. We limited our sample population to those who agreed or strongly agreed with LifeWay Research / NAE's definition of evangelical (resulting in a sample size of 440). Then we asked these respondents four questions:
How comfortable do you feel describing yourself as "evangelical" to other Christians?
How comfortable do you feel describing yourself as "evangelical" to non-Christians?
Since Election Day, how has your comfort level changed describing yourself as "evangelical" to other Christians?
Since Election Day, how has your comfort level changed describing yourself as "evangelical" to non-Christians?
Are church leaders comfortable describing themselves as "evangelical"?
Though 70 percent of church leaders were comfortable or strongly comfortable describing themselves as "evangelical" to other Christians, only half (52%) felt as comfortable using the term with non-Christians.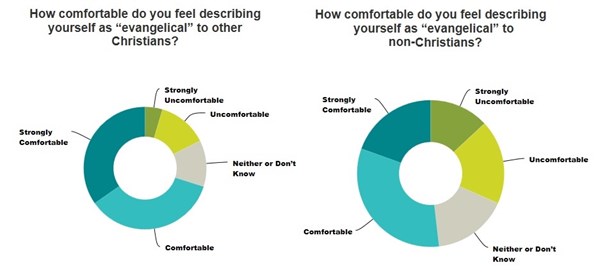 Jethani finds these numbers incriminating: "The fact that church leaders are more comfortable self-identifying as evangelical among other Christians, while only half were comfortable using the word with non-Christians, should be alarming. It indicates that evangelical has lost its usefulness as an identity in our culture."
John Sommerville—senior pastor of City Church in Minneapolis, Minnesota—recognizes this concern in his own church:
While our theological and philosophical roots are in the evangelical movement, we have not used the term with those outside the church since 2004. A word that once stood for faithfulness to historic orthodox Christian faith and a commitment to personal holiness, to the proclamation of the good news, and to ministries of compassion and justice has been hijacked by those on the right and the left who have narrowed the meaning to "white Republican."
Still, Daniel Darling, vice president for communications for the Ethics and Religious Liberty Commission of the Southern Baptist Convention, isn't ready to leave the word behind. "I'm a bit nervous about all the talk of 'leaving evangelicalism' by some of my peers. I hear what they are saying, but I don't think we have the luxury of leaving people whose voting patterns we dislike or whose blind spots and sins are different than our own."
How has comfort with "evangelical" changed since the election?
The majority of respondents reported that their opinion of the term hasn't changed since the election, but nearly a quarter (23%) now feel less comfortable using the term with other Christians, and a third (33%) feel less comfortable using it with non-Christians. Only 8 percent report feeling more comfortable using the term since the election.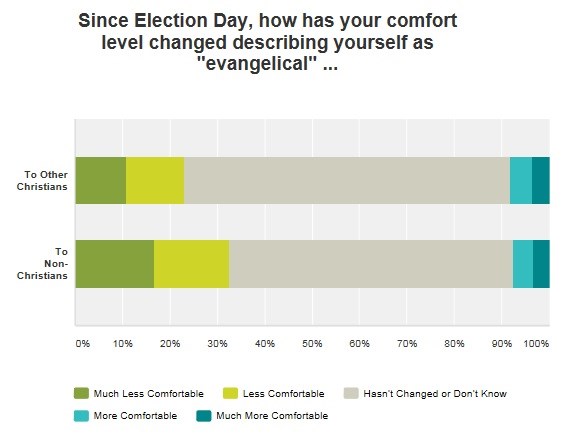 Why have one-quarter to one-third of evangelical church leaders changed their opinion of the term since the election? Mandy Smith—lead pastor at University Christian Church in Cincinnati, Ohio—has a guess. "I'm not surprised—what we've been talking about this election has little to do with the gospel."
Jeanne Porter King—who heads the leadership and ministry development processes and the women's ministry at Christ Community Church in South Holland, Illinois—agrees: "I and others have become so disillusioned by what appears to be the flexing of biblical standards by prominent evangelical leaders in their support of Mr. Donald Trump." And Jethani adds, "[White evangelicals'] record-breaking support for Mr. Trump widens the gap between them and their African-, Asian-, and Latino-American sisters and brothers who overwhelmingly rejected Trump's candidacy."
Yet Ed Stetzer—who holds the Billy Graham Distinguished Chair of Church, Mission, and Evangelism at Wheaton College—believes this is no reason to drop evangelical. "That's backwards," he writes. "It's not the label that supported Trump, it's people—White Evangelicals, primarily. … I'm not embarrassed by fellow Evangelicals who've voted for or against Donald Trump. And you can stop using the term, but you still have the same people, just called something else, in your Evangelical church."
Other pastors reflected on the 60 to 69 percent whose opinion of the term hasn't changed. "I am disheartened but not surprised that there is very little change post-election," says Kevin Navarro, pastor of Bethany Evangelical Free Church in Englewood, Colorado. "I still employ the term evangelical within academic circles, but I avoid the term elsewhere. It is a polemic term. For many, it no longer represents the vibrant intellectual faith that historically was a response to fundamentalism."
What difference does gender make?
Across the board, women were more likely than men to report feeling uncomfortable with the evangelical label. While 38 percent of male church leaders feel at ease identifying as evangelical to other Christians, only 26 percent of female leaders feel the same way. And women were more likely than men to feel much less comfortable with evangelical since the election (25% to 15%).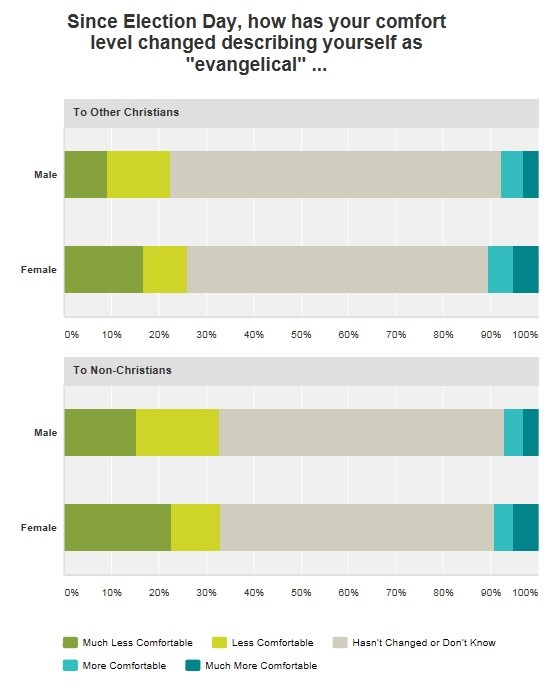 In an article for the Washington Post, Katelyn Beaty—writer, speaker, and former managing editor of Christianity Today—sheds light on why. "On Wednesday, I woke up to an evangelical family I no longer resembled. … Women who have been sexually assaulted wonder if white evangelicals' support of Trump means their trauma will be minimized in Christian communities."
Mandy Smith adds, "It reminds me of the conversation around the term feminist. Many who stand for the value of women and support their human rights don't call themselves 'feminist' because of how it's become politicized." She suggests that many Christians feel the same way about evangelical. "As much as we think we decide the meaning of a word," she says, "language is a living thing, determined by those who use it. Do we think all our talk about it will heal the impression left by the behavior of some of us?"
How does church size affect responses?
According to our study, leaders from small churches (100 or fewer) tend to be more comfortable with evangelical than those from large churches (1,000 or more). Only 9 percent of small-church leaders feel strongly uncomfortable using the term with non-Christians (compared to 22% of large-church leaders). On the other end of the scale, 28 percent of small-church leaders feel strongly comfortable using the term outside their Christian communities (only 13% of large-church leaders feel the same). And a higher percentage of large-church leaders report feeling less comfortable with the term since the election (26% to 19%). Why?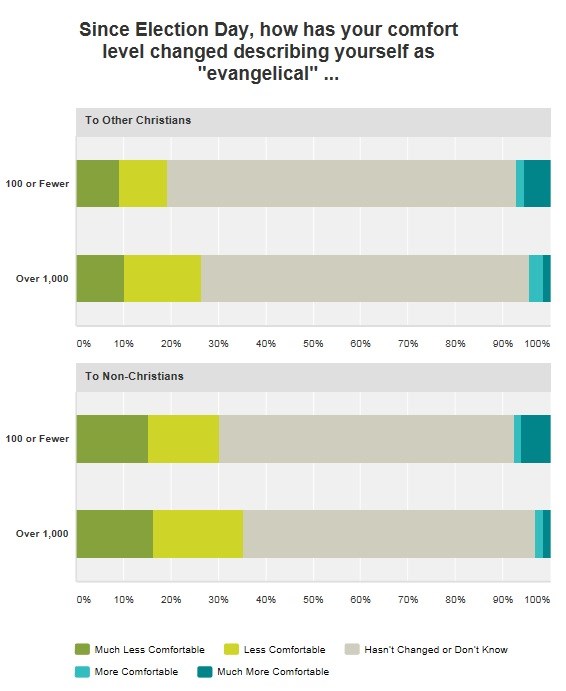 Kevin Miller served in a large church (1,050 in attendance) until becoming pastor at Church of the Savior in Wheaton, Illinois (attendance of 85). He conjectures why leaders of larger churches feel less comfortable using the word evangelical: "As a church grows, the core becomes surrounded by larger concentric circles that Rick Warren called the 'crowd' and 'community'. Pastors in larger churches feel acutely that they must speak not only to the core, but also to the community, and these results show they fear the term won't work anymore in their surrounding communities."
Karl Vaters—pastor of Cornerstone Christian Fellowship in Fountain Valley, California, and author of the small-church blog, Pivot—says simply, "Evangelical may be the latest term to fall under the weight of partisan politics."
What difference does race make?
One limitation of this study is that it doesn't take into account the overwhelming influence race and country of origin play on comfort level with the evangelical label. In The American Evangelical Story, Douglas A. Sweeney writes, "Most black Christians, though evangelical by many definitions, resist identifying closely with the evangelical movement. … Though evangelicalism has always been an ecumenical movement, its racial sins have often precluded the involvement of black Christians in its leading institutions."
Jeanne Porter King raises a similar concern. "A number of Christians never did or stopped using the evangelical label way before this election, even though theologically we would totally align with [the NAE's definition]. We are way past disillusionment with established white evangelicalism."
But wait.
The term evangelical has the opposite effect on many people of Latino and Hispanic heritage, according to Samuel Rodriguez, president of The National Hispanic Christian Leadership Conference and senior pastor of New Season Christian Worship Center in Sacramento, California.
In the Spanish-speaking nations and diaspora, evangélico carries the ideas of freedom from political compromise, religious coercion, and ideological rigidness. In other words, while the white and black churches debate the use of this term and the political implications thereof, Latinos and Hispanics stand poised to redeem the term by offering a non-political, reconciliatory, prophetic alternative: "evangélico!"
Smith suspects the term evangelical will be less and less significant as US culture becomes increasingly post-Christian. "When I lived in Australia and Britain, we didn't have the luxury to divide among various kinds of Christians because in our whole school and neighborhood there were only about four of us. Congregations that were very different theologically remained together in one denomination." She says, "We have the luxury in the US to divide when we disagree, but perhaps not much longer."
What conclusions can we draw?
Most evangelical church leaders feel comfortable with the term evangelical, both before and after the presidential election. But according to our research, a growing slice of adherents no longer feels comfortable using the name. They leave to join the ranks of those long disillusioned by the term. As Sweeney writes of evangelicalism, "We have no card-carrying membership, not even an official membership list. Distinguishing 'insiders' from 'outsiders' can prove to be a tricky business. … Participation is voluntary. Adherents are largely self-selected."
The evangelical movement's strength has always been its centripetal force—the power of its central theological and missional premises to unite those from drastically different Christian traditions. Its strong gravitational pull comes from its axis: a commitment to gospel witness and the maintenance of historic Christianity. As that definition is muddled by pollsters, marketers, and even those from within, it will lose the strength necessary to unite the movement's disparate members. The evangelical label may live well into the future, but the movement will scarcely resemble its former self.