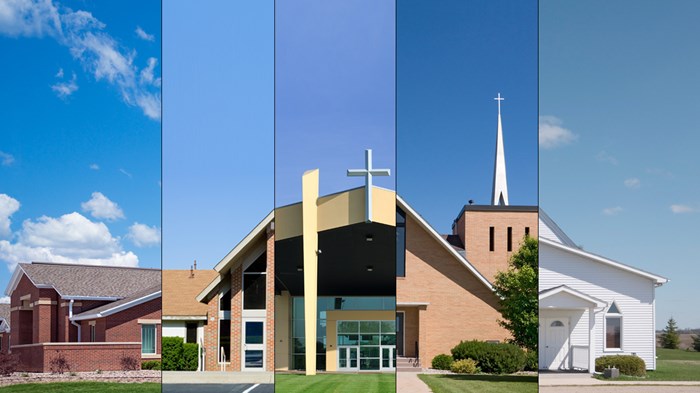 What makes your church your church? The distinctive elements within your building that tell the story of who you are as a faith community? These are the questions that Kevin Miller, recent executive director of resource development at Christianity Today and now senior pastor at Church of the Savior in Wheaton, Illinois, explores in the video series, "Telling Your Church's Unique Story."
Miller shares insights he gleaned from leading his previous church through a major adaptive reuse building project. After winning an auction for an abandoned plastics factory, his church had to decide how to transform an industrial steel and glass structure into ministry space that would resonate with their Anglican congregation.
Miller covers the process his church underwent in determining their church's story and how they could use this new space to convey their mission, vision, and values. His church's building project helped him discern three key elements that must be considered to clearly communicate your church's unique story within its physical space.
Like every church, Church of the Resurrection loves many things: for example, the performing arts, children's ministry, and leading people back to Christ. According to Miller, though, for Church of the Resurrection, worship is probably their greatest love. During their building process, extra money went into designing a spectacular worship center while creating functional children's areas, lobby spaces, and other office and classroom areas of the church. By investing in one key space—the sanctuary—Church of the Resurrection tells the story of a worship-centric church.
Understanding the significance of a church's location is every bit as important, if not more so, then the built space itself. For example, Church of the Resurrection is an Anglican church based in the suburbs of Chicago. The church's steel and glass structure fits well within the context of Chicago architecture, but initially it felt at odds with the traditional liturgical culture of the Anglican Church.
Ultimately, Church of the Resurrection opted to embrace both realities—their church's alignment with Chicago architecture, and interior design elements, especially in the sanctuary, that help to create the liturgical, sacred feel associated with Anglican churches.
According to Miller, every church needs to determine the context in which they are located and the spiritual needs of the congregation. What worked at that church wouldn't be the right solution for another church in a different location.
Every church body has a history of victories and fall-outs that shape a church's story. For example, Church of the Resurrection is a thriving church today. Early in the church's history, however, there was a series of public arguments and splits.
According to Miller, the conflict wasn't handled well, and there was a lot of pain within the church body. While it's easier to sweep a history like this under the rug, Church of the Resurrection took a different approach and embraced the pain.
Rather than hiding the split from members and new staff, the church focuses church membership classes on reconciliation, conflict resolution, and healthy relationship building—lessons the church itself learned from this painful part of their story. And it displays for all to see a photo of some of the key people who had been separated and since have been reconciled.
Learning from these lessons, putting them on display, and encouraging a different future are key ways to tell your church's unique story.
What are the loves, location, and lessons learned at your church? How might you use these three building blocks to tell the story of who your church is?
Kevin Miller serves as Senior Pastor of Church of the Savior in Wheaton, Illinois. This video was filmed at Aspen Group's Alignment Conference. You can find more resources on building a story at your church here.
Marian V. Liautaud is a former editor at Christianity Today. Based in Chicago, she continues writing and editing on a freelance basis and serves as Director of Marketing for Aspen Group.