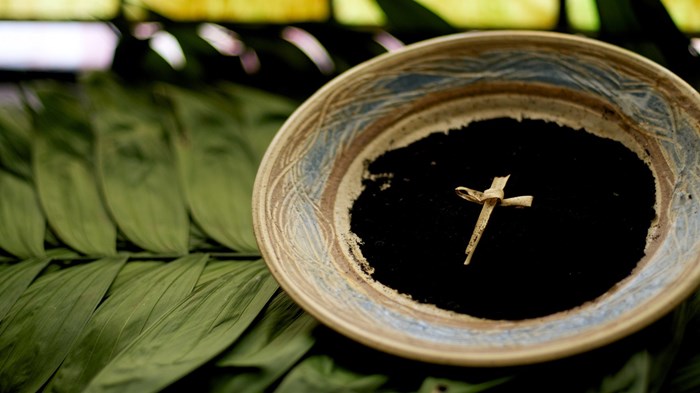 I will never forget saying goodbye to the church in which I served as an assistant pastor. As a full-time church planting res­ident, I had an opportunity to preach once a month for three years. I took this responsibly seriously and worked diligently to prepare and craft each sermon for maximum spiritual impact. Each time, I prayed for spiritual fruit to be produced. As my time drew to an end and the congregation said their goodbyes, a few people mentioned my preaching in passing. But, to my surprise, the most common refrain was about my parenting. I heard things like: "I was blessed to watch you be a father to your kids in church," and "I appreciate the way you and Laura work together to raise your family."
The people of God are looking for examples. They want their leaders to show them how to follow Jesus, even as we teach them. Challenging sermons and correct doctrine matter a great deal, but are inseparable from a godly life. The people we teach and exhort need to see us fail, repent, obey, and live by the power of the Spirit to love God and others. Another way of saying it is that our three dimensional lives are usually more interesting than our two dimensional sermons.
The Importance of Going First.The most important way for you to lead your church through the season Lent is to show them with your life. You need to go first. Church leaders are far from perfect, to be sure. But we are called to lead with our lives. We cannot expect our people to devote themselves to Jesus in Lent at a level that we are not. With that in mind, consider how you might lead your church by example.
If your church does not currently practice Lent, consider observing it yourself this year. Hold off on leading the whole church for now. Practice fasting, prayer, and generosity at a level that challenges you. Ask your most trusted leaders to join you and to support each other through the season. Write down the lessons you learn so that you can share them with others you pastor or lead.
Intercede for your church. Ask the Father to prepare the way for them to draw near to Jesus in Lent and Easter. Pray for your leaders, staff, or small group members by name.
Our three dimensional lives are usually more interesting than our two dimensional sermons.
Ensure you are being led. In the words credited to Saint Teresa of Avila, "The person who has himself as a spiritual director has a fool for director." With that in mind, seek out a spiritual mentor who can encourage and challenge you during Lent. Ideally, this person will be able to handle hearing a confession of sins from you. That might be someone you already know and trust, like your district superintendent, bishop, local spiritual director, or another leader you know. Do not hesitate to reach out to a group that offers quality care to pastors, like Pastor Serve (www.pastorserve.net) or Soul Shepherding (soulshepherding.org).
Increase your personal giving during Lent. Be truly sacrificial to express your love for Jesus and your commitment to his bride and mission.
Give extended time to prayer and preparation during Holy Week. As Holy Week approaches, you can prepare for the week by prayerfully meditating on passages that depict Jesus' passion. This is especially helpful for those who will preside over or preach during Holy Week services.
Once you have followed Jesus on the 40-day journey of Lent, he may ask you to take others along with you next time. Here are a few ideas to consider as you shape your church's out­reach, discipleship, preaching, and worship in Lent.
Lenten Outreach Ideas
Outreach is sometimes ignored during Lent. It need not be an afterthought, though, since Lent trains us to reach out to and love our neighbors in Jesus' name. Here are ways to face outward as a church during Lent:
Shrove Tuesday pancake night. Shrove Tuesday is the final day before Lent. For many Christians around the world, it is a time to clean rich foods out of the house by serving delicious pan­cakes to their neighbors. That's why some call this day "Pancake Tuesday." You can organize a Shrove Tuesday pancake night by asking your leaders and small groups to host a neighborhood pancake night in their homes.
Stations of the Cross. During Holy Week, you can host a bibli­cally based Stations of the Cross art exhibit for the community. Last year, our church commissioned artists within and outside our church to create 14 pieces depicting Jesus' passion, from his prayer in Gethsemane to his body being placed in the tomb. We distributed invitations all over the city for people to join us for refreshments and reflection.
Good Friday gift. Consider using Lent as a time to highlight and fund the missionary focus of your church, whether it is foster care, an unreached people group, or human trafficking. Call people to fast and pray for this ministry during Lent, and collect a special offering on Good Friday. This is an excellent way for the classic disciplines of Lent—fasting, prayer, and generosity—to point your church outward.
Easter festival. From the perspective of the church calendar, this is not technically a Lenten outreach event. From the perspective of your planning and the church's momentum, it might as well be. Use Easter Sunday to reach out to your com­munity. This starts with an inviting and well-planned worship service. If you have that covered, consider throwing a festival for the surrounding community with fun activities that kids will enjoy, such as a bounce castle, an Easter egg hunt, and face painting.
Lenten Worship Ideas
Here are several ways in which you might want to lead your church through Lent in worship:
Ash Wednesday service. This is a low-overhead, high-yield service that any church can pull off. Ash Wednesday gives your church a chance to begin Lent in a spirit of prayerful repentance.
Lent trains us to reach out to and love our neighbors in Jesus' name.
Holy Week services. Most churches observe at least one of the Holy Week services: Good Friday. If you have the bandwidth, I would encourage you to add at least one more, such as Maundy Thursday, or changing up a service you already celebrate, like Palm Sunday.
Tastefully use darker colors in your worship space. Colors like purple and black are visual reminders of Jesus' suffering and our repentance. Typically, Lenten fabrics are matte finish and coarse, such as burlap or linen. You can drape fabric across the front of your worship space, communion table, and cross. You might tear fabric instead of cutting it in order to visualize the torn garments of repentance. On Good Friday, you can use a large fabric panel that is black, overlaid with torn strips of gray fabric with black abstract shapes printed on it.
Simplify your worship space. Consider removing other art elements, be it liturgical or otherwise. Less is more during Lent, so strip out whatever you can. What stands out is the lack of liturgical art elements where you normally have them the rest of the year. For evening services—Ash Wednesday, Maundy Thursday, and Good Friday—you can use low lighting to create a somber mood.
Art cards. At Immanuel, we ask artists in the congregation to create art, or find a piece of art they have already created, to accompany a Scripture text for a certain Sunday in Lent. These are printed on quality, thick paper or cardstock with the Scripture reference and artist's name on the reverse. The small cards are included in the Sunday bulletin. Sometimes they serve as a reflection of sorts, with space for notes and prayers on the reverse side.
Lead people in corporate confession. Toward the beginning of your worship services, lead your people in a time of silent confession, and then invite them to pray a written liturgical confession—either written in your service program or displayed on the screen. You can write your own, but I recommend using an older prayer that has stood the test of time. Do not forget to assure your people of the gospel when the confession is complete!
Spiritual leadership of the local church is a great privilege. The Lord of the Universe has committed this holy assign­ment to us and given us his Spirit to see us through. Let us take up our mantle of leading our church through Lent by praying, planning, and inviting our congregation to follow us as we follow Christ.
Aaron Daminai is the lead pastor of Immanuel Anglican Church in Chicago's Uptown neighborhood.
Adapted from The Good of Giving Up: Discovering the Freedom of Lent by Aaron Damiani (©2017). Published by Moody Publishers. Used by permission. www.MoodyPublishers.com.