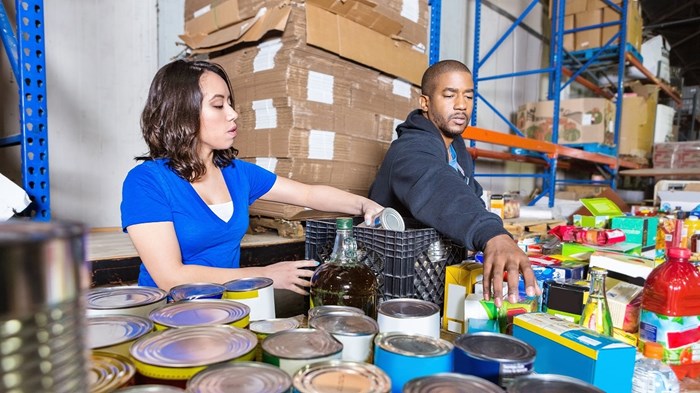 "When your income is not that great, and prices are going up, how are people supposed to survive?"
For the last year, Charles Johnson and his family of five have been caught in an insecure no man's land. Their family's low income can't always stretch to cover everything they need, yet they don't qualify for public assistance in Georgia. So in his words, "We're trying to look for any kind of help we can get."
That's where Hillside Presbyterian Church comes through. Whoever said small churches can't do big things?
This small church in the Atlanta area has found its calling in Decatur, Georgia, by meeting tangible needs of people in the community. Over the last 20 years, this church of 124 members—80 active members, most of them between the ages of 50 and 90—has distributed around 800,000 pounds of food to nearly 145,000 people. Hillside has become well known for its food pantry, and people from outside its service area—often sent by other churches—come looking for help.
Johnson lives in the service area for Hillside's food pantry, and he's grateful for what the church provides. The food pantry provides one source of food for the family, freeing a portion of their resources for meeting the family's other needs. "Having the church there has been a great help for me and my family," he says.
According to Bill Marks, part of the Hillside congregation since the 1980s, "Even though the church's congregation has shrunk, its members are fiercely committed to making sure the food pantry meets the needs of its community."
When people from the church decided to keep some cans of food on hand in the 1970s, they had no idea what they were starting.
Respond to Immediate Needs
Hillside has a history of noticing and responding to its community.
In the 1970s, southern DeKalb County, Georgia, made a transition from mostly white residents to an African-American majority. In these changing times, Hillside's shrinking all-white congregation decided to call Rev. Dr. Paul Smith to pastor the church. Smith was an African-American pastor, former vice president of Morehouse College, and a prominent civil rights activist. The church grew rapidly and became one of only a few racially integrated churches in the denomination.
During this time, three members of the congregation came up with the idea to keep a small supply of nonperishable food on hand so the church secretary could distribute it to people who requested assistance. They asked for donations from the congregation, who gave freely for decades.
Then in 2000, Raymie Malloy took on leadership of the church's Social, Mission, and Outreach Ministry, which gave oversight to food collection and distribution. Malloy and fellow church member Juarez High took the store of food and turned it into an impressive food pantry.
"It was the first of its kind in the area," Malloy says. "When I first took it over, the shells were there: rice and grits and some canned goods. People would call and ask if we give food out."
It's amazing what one small church can do to support a community.
She remembers filling in one day, answering calls in the office, and getting three calls from people looking for food. "I had no idea what to do. They said, 'I don't have any food in my home. I have three children, and I don't know what to do. Do you have any food you can share?' They were so desperate."
And now, says Catherine Davis, chief marketing and communications officer at Feeding America, the nation's largest hunger relief organization, "It's amazing what one small church can do to support a community. They've done an incredible amount of work."
Establish Key Partnerships
When Malloy began leading the food bank, she and High decided to increase their supply of food. So they went to Kroger with donated funds and their own money and bought the most inexpensive items they could find. "At that time we didn't know about the food bank or that there was cheaper food anywhere else," she says. "Once we joined the food pantry, it took off."
This was one key to Hillside's success: joining Atlanta Community Food Bank in 2003. An affiliate of Feeding America, this food bank serves as distributor for Hillside and roughly 600 other community-based partners in 29 Georgia counties.
When Malloy took over, the food pantry had a clientele of six to eight people each week. Now, in an average week, it distributes 1,000 pounds of food to as many as 400 people—all in two hours on Tuesday afternoon. And that's not all they provide. Sometimes individual church members give people clothes, provide transportation to job interviews, help them get cars, or provide other forms of practical help. They offer referrals to resources for housing. For homeless clients, they provide foods like peanut butter and crackers or items they can microwave. They offer spiritual support and counseling. And sometimes their food pantry clients become part of the church.
"It just got bigger and bigger," Malloy says. "It blossomed into something that was one of our proudest moments in terms of helping the community." She wrote grants and got donations to purchase three large freezers so the pantry could distribute meat and other frozen foods.
"They're very organized," says Rudy Serrano, senior manager of partner relations at Atlanta Community Food Bank. "We love that. It makes our job easier—and theirs."
As a client, Johnson also speaks highly of the panty's operation: "The people there are very friendly, they're warm-hearted, they just try to help you anyway they can. It's a great food ministry up there at Hillside. They're very professional."
Mobilize the Willing
Another key to Hillside's success, and to its high level of organization, is robust participation among church members. The pantry has also recruited support from people outside the church. Bill Marks calls the pantry "a signature ministry for the church."
This kind of ministry is a reflection of the church's culture. Malloy, who has been a member of the church for 36 years, says, "It's a church that definitely likes outreach." In addition to their long commitment to the food pantry, the church has helped with refugee resettlement, tutoring children, and many other kinds of outreach.
In a church of 80 active members, the food pantry has a staff of 21 volunteers, most of whom are there every week. According to Marvin Simmers, a retired Presbyterian minister who attends Hillside and currently provides oversight to this ministry, the majority of the food pantry's funding comes from members of the Hillside congregation. The food pantry always pays its bills and carries a balance to ensure stability. Each Communion Sunday, on the first Sunday of the month, members bring bread to be distributed through the food pantry. Each year members—from age 8 to 83—participate in the food bank's annual Hunger Walk/Run fundraiser.
No one involved in feeding hungry people sees this need going away anytime soon.
The pantry also gets volunteers from other local churches that don't have food pantries. "We've never needed volunteers, and the money we've needed has always been there too," says Malloy. The church next door, Hills of Help Outreach Ministries, contributes sandwiches and bottled water. Decatur Presbyterian contributes sandwiches once a month. Trinity Presbyterian Church sends volunteers, and other people come in from time to time.
The community also pitches in. High school students have volunteered. And when Malloy's brother was in a residential treatment program for substance abuse, he gathered volunteers from the program to help unload the truck. They kept coming back for a year.
Visible Impact
What keeps this church committed to the food pantry? It's meeting a tangible need among their neighbors. And the work they do every week is proof their neighbors need it. No one involved in feeding hungry people sees this need going away anytime soon. In fact, Feeding America wants to see more churches enter this kind of ministry.
"Churches and other places of worship are incredibly important," says Catherine Davis, chief marketing and communications officer at Feeding America. "Sixty-two percent of our food pantries identify themselves as faith-based. It's a huge part of what we do, and it's across denominations."
Although Feeding America procures a huge volume of food, it won't help the people who need it unless local partners are in place. There are hungry people in every county in the United States, Davis points out. "Every single food pantry is really important." For people on programs like SNAP, the government's provisions aren't always enough. A backup resource can be crucial. For others—particularly those who are disabled or elderly—transportation is a serious challenge, and having somewhere close by is critical. This is an especially urgent need in rural counties, Serrano says.
He says most people find out about food pantries through word-of-mouth, and Johnson's experience supports this. He and his family heard about the pantry through "word on the street—other people let us know that's a place we can go." Malloy confirms this is true of Hillside. "Everyone in the community knows about Hillside's food pantry, that it's a place they can come," she says. "We're definitely known as a church that helps." And once word gets out, the ministry is likely to grow.
Serrano says it's typical for new food pantries to rapidly increase their volume of food distribution in the first year because they have more access to the food they need, more volunteers, or more visibility in the community as word gets out. It's also typical for them to begin offering other kinds of help as they get involved in people's lives: "A lot of our partners also offer clothing, rental assistance, rides, or other things besides just food. You never know what all they're providing at the community level."
Malloy recalls the way people lined up at the food pantry after a fire in a nearby apartment complex. When people showed proof of their residency at the complex, the church's volunteers passed out food to them. "We've helped a lot of people in disasters," she says. After Hurricane Katrina devastated the gulf coast, many people were placed in the Atlanta area, and many came to the Hillside food pantry.
But this is not simply a ministry about filling gaps in government assistance or helping people through emergencies. It's a way to help people get back on their feet. The church receives letters from people who express their gratitude that the food was there when they needed it, and celebrate that they no longer need help. Malloy remembers one woman who came to the food pantry regularly for about two years and often told the volunteers, "One day I'm going to be able to help you guys." One week she stopped coming, and after a while the church received a letter from her, with $100 enclosed. She wrote that she had found a job and she was now able to support herself. "She said we saved her life," Malloy remembers. "And the lives of so many of her friends, who also relied on the food pantry. She wrote, 'You have no idea how many people you've allowed to make it, and you've given them a sense of pride again because one of the hardest things to do is to ask for food.'"
"People get better," Malloy says. "They really do."
Serrano speaks of the importance of churches in the fight against hunger: "If churches were to go away or to stop doing this, it would definitely hurt. It would mean one less avenue where people can go and get the assistance they need."
Amy Simpson is a life & leadership coach, a frequent speaker, and the award-winning author of Anxious: Choosing Faith in a World of Worry and Troubled Minds: Mental Illness and the Church's Mission (both InterVarsity Press). You can find her at AmySimpsonOnline.com and on Twitter @aresimpson.