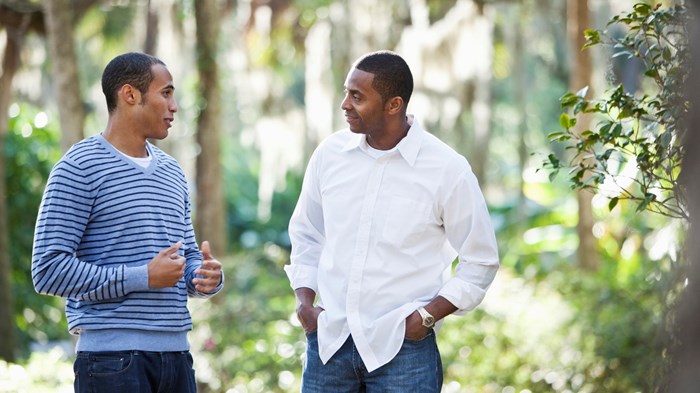 Leaders everywhere share a common challenge: help people reach their full potential. In some cases, high potential. But such achievements rarely happen on their own.
My son Scott entered his senior year of high school football with low expectations. He missed the entire junior season with a broken elbow—a critical injury for a quarterback. The head coach remained uncommitted as to who would earn the starting role, and the anxiety took its toll on Scott's confidence. Then someone showed up for him.
As my son walked to his car after practice, an assistant coach named Dave spotted Scott and asked him to wait a moment. Dave spotted an opportunity to go above and beyond just the Xs and Os.
"Several years ago," Dave said, "I coached a quarterback who didn't play his junior year. It wasn't until the next season, when he was a senior, that his chance arrived. Want to know what happened?"
"Sure," Scott said.
"He had an All-State year and set several single-season records at the school. Want to know why I'm telling you about him?"
"Why?"
"Because you remind me of him. Scott, if you decide you want to, you have what it takes to have a tremendous season. I have no doubt you're every bit as good as he was."
After his own record-shattering year as quarterback, and after receiving All-State honors, Scott credited Coach Dave's words with giving him the fresh, unexpected confidence he needed.
Did Scott have talent? Sure. But many people possess great skills. This story illustrates the difference self-confidence makes. Great numbers of people lack the personal belief in themselves needed to deliver stand-out work. Instead, too many fear failure and remain tucked inside a safe zone they create. That's a recipe for average effort that yields mediocre results.
In a moment, that story can change, just as it did for Scott when a coach made deliberate effort to encourage and, as a result, release the latent talent inside him. Any leader can do it. Every leader should. To help a potential high performer gain confidence, follow a simple game plan that involves just five plays:
1. Notice—really notice.
Sure, exceptional results stand out and everyone notices. In addition to the obvious, pay attention to new efforts or fresh success that comes from significant work, or a person who engages at a higher level than before. Intentionally look for potential in others. This requires regular, personal interaction with people—outside of the artificial reality in your office.
2. Speak up, but don't shout.
High-potential people respond well to personal encouragement from the leader. It can fuel further effort. But that only happens if an observation is made and words are shared. Concurrently, others on the team can feel discouraged or resentful if just one person receives the attention. For that reason, consider a side conversation. Yes, at times a positive message to one person, heard by all, acts as a motivator and reinforces the value of strong performance. But be careful. Public praise backfires without warning.
3. Be timely. (That means now.)
A leader who waits too long to share uplifting comments will appear out of touch; words lose effectiveness over time. And time passes quickly. Every organization operates with a rhythm that dictates timeliness. Football teams practice every day. Church teams have a six- or seven-day pattern, shorter with a midweek service. Yes, relevancy constantly resets. Any leader who waits for a performance review to encourage performance (this will sound harsh) is not leading his or her people well. Or at all. "Now" is always the right time for these conversations.
4. Share what you see.
Generalities get you nowhere, but specifics will take you far. With that statement as a guiding principle, share in detail what you see or saw that prompted you to speak up. Then follow with an unambiguous point or two about the person's potential that's clearly evident. Now close with a big picture or stretch aspiration this person needs to hear that will serve as a motivator. Make it something large and worth pursuing.
5. Start with one, or you'll never start.
Developing talent with your words will only happen when you step out of your preciously held time and into someone else's for a moment, maybe longer. Wait for that moment to find you and it will never arrive. Good intentions have never changed a thing. Believe that latent talent rests inside people on your team—that's all the motivation you should need to take action. These conversations tend to be quick, but the right moment can change everything.
Twenty-five years ago, a small group leader pulled me aside, looked me in the eye, and told me I had what it takes to be a leader. He backed up his comment with a specific observation. Leading in any capacity had never entered my mind before that moment. His words motivated me to take progressively challenging leadership roles.
A few well-delivered words can unleash potential in a person better than any training course, leadership conference, or incentive program. Challenge yourself to offer encouraging comments at least once every day, starting today.
*Portions of this article are excerpted from the book Show Up: Step out of your story and into someone else's (Dust Jacket Press, 2016) by David Staal.
David Staal, serves as CEO of Kids Hope USA. He also mentors a fourth grader, chairs the advisory board for a nearby college, writes as a senior editor for Christianity Today and worked full time for ten years in leadership at Willow Creek Community Church following a corporate career. David is the author of Show Up: step out of your story and into someone else's (Dust Jacket Press, 2016) and lives in Grand Haven, Michigan, with his wife Becky.