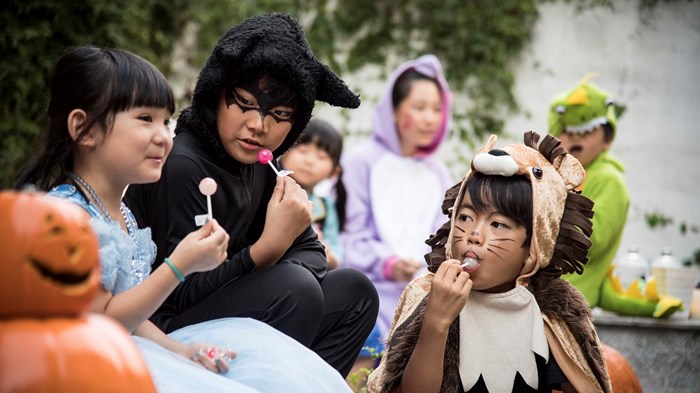 It's that time of year again. Ghosts and goblins are starting to appear on neighborhood lawns. Soon giggling children will don disguises and go door-to-door searching for candy. For most, Halloween is a fun, light-hearted affair. But sometimes Christians feel conflicted about how to handle this holiday. Does participating in Halloween mean that we are celebrating Halloween?
No matter how we feel about the controversial holiday, it presents a rare opportunity. Halloween is one of the few days on which our neighbors will actually come to us. But what should we do with such a gift?
Wayne Cordova, pastor of ministry at Crosspoint Church, in Spring Hill, Florida, has experimented with the concept of servant evangelism for the past decade. Cordova notes that both Jesus and his earliest followers ministered to people by healing and meeting physical needs first. By doing this, they earned the right to share the gospel message. Cordova states that we too need to earn the right to be heard by serving our community before we expect them to come to us.
Cordova speaks of two kinds of Halloween outreach events. Sometimes churches invite people to the church building by offering an activity. These "Come and See" events function as trick-or-treat alternatives. Traditional trunk-or-treat and fall festival events fit into this category. My local church hosts a popular "Come and See" event in the form of a family worship night, with a trunk-or-treat—which brings traditional trick-or-treating to a parking lot where kids go from car to car for candy—immediately following. This event is always wildly popular. Events like this, however, often require months of planning and work.
In contrast "Go and Be" events, as Cordova calls them, focus on sending the church into the community to serve. Cordova explains that "'Come and See' events often eat up extensive staff manpower and church dollars, while 'Go and Be' events can be pulled together last minute. When a small group of people or a few families take not seized, it is a wasted opportunity to ownership of the event, the resources needed to pull off the event are generously donated by the group. They must work and problem-solve together to discover how best to serve their community."
While both types of activities have their merits, event planners should determine in advance the purpose of their Halloween event and choose accordingly. Depending on your goals and event timeframes, here are five options to consider.
1. Mad Doctor Medical Festival
For this event, the church partners with local shelters, hospitals, doctors, nurses, or dentists to host a fall-themed, free medical clinic. This new twist on the conventional free clinic offers general medical exams, dental cleanings, fillings and extractions, eye exams and health screenings, free glasses, skin exams, and health and wellness classes for the underprivileged in the area. These events can include a meal, a bonfire, and goody bags containing basic necessities such as socks and common hygiene and sanitary products.
2. Dry Bones 5K
Focus your study during the month of October on the book of Ezekiel. By concentrating on this haunting story in the Old Testament, the church can examine God's expectation of his people to serve the social justice issues in the local community. This 5K event attracts running enthusiasts and those interested in social justice issues. You can use it to raise awareness about local causes such as poverty, racism, or human trafficking. Remind participants that, like the people in Ezekiel, all of us periodically experience deadness in our faith and require God's breath to resurrect faith.
3. Creature Cause Crawl
Host a Halloween-themed expo where local non-profits and ministries are invited to share their visions and give out treats. This modern and fun take on the business exposition encourages attendees to travel from station to station, exposing themselves to many different service opportunities.
If you procrastinated on your planning (no judgment here!) consider these simple service activities that, depending on the scope of your imagination and enthusiasm, can be executed in just a few days or hours.
4. Reverse Trick-or-Treat
Instead of handing out candy on Halloween night, this activity involves small groups or families collecting bags of candy a few days before the holiday. Then, loaded down with bags of treats, they engage in a reverse trick-or-treat by knocking on the neighbors' doors and giving them bags of candy for Halloween night. This simple act is punctuated with a note that reads, "We want to help you out with the treats so you don't get tricked!" For churches new to servant evangelism, this activity provides an effective first step because it is simple and relatively inexpensive.
5. Halloweenie Roast
For those churches with established regional small groups, this event can be extremely effective in connecting churches with communities. Small groups host lawn parties on Halloween night. As the parents meander around the neighborhood with their costumed children, the small group members distribute candy to the children and free hot dogs and water to the adults. In addition, you can hand out treat bags containing candy, community giveaways, and information about the church.
Inevitability, someone will ask this question: "Why are you doing this?"
The small group members can respond, "Our purpose is merely to show you God's love in a practical way—no strings attached." By showing that God loves people unconditionally, we begin earning the right to talk with our neighbors about spiritual issues.
Cordova says that churches that examine the question, "How can we go one step further to serve our neighbors?" will always find innovative ways to show that God loves people unconditionally.
In addition, these creative approaches can change the way people experience Halloween. Cordova has seen this in action: "Kids witness the act of generosity, and they begin imitating. They no longer come to church bragging about their Halloween costumes. They come eager to share about their Halloweenie Roast costume and the fun giveaways they have planned for the event." Christians shouldn't be afraid of using Halloween to engage their community. According to Cordova, "Halloween is a gift. If it is not seized, it is a wasted opportunity to show others God's love with no string attached."
Sabrena Klausman has served more than 16 years as a pastor's wife, church planter, and curriculum writer. She and her husband co-founded a nonprofit organization, Faceless Productions, Inc., which specializes in church curriculum and leadership training. She is the author of Zombie Christian (Tate, 2014).