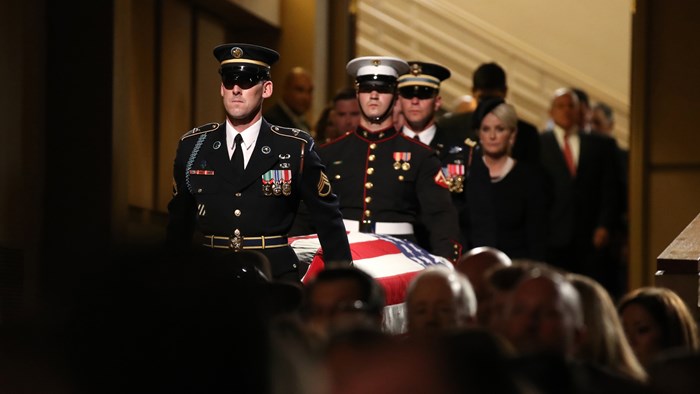 Image: Justin Sullivan / Getty
North Phoenix Baptist Church, like many American churches, lost a congregant this month. In this case, the late church attender was John McCain, a former POW, a longtime US Senator, and one of the most beloved and respected American politicians in recent decades.
Thursday, August 30, 2018, the church hosted a memorial service for McCain, and its lead pastor, Noe Garcia, delivered the opening and closing remarks. Garcia, who has been on staff for three years, recently shared with Christianity Today about the difficulty of balancing funeral logistics with spiritual responsibilities, his convictions about pastoring celebrities, and why he's excited to preach the gospel to everyone tuning in to the service.
What is it like to prepare a memorial service for one of America's leading political figures?
It takes a whole lot of organization. There are a lot of moving pieces. There's working with Homeland Security and Senator McCain's office. I have to make sure that we as a church are here to meet any needs the McCains have during this difficult time for their family.
Then there's the spiritual portion. We understand there will be a lot of eyes and ears watching and listening to this funeral. We don't want to shy away from a gospel response in this time.
I'm doing the invocation and benediction. Having a well-thought-out, gospel-centered prayer in the opening is important for me.
Tell me more about what you're thinking as you put the invocation and benediction together.
I asked the family, "What do you want me to say?" They said, "Say whatever you want."
I have a two-fold goal: honoring Senator McCain and his family while at the same time giving people the hope of the gospel through the welcome and through the close. I'd love to begin the service with 1 Thessalonians 4 and end the service with the hope of the gospel of Jesus Christ.
Thankfully, McCain professed Christianity. This is a great time for me to share with people why this service is a celebration of life. I'm going to go into the gospel very clearly—Christianity 101.
We sometimes make evangelism harder than it is, and we forget that the gospel can speak for itself. It doesn't need our help. If I read John 3:16, that will be powerful enough.
Some say funerals aren't the best venues for evangelistic messages—that we should focus on honoring the deceased. Do you feel that tension?
No, there's tension in me not sharing the gospel. I'm going to be very tactful in how I do it, but I would have a more difficult time if I left this funeral service and realized that millions could have heard the gospel, but I was too afraid to share it.
A recent study from Barna ranked the most and least "Bible-Minded" American metro areas. Phoenix is ranked 89th out of 96 cities—one of the lowest in the US. There will be about 3,000 people in the sanctuary, and it's likely that many have never heard the gospel.
When did you first meet John McCain?
Actually I never met him. He was close to our former pastor, Dan Yeary, who was here for about 25 years. Dan constantly confirms that Senator McCain was a believer in Jesus Christ.
We have a handful of celebrities who attend our church. To be honest with you, we try to leave them alone. Since I've been here, Senator McCain was part of the congregation on Sunday mornings several times. I never chased him down to meet him. Whether you're a celebrity or high profile person, I want you to walk through our doors and feel like this can be your church home and place of worship, where you don't have to worry about being bothered because of who you are.
You want the church to be a place where they don't feel pressure to be "on."
I want this to be a safe place for them. I'm very straightforward with my staff, deacons, and elders. I tell them, "Greet them as members of the body and family in Christ. Please don't ask for pictures or autographs. Just let this be their church home."
How is this memorial service different from other services you've hosted?
To be honest, I have to separate the flesh from the spiritual. I have to intimately listen to the voice of God instead of thinking, This is Senator McCain's funeral, and all these people are watching. Who's watching? Who's sitting in the congregation? I can't let that divert me from approaching it as I would any funeral.
Every funeral service is a gospel opportunity. I never assume that everyone at a funeral service is a believer in Christ, and this will be no different. While obviously it's on a different scale, the gospel has to remain the central focus.
I love an altar call. I was saved through an altar call so I still believe in them. Normally at the end of a service, I give people an opportunity to respond to the message, receive Christ, and then walk down the aisle. Obviously I will not do that at Senator McCain's memorial service.
What have you learned from planning this service about balancing the logistics with pastoral care during a funeral?
I recommend getting a volunteer or staff member to help take care of logistics, so you, as a pastor, can focus on the spiritual things—that's what we're called to do as ministers. This is a time of ministering to family, friends, and the community. Thankfully our church has a logistics coordinator, but not every church does. No matter the size of your church, you should find a volunteer to help with that.
Even with that help, you'll probably have to deal with the planning. Senator McCain's office has leaned on me for the logistical order of the service.
I like to think about what's going to take place from the parking lot to the pulpit. It's overwhelming, but it's an easy way to think through the logistics, from parking ushers to greeters at the door.
We have to escort the McCain family in and out. We need a green room for them where they won't be bothered. For any funeral service, you want to be sure the family has a separate room where they can be together without being overwhelmed by people.
Early on we sat down as a team, including our logistics coordinator, and talked about the service from start to finish. Some people raised their hands and said, "What about the restrooms?" Well, I never would have thought about the restrooms. That's why it's good to have a team around you to help you think through every detail.
In this partisan moment, where many are analyzing the funeral details and President Trump's response, what do you want the American people to take away from the memorial service?
I stood before my congregation last Sunday and said, "Politics and faith can get really messy. Regardless of what political views you have, you're a Christian before you're an American." I try to instill that in my church because, if we're not careful, we can allow our political views to drive our biblical stance, when our biblical views should drive our political stance.
It's as simple as this: last Sunday we took time to pray for a brother in Christ and his family.
Does your congregation tell any stories about Senator McCain?
One thing I have heard a lot about him lately is how kind he was to our church leaders. He was a very kind man with a great personality. He treated everyone in our congregation with honor and respect regardless of who they were. We're a very diverse church, so for different people in our congregation from all walks of life to say that he was consistently kind—that sticks in my mind.
Is there anything else you'd want us to know about McCain's presence at your church?
It's important that people hear that John McCain was a man of courage, he was a man who loved his family and loved his wife well, and he was a man of faith. Those are three things I hear a lot throughout our church about what he meant and what he represented to people.
Morgan Lee is associate digital media producer at Christianity Today.