How to Serve Your City When You Aren't a Megachurch
Our resources are limited, but that hasn't stopped us.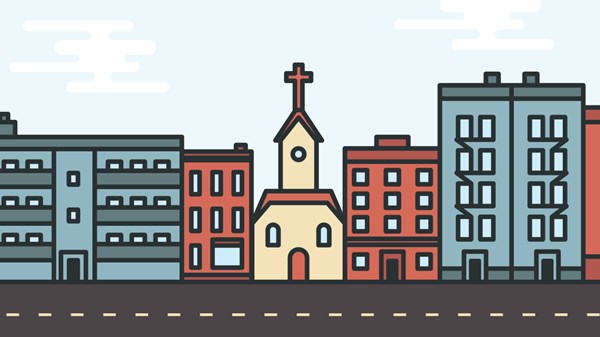 How to Serve Your City When You Aren't a Megachurch
Our church is located in the second-most affluent county in the state of Tennessee. As a new pastor in the area, I struggled to discern the most helpful ways our church could serve our city. We aren't a megachurch, so our resources are limited. Random acts of kindness are wonderful, but I envisioned our church becoming an indispensable partner in the community through compassion and gospel proclamation.
Although we are located in a Bible-belt town, almost 80 percent of our community is not connected to any church. Most people do not care that we exist and are not interested in what we do.
These dynamics tempted us to assume what people needed, meet those perceived needs, and call it a win. But we knew God was calling us to more.
A Fateful Meeting
I invited the city manager, whom I had recently met, to lunch one day. As we sat together in a popular diner located in the heart of our city, surrounded by neighbors from every walk of life enjoying their club sandwiches and sweet tea, and with a room full of televisions tuned into every sports channel available, I asked him how a church like ours could serve our city.
Our city manager oversees city services and recruits new businesses to the community. The flourishing of the city is always on his mind, but when I asked him how our church could serve him and his interests, he wasn't sure what I meant. He works with politicians every day. What was my angle? Was I just another guy trying to make a deal? What did I want from him?
We are helping organizations that already serve our city succeed in their efforts.
I assured him our agenda was simply to help. We had raised a little money, and we wanted to use it to serve the city without any fanfare. Without knowing how much money or genuine interest we had, he offered a few possibilities. We discussed everything from city beautification projects to sports leagues to fire and police services. The last one grabbed my attention. Specifically, he mentioned a tourniquet the police department had requested, but funding was not available. Police officers are usually the first to arrive on the scene of an accident. Officers wear this tourniquet device on their equipment belt to stop bleeding and potentially save lives. This was the perfect way in which we could serve our community.
We introduced the sergeant in charge during a Sunday morning worship service to explain the value of the tourniquet to our congregation. Then we presented him with a check to purchase this tool for every police officer and reserve officer on the force. It was a significant amount of money for our church, but we were excited to partner with these men and women who serve and protect our city every day.
New Opportunities
That first conversation at the Corner Pub led to a growing relationship with the city manager that turned into a friendship. We now serve at city events together, text each other, and enjoy each other's company. He knows I am for him and that our church is for our city.
We developed similar relationships with the police chief and fire chief. Our church hosts a community luncheon every year during the week prior to Easter. This luncheon includes discussion panels with city leaders, and allows us to honor city employees and to present financial gifts to the police and fire departments.
As our congregation prioritized honoring and helping our city's civil servants, other segments of our city began to trust us as well. W. A. Wright Elementary School sits just around the corner from our church. With education challenges growing and education dollars shrinking, our church had an opportunity and responsibility to help. So I approached the school principal with the same question I asked the city manager: "How can our church serve you?" I didn't press too hard. Schools, in particular, can be slow to trust churches. No principal, regardless of his or her faith background, wants to be a "separation of church and state" news story.
Trust takes proven action over time, so our church began serving in simple ways: painting old playground equipment, delivering meals to the staff, donating dozens of reams of paper for the copy room, and giving gift cards and "thank you" notes to the faculty. We prayed for the school and waited on God.
As we serve our city and speak hope, we know not everyone will follow Jesus, but we trust many will.
The police chief introduced me to his pastor, who is the Fellowship of Christian Athletes director for our county. In God's providence, the FCA director wanted to begin a chapter at W. A. Wright Elementary School. The relationships we had cultivated with the principal and faculty allowed us to partner with FCA to begin a new chapter in this school, where we now share Jesus with over 60 students every Thursday morning.
Our partnership with W. A. Wright continues to grow. In addition to FCA, we now help fund and serve a summer reading program for at-risk kids. They've opened their doors wide for us to assist in classrooms and provide extra resources that help teachers and students excel.
To effectively serve the school, we recruited a church member to be our "missionary" to W. A. Wright. She volunteers as a liaison between the school and our congregation, serving on the school campus for several hours each week. The administrators and faculty know her and trust her, and they bring relevant needs to her. She then builds ministry teams from within our congregation and mobilizes them to meet those needs.
Recently, we heard the school's parent group was raising money for a new playground. So we invited city and school leaders to attend a special Sunday service, and presented the principal with a financial gift to help build the new playground. We need a new playground on our campus as well, but by putting the school ahead of ourselves, we demonstrated the love of Christ in a tangible way.
For Our City
As a next step in our commitment to our city, we introduced an effort to our congregation based on Jeremiah 29:7 called "For Our City." We identified four specific areas of need:
1. Safety. We will keep supporting first responders and their families so they and our citizens can live in safety.
2. Hunger. Although we are an affluent community, one in four kids face food insecurity. Not only do we want to provide food for hungry families, but we also want to encourage and equip business owners to hire disadvantaged, yet willing workers.
3. Addiction recovery and rehabilitation. Alcohol and drug abuse are as much an epidemic in our community as anywhere else in the nation. So we are working to build a network of resources, including early education, counseling, and recovery ministries for our community.
4. Generational success. In light of family dysfunction and educational challenges, we will partner with other organizations in our community to serve child abuse and human trafficking survivors, encourage and resource foster and orphan care, keep up our efforts with reading programs in schools, and provide after-school and summer programs for kids.
Through open-handed generosity, genuine friendships, and responsiveness to community- specific needs, we are helping organizations that already serve our city succeed in their efforts.
Advancing the Kingdom
The kingdom of God is advanced when people in our communities place their faith in Jesus as Lord. That is God's ultimate desire, and it is our ultimate motivation as well. But Jesus proved his ability to care for souls by caring about the success of others.
When Jesus entered big cities and small towns, he walked slowly, made friends, discovered needs, gave real help, and spoke hope. Not everyone he helped followed him, but many did, and they moved from death to life forever. As we serve our city and speak hope, we know not everyone will follow Jesus, but we trust many will.
In the same way, our opportunity to impact people begins with our willingness to invest in them. So start by introducing yourself to someone you don't know. Learn to love them, give them a reason to trust you, celebrate their wins, and see God open new doors for the gospel.
Daryl Crouch is senior pastor of Green Hill Church in Mt. Juliet, Tennessee.

01/25/2018