Image: Provided by the author
I can't remember a day when I didn't know the experience of being in a large stadium filled with people sitting on the edge of their seat, clinging to every word spoken by Rev. Billy Graham. I am a "Billy Graham Kid"—the child of a staff member from the Billy Graham Evangelistic Association (BGEA).
Both of my parents served on the team of leaders and strategists behind the Grahams's ministry for nearly 30 years. My dad, Rev. Bob Williams, was the director of international ministries for BGEA for 12 of those years, overseeing everything the organization did outside the United States and Canada. He was still serving the Grahams in this role when he died in 2000.
Billy Graham, to me, was both a giant in the faith, and a giant of a person. Standing at 6'2", he towered over me and seemed larger than life. In many ways he was. Yet, he was also a man who deeply loved my family. They were more than simply coworkers—Billy prayed a prayer of dedication over me and my brother when we were babies. The friendship my mother and father had with Billy and Ruth is difficult to put into words, but it was impossible to miss the impact. Spending so much time together on mission forged a deep friendship.
The BGEA schedule was the calendar our family revolved around. My dad's travel schedule was as intense as it was vast. There were times my mom was raising my brother and me on her own for months out of a year. My dad was intentional and wrote us letters and spent an unknown amount of money on international long-distance phone calls long before the days of FaceTime and Skype. That didn't keep us from disappointment, however, when he wasn't home for a birthday or an important soccer game. But deep inside my young heart I knew that what he was doing was important, that Dad was on a mission, and that meant a lot to me.
There were also times we got to join the mission, with numerous opportunities to travel and see the world, always with the mission of sharing the gospel with each community we visited. I have been to more Billy Graham crusades than I can count, in more cities and countries than I can list. To see different cultures and people groups around the world at such a young age shaped me at my core.
Sometimes I got to take a trip with my dad, just the two of us. Those trips were my favorite, except that Dad struggled to help me with my hair braids and clips. Nevertheless, it was fascinating to see him in action. On one trip, I was sitting around a table with my dad right before Mr. Graham was to go on television for an interview. My dad was briefing Billy on all the work the organization was doing around the world so that he was as informed as possible about all of their initiatives. The amount of work that was happening overseas was so massive that my dad was also getting makeup and a mic in case he needed to join Billy on screen to give the full picture.
Those close to Mr. Graham have often said to me, "Billy loved your dad like a son," and I saw it that day in his prayer.
As I sat around the table with these two men who were so influential in my life, I tried to understand as much as a young pre-teen could about what they were talking about. All of a sudden from under the table, Mr. Graham began to kick me with those long legs—a grandfather-like attempt to tease me and tell me he noticed me sitting there trying to take it all in. I giggled, feeling seen, while my dad glared at him pleading to regain his full attention.
When I was seven and my brother was five, my dad was diagnosed with Pulmonary Fibrosis, a chronic lung disease that could have been triggered by the inhalation of a long list of things he was exposed to in his travels. His doctors at the Mayo Clinic in Rochester, Minnesota, predicted that he'd have two years to live. Miraculously, through prayer and perseverance, he lived for ten. During the last few weeks of my dad's life, Mr. Graham happened to be at the Mayo Clinic receiving treatment for Parkinson's disease. Together we watched my dad's health deteriorate at the young age of 50.
Both Billy and Ruth stopped by to encourage my parents and pray with them. By then, Billy and Ruth were in their 80s and declining in health. The man who once towered over me sat hunched over in a wheelchair next to my dad's bed. He placed his large hands intentionally on my dad's body pleading with God to mend its failing systems. Billy's still large, but now frail body heaved with sobs as he prayed, "Lord, I am old and ready to go and be with you. I have done all I need to do in this life. My work here is done. Spare Bob; he is so young and has so much left to do for your gospel and your kingdom." Those close to Mr. Graham have often said to me, "Billy loved your dad like a son," and I saw it that day in his prayer.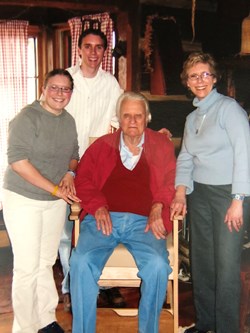 Image: Provided by the author
My dad took his last breath just a week later as I held his hand, and the first person to be called was Billy, who came as soon as he heard. As a 17-year-old, I had watched the most well-known Christian alive pray for my dad at the side of his hospital bed, and still, my dad hadn't experienced earthly healing. The experience sent me into a tailspin around the theology of prayer for a decade.
The last time I was with Billy was at his home in North Carolina right before I started my master of divinity program at seminary. I told him I was going to become a preacher like him and my dad. I saw his eyes light up just like they did when he talked about his own daughter, Anne, a preacher he clearly admired. He prayed a blessing over me and told me that he was proud of me and was certain my dad would have been as well. That moment of empowerment meant the world to me, and it still does today.
Those who know my connection to the Graham family have asked me over the years, "Will there ever be another Billy Graham?" My instinctual response is, "Of course not!" It seems odd to me that anyone would even aspire to such a thing.
Then again, there is a part of me that reconsiders my answer when I think of who Billy Graham was at the core. He would have said of himself that he was nothing special. He was just a southern boy from North Carolina who had a calling on his life. He chose to obey that call no matter what he faced. He wasn't a perfect leader, and it discredits the God he served to suggest that he was. At times he didn't do enough to be a voice for the voiceless; at times his voice helped tear down walls that God positioned him to topple. He was just a man who tried to learn from his failures and apologize for his mistakes, a man who knew that because of Jesus we have the blessing of success and grace for our failures.
In my 15 years in ministry, I have had to wrestle with many things about the call that Mr. Graham and my dad had on their lives. There is a healthy critique we can offer of the mass evangelism movement. Yet, there is a lot we can honor. Furthermore, I've wrestled with the messages and political ties of the current leadership of the BGEA. Regardless, I'm thankful for his legacy, especially in my own life.
There will never be another Reverend Billy Graham, but his legacy reminds me that there will never be another Reverend Stephanie O'Brien either.
God's call on my life is not to tent meetings, festivals, or crusades. Instead it's to the streets of Minneapolis, through an urban church trying to love our community in the name of Jesus. My call is to proclaim the gospel from pulpits—but also to equip the people of God to proclaim the gospel around water coolers and coffee tables. I want to help people follow Jesus into their everyday spaces as missionaries that preach the good news of Jesus through their lives and in conversations with their neighbors and coworkers, to encourage them to join Jesus' kingdom work of restoration and justice in their communities.
We don't have to be called to tent meetings to proclaim the good news. The core question is still the same no matter who I'm talking to: Will you surrender your life to Jesus? I consistently echo Mr. Graham and say, "Giving your life to Jesus is the most important decision you could ever make."
There will never be another Reverend Billy Graham, but the effect of his legacy on my life reminds me that there will never be another Reverend Stephanie O'Brien either. I am just a woman from Minnesota who has a calling on her life, and I have to choose if I will be obedient to that call—no matter what I might face.

And so it is with all of us.
We must let Jesus be our savior, yes, but also the leader of our lives. There is no reason for anyone to try to be the next Billy Graham. We all have the same opportunity to relentlessly pursue our call, just as he did, no matter the cost.
Stephanie O'Brien is a lead pastor at Mill City Church in Minneapolis, Minnesota, and a program director and professor at Bethel Seminary in St. Paul, Minnesota. She co-hosts the Lead Stories Podcast and writes about what she sees God doing at PastorSteph.com. You can keep up with her online on Facebook, Twitter, and Instagram @PastorSteph.