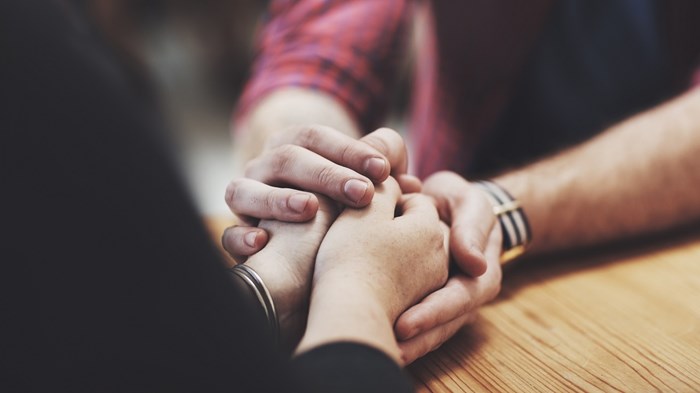 Image: PeopleImages / Getty
The four of us sat in a crowded café catching up on life and ministry when the topic turned to miscarriage and pregnancy loss. My friend, a pastor of many years with a fierce devotion to Jesus and to warm pastoral care began recounting the story of a relative who lost her baby before birth. "So many of us didn't know what to say," he confessed through tears, "and so we said nothing at all."
My friend is not alone. As the culture shifts and public conversations include more and more previously taboo subjects, many ministers grapple with how to best care for those in their congregations seeking support after pregnancy loss. Many admit to feeling ill equipped to speak into this sensitive area, which has historically been considered a women's issue rather than a family issue.
According to Mayo Clinic, "10 to 20 percent of known pregnancies end in miscarriage. But the actual number is likely higher because many miscarriages occur so early in pregnancy." (Some estimate the number is as high as one in four.) Based on these statistics, there's little doubt this tragedy has impacted your church community—whether in secret or in plain sight.
It's also likely impacting the health of marriages in your congregation.
According to one study, couples who experience miscarriage are 22 percent more likely to break up than couples who don't. Another study found that, one year post-miscarriage, 32 percent of women felt more distant from their husbands interpersonally, while 39 percent felt more distant sexually.
"So many of us didn't know what to say," he confessed through tears, "and so we said nothing at all."
As hard as miscarriage can be on a marriage, research also supports a direct link between the way partners connect after miscarriage and the resulting closeness they enjoy, with shared grief culminating in greater intimacy.
How can we best serve couples after miscarriage (not just women) and ensure they access the practical and spiritual support they need as they grieve and heal? I spoke with several mothers, fathers, and their pastors to hear how pastoral care helped them after experiencing pregnancy loss. Their responses can help you establish a plan of action.
1. Make time for grieving parents as early as possible.
The immediate period following a pregnancy loss is critical for couples, setting the tone for their grieving and healing process. A fast and early response reveals that you appreciate the magnitude of what these parents are experiencing. "The day we found out about our miscarriage, our pastor came and prayed with us before my wife's procedure," one father told me. "We appreciate how busy he is, so it meant the world to us that he took the time."
On the other hand, a late response is almost as damaging as no response at all. One woman told me, "A week after my miscarriage, my pastor called saying he wanted to visit us in the hospital. I burst into tears, telling him I had been released for a week. I felt so uncared for." This pastor's heart was in the right place, but his late timing created the unintended impression that this wasn't important.
2. Acknowledge the significance of their baby's life.
Because miscarriage often feels abstract to those not directly affected, the couple may need extra validation that their loss matters and their pain is normal. Issuing them an invitation to grieve or to acknowledge their baby's life through an act of remembrance can be a powerful gift to a hurting couple. As one father told me, "A church elder brought us funeral flowers after our miscarriage. Acknowledging that it was not just a 'loss' but a death was deeply dignifying."
3. Attend to both the mother and the father.
Cultural norms surrounding masculinity can be especially hard on men after miscarriage. While both parents grieve, dads in particular may need to feel a sense of permission to explore their feelings or let their grief be known. Here's an example of how you can do this well, according to a mother I spoke with: "Our pastor pulled my husband aside after church, asked him how he was coping, and told him that no two people grieve the same way, even a husband and wife. My husband later told me this was the most helpful thing someone did for him after our loss."
4. Encourage them to be honest about their emotions.
Invite parents to be candid about the ways their loss affects them and allow them time to share. If you feel it's appropriate, this may also be a good time to mention your own miscarriage. "I felt like I should hold my feelings inside in order to be a 'strong' Christian," one woman said. "But my pastor encouraged me to be honest with my grief. He shared that he and his wife had also miscarried, which helped me realize the miscarriage wasn't a refection on my spiritual life." If you haven't experienced pregnancy loss, it's helpful to connect grieving parents with someone else in the church who did.
5. Exhort them to be truthful about their marriage.
Talk with them about how miscarriage can bring a marriage closer together or isolate them from one another as they grieve differently. This may seem obvious to you, but couples are often surprised by how grief impacts their relationship. "We exhaled when our pastor told us it's normal for a marriage to be strained after loss," said one father, "Just being aware of this spurred us on to deliberately nurture our relationship even while we were still grieving."
Encourage couples to employ honest and deliberate communication. Task them with discovering how the other person feels and being proactive with ways to honor their spouse in his or her grieving process.
6. Welcome hard questions.
Miscarriage can be the catalyst for deep existential and theological questions to arise. While it's not your responsibility to untangle their confusion, you can be instrumental in reassuring a couple of God's presence and his willingness to engage their questions. One mother I talked with described her pastor as a lifeline when her miscarriage made her question her faith. "My pastor emailed us expressing his condolences, and also shared that our miscarriage might trigger some big questions," she said. "He urged us not to be ashamed if that happened, and offered to sit with us when we were ready, assuring us he wouldn't judge us by anything we raised. I didn't know then how important that invitation would be when my faith started to crumble."
7. Pray for them and with them.
When praying for a couple after miscarriage, pray in ways that demonstrate both lament and hope as you ask God to minister to them. Consider ways to make your prayer feel more tangible to the ones being ministered to. Instead of sending a card with a typical "I'm sorry" message, write out your prayer for them to read and pray as many times as needed. Specificity is key. "Although our pastor was away when we miscarried," one mother said, "he emailed to say he was praying for us. We really appreciated that he didn't just say he was praying for us, but that he specifically shared what he was praying for us."
8. Give them a practical resource.
Invite parents to your church's grief support group, connect them with other parents with similar experiences, point them to an online support community, give them the link to a pregnancy loss ministry, gift them a Christian book on miscarriage, or refer them to your local pregnancy resource center. Prepare your office with these phone numbers, links, or printed materials ahead of time so that immediately following the loss you can give your time to prayer, presence, and counsel rather than research.
9. Rally others for tangible support.
As you encourage the couple to find comfort in Jesus, make sure they can also experience the comfort of his body. Your support is important, but grieving parents need to know that their friends and church family care about them, not just the people on staff. "On the day of my miscarriage, I called my pastor, and he prayed with me over the phone," said one mother. "That night a couple from church showed up at the hospital. It meant so much to us that our pastor sent them."
It may help to think of this situation in terms of giving birth and experiencing death simultaneously. Most of the same things that would serve a postpartum mother or family combined with the things you would do for a bereaved family will minister to them profoundly. (If you'd like a cheat sheet to forward to congregants, you can find one here.)
10. Point them to professional counseling as needed.
A recent study showed that 40 percent of women may experience symptoms of PTSD after miscarriage, so it's imperative we take grief seriously and refer couples to professional counseling when necessary.
11. Remember their loss as time goes on.
Committing to a grieving parent's ongoing well-being can be as simple as putting a reminder in your calendar to reach out during the week before their due date, calling them out of the blue to ask how they're healing, or considering how to thoughtfully facilitate special services.
Mother's Day, in particular, can be difficult for those who have experienced pregnancy loss. Here are a couple ways to address that holiday well: "On Mother's Day, my church showed a short video about maternal health in the developing world and made a donation toward clean birth kits," said one mother. "It beautifully honored mothers while being sensitive to the complexities of those in the pews."
The week before Mother's Day, one pastor I spoke with sends a helpful book and a handwritten card to all the women in his church whom he knows experienced miscarriages that year. "It is important to celebrate mothers," he said, "but we want those who are hurting to know that we see them, too."
Note: Some of the details of the people and situations described in this article have been changed to ensure the privacy of the individuals involved.
Adriel Booker is a writer, speaker, and advocate based in Sydney, Australia. She is the author of Grace Like Scarlett: Grieving with Hope after Miscarriage and Loss (Baker, 2018).