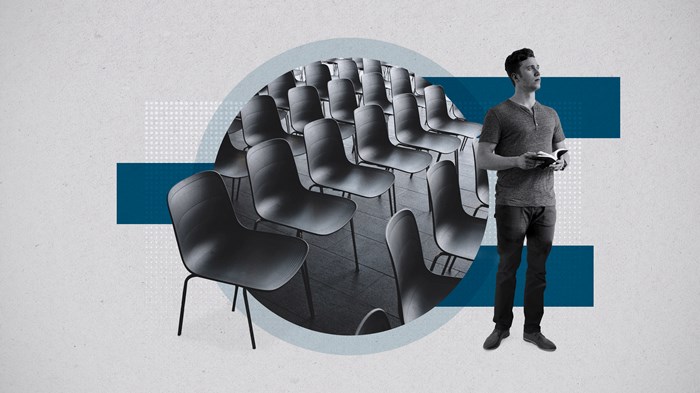 My earliest memories of Easter morning are highly American. I woke to find a basket outside my room filled with candy eggs. I was then directed, along with my siblings, into coordinated pastel clothing and special white shoes. After church I looked forward to more candy, to be found on the annual egg hunt in some backyard or another.
I do not mean to denigrate this. My childhood joy and anticipation of these cultural traditions taught me to experience Easter as a celebration even before I understood the its real meaning. The memories reinforce right feelings of gratitude, warmth, and togetherness. But what happens when our traditions get interrupted? No potlucks, no neighborhood egg hunts, no large family gatherings or outings? Most poignantly of all, how do we cope with the loss of corporate worship on the most important day in the Christian's year?
The pandemic now forces us to answer these questions. As pastors, realizing our churches will not gather together for Holy Week and Easter is painful. Yet out of our Easter privation, three invitations emerge:
An Invitation to Grieve
Spring 2020 has made its mark on the world as a season of grief. Some grieve the loss of income or proximity to friends and family. Young people grieve the cancellation of high school proms, graduations, and other important rites of passage. Thousands of people around the world grieve the death of a loved one.
By comparison, the loss of gathered worship for Easter feels trivial. But loss invites grief no matter the magnitude. The tangibility of Easter quarantine grants us access to sorrow about other, more ambiguous losses. It grants us permission to grieve our loss of control over school schedules and the welfare of our loved ones; that we can't hug our neighbors or enjoy a meal out with friends. And rather than trivializing any of these experiences, we can allow our sorrow to increase our compassion for others. This in turn will prepare us as pastors to lead them through their own grief.
We can, and must, acknowledge and mourn the loss of corporate worship on Easter. Our online or otherwise distant connections need not be spun as "just as good." Easter is lamentably different this year.
Pastors often feel the temptation to be cheerful and optimistic for the sake of their churches. But modeling healthy sorrow is also leadership. We can be permission givers by making space for people to name their grief. This can look like including a short prayer of lament during Sunday worship or encouraging small groups to discuss, "What are you grieving right now?" When we welcome our sadness, we become more acquainted with our Savior, "the man of sorrows" (Is. 53:3).
An Invitation to Solidarity with The Persecuted Church
While our inability to worship corporately is novel, it is the norm for persecuted Christians in countries like Iran, China, and Bangladesh. There, churches endure with unmet longing for togetherness and with little chance to gather in safety and freedom. How many Christians around the world already expected to celebrate Easter quietly and solitarily, even secretly? In a small way, our inability to gather grants us solidarity with their struggle. Ours can be a more global experience of Easter this year, a gift instead of a burden. We can identify with the resurrection as true hope for liberation and the promise of all things made new. Our persecuted brothers and sisters know this already in ways we do not. They can be our worship leaders this Easter.
In my tradition, we pray for the persecuted church every Sunday. These prayers mean more to me now than they did before. They have also become more personal: Now that our services are online, some friends from the global south have been able to join us for worship. The unfortunate reality of livestreamed services has become an avenue for global connection. And the painful reality of our scattered worship can give us empathy for Christians around the world.
This empathy can grow through practices like prayer, storytelling, and partnership. What countries or communities is your church connected with? What has the coronavirus pandemic meant for them? How can you remember them during your Easter worship? How might their example encourage or bless your people?
An Invitation to Eschatological Longing
Right before our parish office closed, I spoke to my boss about the likelihood of canceling public worship on Easter. As the founding pastor of our church, he has walked with our congregation for its whole life. With tears in his eyes, he said, "Whenever we are able to open our doors again—whenever I get to see their faces and place the bread in their hands—it will be the biggest celebration."
His love for our church is but a shadow of Christ's love for us. Our desire to be reunited in person is but a taste of Jesus' longing for our ultimate reunion with him. Even in our Easter worship, we fervently pray, "Come quickly, Lord Jesus."
Easter is the pinnacle of Christian worship, the definitive crescendo of the gospel. Jesus conquered death and inaugurated new creation. But our quarantined celebration of Easter reminds us that though Christ has risen, we still walk in the valley of the shadow of death and disease in our world. Until then, even our most joyous alleluias are tinged with a holy longing for the day when he returns and we rise with him.
We can embrace this tension by making space for sorrow on Easter this year. And we can encourage our people by locating their sorrow in the context of the larger story: Christ has died, Christ is risen, Christ will come again. One day, He will wipe away every tear from our eyes (Rev. 21:4).
This collect from the Book of Common Prayer gives us the words to pray: "O God our King, by the resurrection of your Son Jesus Christ on the first day of the week, you conquered sin, put death to flight, and gave us the hope of everlasting life: Redeem all our days by this victory; forgive all our sins, banish our fears, make us bold to praise you and to do your will; and steel us to wait for the consummation of your kingdom on the last great Day; through Jesus Christ our Lord." Amen.
Hannah King is a priest in the Anglican Church in North America, currently serving a parish in Greenville, SC.