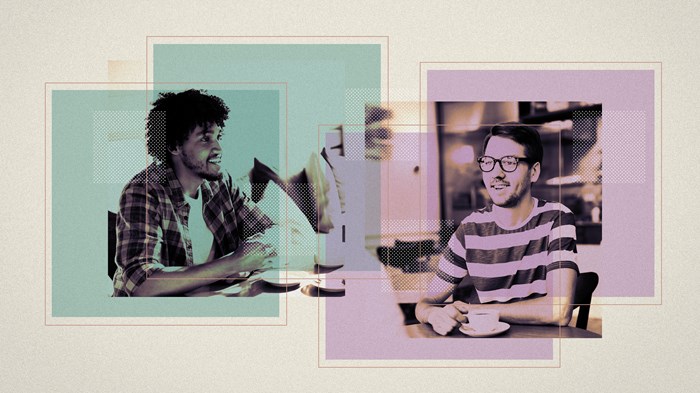 Image: Illustration by Rick Szuecs / Source images: PressMaster / ND3000 / Envato
The murder of George Floyd once again brought racism to the forefront of public discourse in the United States and around the world. Floyd's lynching, as with so many others, exposed the precarious myth of American exceptionalism. Social media continues to buzz with calls for action and accountability, yet most people inhabit power structures and institutions that perpetuate white racial frames. As a result, diversity initiatives and recently released institutional statements often fall flat, or worse: They do further harm.
Christian institutions are no different. As David Swanson notes, "Christians of color who are drawn to multiracial churches often are disappointed when they realize that, for most of the white members, their presence alone indicates success." Racial disparity becomes acute when communities are confronted with explicit issues of racism and white supremacy. Suddenly, the voices of Christians of color are deemed problematic, even "divisive." The majority culture demands such voices be sanitized, toned down, or shut down altogether.
The solution is not "cheap diversity" but inclusion and equitable justice. While many Christian institutions have incorporated this critical linguistic shift, the language is vacuous if not aligned with concrete social and systemic change. Unfortunately, white evangelicals have been discipled to see issues of diversity, inclusion, and social justice as "progressive" political issues and therefore inherent threats to the gospel. Though a significant pressure point for white institutions, the pressure for diversity brings an incredible opportunity to reimagine together our theological and institutional paradigms.
Cultural intelligence provides a lens to imagine and cultivate inclusive communities which live together under the justice of God's reign. Cultural intelligence envisages engagement across racial and ethnic lines, among others, as an opportunity to participate in God's trinitarian love.
Christian community is rooted in the very nature of the triune God. Father, Son, and Spirit exist as a diverse community of persons united in perfect love. The inter-trinitarian relationships are defined by full equality, glad submission, joyful intimacy, and mutual deference. The divine heart for inclusion and equitable justice in the world flow from the very being and character of the Godhead.
To be human is, in part, to reflect the relational nature of God. Human community that pursues individual, mutual, and communal flourishing glorifies God, displays the divine character on earth, and reflects the kingdom of God. Therefore, intercultural interactions across lines of difference are acts of love that reflect the mutual love of the Godhead.
To enhance our capacity for multicultural interactions, we need to cultivate cultural intelligence (CQ). David Livermore defines CQ as the "capability to function effectively in intercultural contexts, including different national, ethnic, organizational, generational, and many other contexts." Put another way, CQ is the ability to successfully adjust perspectives, attitudes, and skills when engaging in a variety of multicultural situations. Livermore suggests that people develop four practical capabilities for effective CQ:
CQ Drive is our internal and external interest, motivation, and self-confidence to engage effectively in multicultural experiences. Honest assessment of CQ Drive helps us prepare prior to multicultural interactions.
CQ Knowledge is our understanding of the cultural similarities and differences between ourselves and others. It allows us to leverage our understanding of how culture shapes our values, perspectives, and behaviors. With this repertoire, we may discern relevant cultural-general and context-specific information for effective intercultural interactions.
CQ Strategy is how we plan to engage in and make sense of culturally diverse situations. It consists of planning for these engagements, remaining aware of ourselves and others during them, and checking to confirm if our interpretations and actions were accurate and appropriate.
CQ Action is how we leverage Drive, Knowledge, and Strategy to adapt our behavior to interact more effectively in culturally diverse settings. This may include speech acts (such as word usage), verbal actions (such as manner of communication), and nonverbal actions (such as bodily gestures). We should observe relevant behavior, inquire about contextually appropriate behavior, and adjust behavior based on the situation and feedback.
Through the Spirit's empowerment, and by situating CQ capabilities within a Christological framework, this can be an effective resource for cultivating godly multicultural relationships in our Christian institutions.
Cultural Intelligence in the Ministry of Jesus
The Incarnation—the eternal Son's total and complete union with our humanity—is the ultimate expression of the CQ Drive to know the other. The Son gives of himself fully to the world as the first-century Palestinian Jewish man, Jesus of Nazareth. The ministry of Jesus therefore offers a rich reservoir of resources for exploring CQ capabilities.
Few of Jesus' teachings have had the universal impact of the parable of the Good Samaritan (Luke 10:25–37). While this story continues to inspire people to do good for strangers in dire circumstances, white people often miss a central point of the parable: the challenge to racial bias. This is the point to which Martin Luther King Jr. drew our attention in his final speech "I Have Been to the Mountain Top." The Samaritan was of a different race than Jesus and his Jewish interlocutor.
The parable Jesus tells was premeditated. We see throughout his ministry an expression of CQ Drive in his deliberate encounters with Samaritans. His disciples are scandalized, for example, to find him alone with a Samaritan woman (John 4:27). Jesus's CQ Knowledge was both theoretical and practical. His study of Scripture, reflection on his messianic vocation, and intentional engagement with Samaritans formed his vision of Judean-Samaritan relations.
Jesus displayed his CQ Strategy passing through Samaria on his final trip to Jerusalem. He is not surprised that his destination offends his Samaritan neighbors but is disturbed by James and John's violent response to them (Luke 9:54–56). Soon after, a lawyer seeks to defend his law-abiding activity to love his neighbor—that is, a fellow Jew like himself (Luke 10:25–29). The Lukan placement of the parable of the Good Samaritan thus suggests an adjustment in CQ Action. It was not enough to hold "good feelings" about Samaritans—Jesus needed to challenge the bigotry of his disciples head-on. In the face of his Jewish interlocutor, and with the disciples listening in, he makes a Samaritan the exemplar of Torah fidelity. The charge "Go and do likewise" was never an injunction simply to do good for people in need, but always an invitation to a tectonic epistemological shift: to see the other as my neighbor—the one to whom I belong, for whom I act, and from whom I learn. Later, John displays this shift, as Jesus' teaching meets the Spirit's activity in the birth of the church. When Samaritans receive the word of God, John, who once called down fire to consume them, now joins Peter to call down the Spirit to fill them and confirm their equal status in God's kingdom (Acts 8:14–15).
Cultural Intelligence for Disciples: Three Principles
Based on the above, three principles work for using cultural intelligence to cultivate inclusive and equitable Christian communities:
It's Okay to Be Wrong
CQ requires sustained commitment to intercultural interactions, despite insecurities, uncertainties, or prior disappointments. The greatest obstacles to the formation of inclusive and equitable communities are not cultural blind spots but the fragilities that cause us to insulate ourselves from constructive criticism. We must learn to submit, in particular, to the epistemological advantage of the marginalized, those whom Jesus designates as the font of divine revelation.
Right the Wrongs
Errors at interpersonal and structural levels require restitution and reparations so that all parties are wholly restored. Some Christians reduce reconciliation to individual relationships without regard for systems and structures. Yet the parable of the Good Samaritan reminds us that personal wholeness cannot happen without collective healing. Christian institutions, as social bodies, must be prepared to right their wrongs. Leaders must publicly acknowledge and address marginalizing practices and policies. Christian communities dismantle inequalities regardless of their current compositional diversity, which may need to happen before multiculturalism is even an option. For some, this requires redressing the historical legacy of segregation; for others, it requires doing the hard work of making the community a just and inhabitable space for all.
Let's Get It Right Together
Jesus's clarion call is to active resistance against all forms of ignorance, indifference, and injustice. Our cultural moment, as King observed decades ago, presents us with the choice between chaos and community. The fractured nature of our world pushes us to chaos and coannihilation, but the Kingdom of God invites us to coexistence and community. Cultural intelligence has a vital role to play in our answer to the question: where do we go from here?
Max Botner is assistant professor of New Testament, Grand Rapids Theological Seminary. Kenneth Russell is director of Diversity and Multicultural Affairs, Cornerstone University.