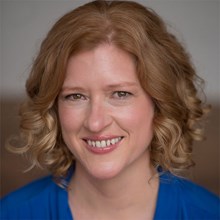 Amy Simpson is an inner strength coach, a popular speaker, and author of Troubled Minds and Anxious. She is a passionate leader and communicator, and a Co-Active personal and professional coach who loves to encourage Christ's church and its people to discern and fulfill their calling in this life.
She is a regular contributor for Her.meneutics and has published articles with Christianity Today, Leadership Journal, Today's Christian Woman, Christian Singles, Group magazine, Children's Ministry magazine, Q Ideas, ChurchLeaders.com, Relevant, Prism magazine, and other publications. She has worked for Tyndale House Publishers, Group Publishing, Gospel Light, Standard Publishing, LifeWay, Focus on the Family, Zondervan, and Christianity Today. Amy is a member of Ink: A Creative Collective.
Amy and her husband, Trevor, have two kids and live in the western suburbs of Chicago.