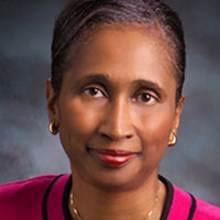 Cheryl is professor of Christian Ethics at the Howard University School of Divinity where she teaches courses in Christian ethics, pastoral ethics and African American spirituality. She has been senior pastor of the Third Street Church of God in Washington, D.C. since 1997.
Cheryl has ministered nationally and internationally for more than 30 years as a preacher for church services, camp meetings, conventions, conferences and revivals. She was honored as one of the elders in the fall 2005 issue of The African American Pulpit: Those Preaching Women. She is the author of more than 100 articles and several books, including Ministry at the Margins, Saints in Exile, and Empowerment Ethics for a Liberated People.
Cheryl is married to Dr. Alan Carswell, and is the mother of two children, Allison and Garrett.