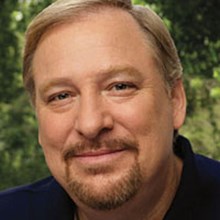 Rick is pastor of Saddleback Church in Orange County, California, and one of the nation's leading pastors. He mentors leaders and spearheaded the Purpose Driven Network, a global alliance of pastors from more than 160 countries whom he has trained to form purpose driven churches.
He is also the bestselling author of several books including God's Answers to Life's Difficult Questions, The Purpose-Driven Church, The Daniel PLan, and most notably, The Purpose-Driven Life.
He and his wife, Kay, had three adult children (Amy, Josh, and Matthew) and four grandchildren.