February 4, 2020
A Pauline (Barth-like) Dogmatics
Where to begin with Paul's theology? Where Paul begins, with God's revelation in Christ.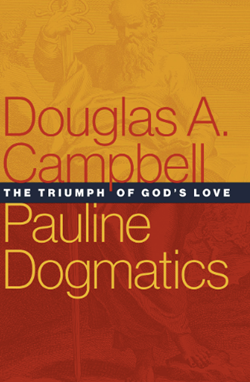 Image: Wm B. Eerdmans Photo
In my career in the academy only a few books about Paul really stand out as paradigm-shifting and mind-changing. I think of E.P. Sanders, Paul and Palestinian Judaism, and then flowing out of the well he tapped, one thinks of James D.G. Dunn's culmination of his work on Paul, The Theology of Paul the Apostle, John Barclay's Paul and the Gift, N.T. Wright's massive Paul and the Faithfulness of God, and Douglas Campbell's The Deliverance of God.[#ads]
But not one of these books does what Douglas Campbell does in his newest (big) book, Pauline Dogmatics: The Triumph of God's Love. This is nothing less than a (echoing Karl Barth) a theology built on Paul. But there's even more: it is nothing less than a pastoral theology of Paul, a Barth-shaped theology of Paul that focuses on Paul's pastoral, missionary ministry of planting churches in Asia Minor and Greece. It's big but it's very readable.
He divides his book into the following major divisions: Resurrection, Formation, Mission and Navigation. Those terms are not immediately obvious as to topics discussed, so we will break them down in the blog series that follows. His own summary, however, will serve us today:
"Theology is a series of disciplined acts and practices that is caught up in actual relationships and that expects relationships to be formed and to flourish as a result" (741). Which leads to what is the grand contribution of this book: "Th end point of a proper Pauline theology, then, is a practical manual instructing leaders how to plant and to nurture communities of Jesus followers, and to do so navigating the challenges of any context, including the especially astringent challenges offered by modernity" (741). So, the book is nothing less than a manual for church planting.
The only Pauline scholar today that is so focused on mission is Michael Gorman, whose book Becoming the Gospel takes his decades long projects on Paul into their missional shape.
Fundamental to Campbell's project is the epistemological grounding, namely, that to comprehend Paul we must start where he starts, not with Genesis, not with Isaiah, not with Jesus. One begins with the apocalypse of Jesus Christ that is simultaneously the sole basis on which to understand Paul and the reality Paul invites us into. To know anything can only be known by starting with the apocalypse of Jesus Christ. Paul's Trinitarian and Christocentrism, thus, are the starting points for everything. Anything else, which is a leitmotif at some level of this book, is foundationalism. To know God is to know Jesus, and to know Jesus is to know God. God can only be known in Jesus. Which means, truth rests on revelation, the revelation of God in Jesus.
Thus, one cannot begin anywhere else. If one does, one becomes a foundationalist and makes truth dependent on human discovery rather than divine revelation. This explains in many ways the sometimes quite contested tension between Campbell and Wright, and between the apocalyptic Paul scholars and especially the new perspective scholars. I'm not sure the tension is as great, nor am I as convinced there is not some similar foundational approaches among the apocalyptic folks, but this must be granted: Campbell is more rigorous in his apocalyptic approach and epistemology than anyone else. He calls this the "truth gambit," that is, measuring God's truth by one's criteria for determining what is true. Like history, like sociology, like science. No one, he argues, can prove truth to be true so we start with the revelation of God in Christ.
He focuses on three horsemen of the foundationalist enterprise: atheism, the obstructions of other methodological starting places, and the projections of our own images, our own pet theories and ideas.
Join us in this series on Douglas Campbell's pastoral theology of Paul, his Pauline dogmatics.
Jesus Creed is a part of CT's Blog Forum. Support the work of CT. Subscribe and get one year free.
The views of the blogger do not necessarily reflect those of Christianity Today.