February 29, 2020
Weekly Meanderings, 29 Feb 2020
Our weekly selection of links across the web.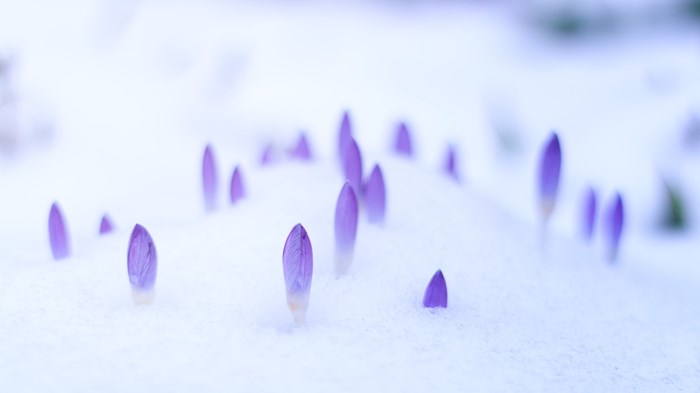 We're beginning to see some Spring pop through our Winter, how about you?
I do not believe in student evaluations, though I have learned from them over the years:
Student evaluations of teaching reflect students' biases and are otherwise unreliable. So goes much of criticism of these evaluations, or SETs. Increasingly, research backs up both of those concerns.

On the other side of the debate, SET proponents acknowledge that these evaluations are imperfect indicators of teaching quality. Still, proponents argue that well-designed SETs inevitably tell us something valuable about students' learning experiences with a given professor.

A new study -- which one expert called a possible "game-changer" -- seeks to cut through the noise by assuming the best of SETs -- at least, that which is supported by the existing literature. Its analysis assumes that the scores students give instructors are moderately correlated with student learning and the use of pedagogical best practices. It assumes that SETs are highly reliable, or that professors consistently get the same ratings. And it assumes that SETs do not systematically discriminate against instructors on the basis of irrelevant criteria such as their gender, class size and type of course being taught.

And even when stacking the deck for SETs, the study finds that these evaluations are deeply flawed measures of teaching quality.

"Unbiased, Reliable and Valid Student Evaluations Can Still Be Unfair," published in Assessment & Evaluation in Higher Education, was written by Justin Esarey and Natalie Valdes. Esarey, an associate professor, and Valdes, an undergraduate research fellow, both work in political science at Wake Forest University. They note -- rightly -- that their field has faced concerns about gender bias, including in student evaluations of female professors.

The problem transcends political science, of course, and many studies suggest that students perceive instructors differently based on factors beyond gender, such as race. (Political scientists Mirya Hollman, Ellen Key and Rebecca Kreitzer maintain a bibliography of relevant studies here.)

As the paper notes, "Using invalid, unreliable or biased student evaluations to make decisions about hiring and tenure is obviously harmful to students and faculty alike." Even worse, it says, "biased SETs could disadvantage faculty from underrepresented minority groups or punish faculty members who teach unpopular required courses."

While these are "important problems," the authors write, they shift gears and "ask a different question: if SETs are valid, reliable, and unbiased, what then?" Are SET scores without "demonstrable bias and moderately correlated with instructor quality a fair basis on which to judge a faculty member's teaching performance?" If the answer to the latter question is no, then "there is a much bigger problem with the use of SETs than is commonly recognized."

And no is indeed the answer: even under "ideal" circumstances, Esarey and Valdes write, SETs still yield an "unacceptably high error rate."

Summing up his findings this week, Esarey said that unless the correlation between student ratings and teaching quality is "far, far stronger than even the most optimistic empirical research can support," then common administrative uses of SETs "very frequently lead to incorrect decisions." Those professors with the very highest evaluations "are often poor teachers," he added, "and those with the very lowest evaluations are often better than the typical instructor."

Consequently, Esarey said that he and Valdes would expect "any administrative decisions made using SET scores as the primary basis for judgment to be quite unfair."
How to stay focused, this being the first little clip… much more at link:
Staying focused can help you accomplish a variety of professional and personal tasks, from studying for a test to finishing your work an hour early. There are various practical steps you can take to help yourself focus better and to stop checking your Facebook or phone every fifteen minutes. To stay focused on the task ahead of you, resist the impulse to give in to distractions, make a to-do list (which has built-in breaks) and resist the temptation to multi-task.
Luxury class beliefs, virtue signaling, and status:
This is not to say that elite colleges don't educate their students, or that Canada Goose jackets don't keep their wearers warm. But top universities are also crucial for induction into the luxury belief class. Take vocabulary. Your typical middle-class American could not tell you what "heteronormative" or "cisgender" means. But if you visit Harvard, you'll find plenty of rich 19-year-olds who will eagerly explain them to you. When someone uses the phrase "cultural appropriation," what they are really saying is "I was educated at a top college." Consider the Veblen quote, "Refined tastes, manners, habits of life are a useful evidence of gentility, because good breeding requires time, application and expense, and can therefore not be compassed by those whose time and energy are taken up with work." Only the affluent can afford to learn strange vocabulary because ordinary people have real problems to worry about.

The chief purpose of luxury beliefs is to indicate evidence of the believer's social class and education. Only academics educated at elite institutions could have conjured up a coherent and reasonable-sounding argument for why parents should not be allowed to raise their kids, and should hold baby lotteries instead. When an affluent person advocates for drug legalization, or anti-vaccination policies, or open borders, or loose sexual norms, or uses the term "white privilege," they are engaging in a status display. They are trying to tell you, "I am a member of the upper class."

Affluent people promote open borders or the decriminalization of drugs because it advances their social standing, not least because they know that the adoption of those policies will cost them less than others. The logic is akin to conspicuous consumption—if you're a student who has a large subsidy from your parents and I do not, you can afford to waste $900 and I can't, so wearing a Canada Goose jacket is a good way of advertising your superior wealth and status. Proposing policies that will cost you as a member of the upper class less than they would cost me serve the same function. Advocating for open borders and drug experimentation are good ways of advertising your membership of the elite because, thanks to your wealth and social connections, they will cost you less than me.
Election accuracy, polling accuracy:
WASHINGTON (AP) — Americans have widespread concerns about the security and integrity of elections, with few saying they have high confidence that votes in the 2020 presidential election will be counted accurately.

A poll from The Associated Press-NORC Center for Public Affairs Research finds skepticism about the democratic process in the United States. While a third of Americans say they have high confidence in an accurate count, roughly another third are only moderately confident and a remaining third say they have little confidence.

"What's to prevent old Vlad Putin from interfering in the election? I don't know," says Reid Gibson, an independent voter in Missouri, referring to the Russian president, who U.S intelligence agencies say interfered in the 2016 election with a sophisticated operation to sow division and help elect Donald Trump, a Republican.

FBI Director Christopher Wray told Congress this month that Russia is still engaged in "information warfare" heading into the 2020 election but that law enforcement has not seen efforts to target infrastructure like voting machines.

Still, U.S. officials say one of Russia's goals is to sow doubt about the integrity of U.S. elections, and the poll suggests that even if Russia isn't targeting voting infrastructure it may be achieving that goal because of the lack of voter confidence following from the 2016 election. …

There also are widespread fears about security vulnerabilities as well as voter suppression and voter fraud. About half of Americans say they are highly concerned that the country's voting systems might be vulnerable to hackers, and about that many also are strongly concerned about foreign governments interfering by tampering with election results or influencing American attitudes.

But concerns vary significantly by partisanship, with Democrats more likely than Republicans to express worries about the security of elections. About 6 in 10 Democrats say they are very or extremely concerned that voting systems might be vulnerable to hackers. Roughly two-thirds also are highly concerned that foreign governments will interfere in 2020 by tampering with results or influencing what Americans think about political candidates.

By contrast, fewer than half of Republicans express significant concern about hackers, and just about a quarter are highly concerned about any form of foreign interference.
Japan's Prime Minister Shinzo Abe says he will ask all elementary and high schools across the country to temporarily close beginning Monday.

The development comes after a man in his 80s who was infected with the new coronavirus died in the northern prefecture of Hokkaido. Fifteen new cases of infection were reported there on Thursday.

Hokkaido's governor said the man who died had pre-existing conditions.

Naomichi Suzuki said, " The patient was more susceptible to respiratory problems compared to healthy people."
As news has proliferated about the Covid-19 coronavirus' spread in Europe, mostly concentrated in Italy, travel advisors were busy fielding calls from concerned customers.

But most advisors hadn't seen a notable uptick in cancellations and were hopeful that any of the virus' effects on travel would be short-lived.

"This too shall pass," said ASTA president and CEO Zane Kerby. "In the short term, there is going to be some results of less regional travel to the Far East, absolutely, and to China, of course. But are people going to stop traveling? No."

Kerby cited U.S Commerce Department data from 2000-2018 that shows the number of U.S. residents traveling overseas has either remained flat or increased every year, with the exception of the financial crisis in 2008. In that time period, Kerby said, the travel industry has faced 9/11, wars in Afghanistan and Iraq, and illnesses ranging from Ebola to Zika virus.

"You think about all of the systemic things that you'd think would affect travel, and none of them put a dent in the number of overseas travelers when you look at a full year," he said.

Kerby acknowledged that the coronavirus situation could take a turn for the worse, but said as of Tuesday, it appeared the industry was on the mend from its initial impacts.

Travel advisors said clients were mainly calling with questions and concerns about coronavirus, but not canceling their trips.

Italy is one of travel advisor Maddie Winters' most popular destinations in Europe. Winters, with Town Place Travel & Cruises in Marlton, N.J., said advisors have been getting calls but no cancellations.

"They're mostly fielding information instead of making decisions yet because the situation is very new," she said on Tuesday.
Jesus Creed is a part of CT's Blog Forum. Support the work of CT. Subscribe and get one year free.
The views of the blogger do not necessarily reflect those of Christianity Today.