January 23, 2020
Enter to Win a Bundle of My Books
A Bible study program that focuses on following Jesus.
Are you looking for small group curriculum for your winter or spring group studies? Or are you searching for a personal Bible study to guide your time with God in the new year?
Our friends at Zondervan want to get a copy of Scot's and my discipleship workbook, Following King Jesus, into your hands.
Click here to enter: https://churchsource.com/collections/following-king-jesus-how-to-know-read-live-and-show-the-gospel
I wrote FKJ to bring Scot's key ideas about being disciples of Jesus into a practical format for Christians to study and apply. The workbook has 24 lessons. Each one includes a short reading from one of Scot's books with Zondervan:
- The King Jesus Gospel
- The Blue Parakeet
- One.Life
- A Fellowship of Differents
You don't need to buy all those books to do the study – the excerpts are included in the FKJ workbook.
Each lesson also includes a personal Bible study, a journaling prompt, and a way to approach prayer. There is also a small group session guide in each chapter for those who want to go through the study with others.
My new friend Jill Shepherd is leading a women's group in Minnesota through Following King Jesus. Her group has a wide range of ages (teens to retirees) with a variety of backgrounds in Bible knowledge who are all enjoying the study. She said, "The biggest message we've taken away from the first six lessons is that the gospel message is not just 'Jesus died for my sins and I'm going to heaven now.' It's about Jesus's life, too, and that was huge for these ladies to realize. Jesus's gospel is taking care of the poor and freedom for captives, all the things He was doing during his life."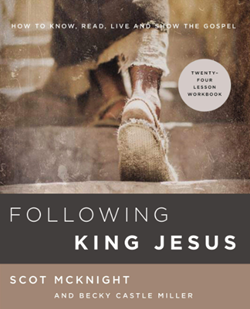 Image: Zondervan cover
If you would like to try out the workbook, you can get the first lesson for free as an instant download when you enter your email address here: https://churchsource.com/collections/following-king-jesus-how-to-know-read-live-and-show-the-gospel
Three winners will receive a discipleship bundle of all five books (Following King Jesus, The King Jesus Gospel, The Blue Parakeet, One.Life, and A Fellowship of Differents) and five winners will receive the Following King Jesus workbook.
Becky Castle Miller serves on the pastoral staff at an international church in Maastricht, Netherlands. She is the author of the study guide Teaching Romans Backwards and the co-author, with Scot McKnight, of the discipleship curriculum Following King Jesus . She conveys her five kids around town on bikes and studies New Testament in the middle of the night via Northern Live. Connect with her on Twitter and Instagram @bcastlemiller.
Jesus Creed is a part of CT's Blog Forum. Support the work of CT. Subscribe and get one year free.
The views of the blogger do not necessarily reflect those of Christianity Today.