June 27, 2020
Weekly Meanderings, 27 June 2020
Our weekly selection of links across the web.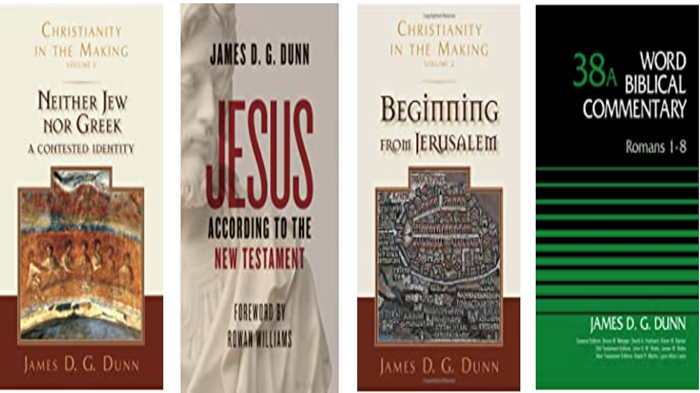 We enter into the first weekend when some of us are finally confident there will be baseball season this summer. We continue, too, in the Ways of the Virus and mask wearing and social distancing and finally visiting restaurants.
I wish here to record my gratitude for my professor, James D.G. Dunn, who passed away. Some of his books are on display in the image above.
Americans, along with Brazilians and Russians —

that's the company we keep now — are on a list of those who are to be excluded from entering the European Union as its member countries begin opening themselves up to travel again. What is concerning Brussels is this: The EU countries are seeing, on average, 14 new coronavirus cases daily per 100,000 population. The Russians are seeing a lot more: 80 new cases daily per 100,000. And in the United States, we currently are seeing 107 new cases daily per 100,000 population, just short of eight times the EU rate of infection.

The EU criteria are pretty straightforward: If a country is on average in comparable shape to the "EU+ area" (meaning the Schengen states plus non-EU members Iceland, Liechtenstein, Norway, and Switzerland) or in better shape, then the "welcome" mat will be rolled out; if a country is in much worse shape — say, seven or eight times worse shape — then Europe is not open for business. "No Vacancy." Countries are judged on rate of new infections plus trends in testing, contact tracing, and the like.

The European Union's and the United States' responses to the epidemic were in some ways similar and important ways dissimilar. In the EU, they talk a great deal about "solidarity," and the major institutions of the EU would have liked to have implemented and led a coordinated European response to the novel coronavirus. As is turns out, the European Union is less of a "United States of Europe" than some of its members had thought (or hoped) it to be, and rather than a coordinated European response there was an uncoordinated series of national responses. Suddenly, there were once again national borders in Europe, and they were closed across the Schengen Area. Rather than Brussels, the member states took the lead, and the EU response was secondary and supplemental. This will have important long-term consequences for that "solidarity" that Europeans talk about, which already has been tested sorely by first the sovereign-debt crisis and then, especially, by the refugee crisis.

In the United States, conversely, the states looked immediately to Washington for guidance in the earliest days of the outbreak, to institutions such as the Centers for Disease Control and to the Oval Office, where President Trump initially treated the epidemic as a problem primarily for the stock market to be solved via Twitter. Those national institutions were able to provide only limited direction and assistance, and most of the day-to-day responsibility for managing the crisis fell to state and local governments, as, indeed, it ideally should. The member states of the European Union, being national governments, were inclined and able to direct their own efforts with relatively little input from Brussels; in the United States, the notional "dual sovereignty" of the several states and the union is less and less a reality and more and more a myth with each passing year. As Washington increasingly dominates our national life, what can be done effectively and independently in Sacramento or Austin is necessarily diminished.
If the last few months of upheaval have taught us anything, it's the importance of taking care of ourselves and each other, both physically and emotionally. From baking to knitting to bathing, we're taking on as many nurturing rituals as possible to make up for the fact that solace continues to be in short supply.

But the bulk of these rituals, while soothing in nature, don't quite fill the emotional void that social distancing has created — no matter how many phone calls and Zoom parties we schedule into our all-digital social calendars.

Enter rock painting. On the surface, it sounds like yet another craft project to distract yourself from incessantly worrying. Underneath, however, it's a whole new (and super-fun) way to reconnect with the outside world….

Kindness rocks have been a worldwide phenomenon ever since, with rock painting seeing another surge in popularity since the start of the pandemic. "Mindfulness and creativity are both important components of art therapy, and so many are turning to this as a way to manage their anxiety and stress right now," says Murphy….

Then there's the process of hiding of your painted rocks around the community, which activates more reward chemicals. "The creator and giver benefits when dopamine levels rise due to the anticipation of being rewarded — the anticipatory joy that comes with knowing that someone's day will be brightened when they come across your kindness rock," says Manly.

The person who finds your surprise gift might experience a surge of mood-boosting neurochemicals, since having a sense of community is foundational for feelings of safety and security. They not only connect with the message you've put out into the world, but realize another person created that rock specifically to lift them up.

The result? They feel understood and less alone. "A connection is made with another human being even though you've never met," says Murphy. "It's a magical process, and all through a simple rock."
Wear a mask, please, it's not political, it's intelligent:
Scientific evidence suggests that wearing a face mask can help stop the spread of Covid-19. New polling confirms that some regions of the country are taking that message to heart more than others.

Specifically, residents of the Northeast (led by New York) said they're wearing masks at a significantly greater rate than the majority of the country.

That's the finding of an aggregation of more than 6,000 respondents from Ipsos Knowledge Panel polling done for Axios (Axios/Ipsos poll). Over the last month and a half (May 8 to June 22), a fairly stable 48% to 51% of Americans told the pollster that they wore masks at all times when leaving home. Other pollsters, who have asked analogous questions during the same period, have shown similar numbers overall.

In the Axios/Ipsos polling, you can clearly see how much ahead of the curve New York (among the 28 states for which we had at least 75 respondents) and the Mid-Atlantic (see here for all Census division subsets) portion of the Northeast are when it comes to mask wearing. Of the over 750 Mid-Atlantic respondents, 64% say they are always wearing masks when they go out. As Ipsos did in a recent poll with the Washington Post, they were able to drill down to the state level in some instances too.
Drive-Ins is "the room where it happens":
At 70, the Ford-Wyoming Drive-In in Dearborn deserves respect just for its seniority. But now it's got another kudo: top-grossing movie theater in the country over the weekend.

Of the locations actually open at this stage of the coronavirus pandemic, the historic outdoor venue in Detroit was number one with $127,300 in box-office business, according to Deadline.

The rest of the top five theaters — one in the Canadian province of Quebec, two in California, and one in Ohio — also were drive-ins.

Deadline, an online entertainment news site, credited an unidentified industry report for its figures. It reported that a whopping 160 of the top-grossing 201 cinemas were drive-ins.

By comparison, the highest-earning indoor multiplexes were the Megaplex Theatres in South Jordan, Utah, with $14,600 and the Palladium 19 in San Antonio, Texas, with $14,600.

Representatives of the Ford-Wyoming declined to comment.

While indoor movie theaters are starting to open their doors nationally, they continue to face a lack of new movies from Hollywood, which stopped its pipeline in March when the threat of COVID-19 prompted massive shutdowns of businesses.

New releases are scheduled to return in July, beginning July 10 with the thriller "Unhinged" starring Russell Crowe. The potential blockbusters arrive later in the month with Disney's live-action version of "Mulan" coming July 24 and the sci-fi drama "Tenet" slated for July 31.

Indoor movie theaters remain closed in Michigan under Gov. Gretchen Whitmer's orders aimed at limiting the pandemic's spread.
Bob on Books, on what makes a book durable?
What makes a book a classic? Why do some best sellers quickly peak and die, while other books, which may or may not have been bestsellers in their time endure? We've been talking about this at the Bob on Books Facebook page, and some of what's here draws on the thoughts of the avid readers on that page.

Of course, a good plot and memorable characters generally are a prerequisite. Need we go further than Ebenezer Scrooge and the appearances of the three ghosts? Another example would be the characters in Uncle Tom's Cabin–Tom, Eliza, and Evangeline St. Claire to name a few, and memorable scenes, like Eliza's flight to freedom across the ice on the Ohio River, pursued by fugitive slave hunters. Plots don't always have to be fast-moving or tight. Think of the massive works of Tolstoy and Dostoevsky. Often, it seems that the development of a character, and that person's interior monologue can sprawl across pages and yet engross us, because we can see how someone would really think like that.

That gets to another reason these books endure. They come to be recognized as books in which we both lose and find ourselves. We may become engrossed by a character, who in turn invites us to look at our own lives in fresh ways. It may be that a setting and characters remind people of what they value most in life. I think of the popularity of A Tree Grows in Brooklyn, a story of a family, of coming of age, and Brooklyn. Thousands of soldiers in World War 2 read the book, with memories of their families, their loves, and their homes. And many continue to see themselves in the adolescent children of the story, Mary Frances Nolan, and her brother "Neely."

Sometimes, it seems to be a timeless issue. I'm not sure Fahrenheit 451 is distinguished in terms of plot and characters, but in its exploration of book burning and a society of censorship and why this must be resisted. The Jungle, though written in the early 1900's setting of meat-packing plants still resonates as we think of how workers are often exploited in similar settings around the world (including meat-packing plants that are hot spots of infection in the current pandemic).

Timelessness seems to be one of the critical elements. Classic books are those people connect with generation after generation. Most of us are far from the gentrified setting of 18th century England. Yet generations have found themselves enthralled with the descriptions of elegant drawing rooms and manners, budding romances, and the roles of men and women, the limits on women, and how they contended with these in the works of Jane Austen. The dynamics of relations between men and women will always be with us, no matter how different our circumstances.
LONDON (Reuters) - Coronavirus lockdowns led to huge reductions in traffic and fewer car crashes this spring, but as drivers sped up on quieter roads, the collisions became deadlier in several cities, a Reuters analysis shows.

In New York City, the ratio of fatal crashes to all collisions rose 167% in April from a year ago. The increase was 292% in Chicago and 65% in Boston. Across the ocean, in Madrid, Spain, the rate of fatal collisions was 470% higher.

Even as traffic plummeted across the United States, roads became more lethal, with a 37% increase in fatality rates per miles driven in April, compared to the same month last year, the National Safety Council said this week. Last month, the group said in a statement that the lockdowns and reduced road congestion had created an "apparent open season on reckless driving." In Britain, police documented instances of people driving at what they described as exceptionally high speeds of over 130 miles (209 km) per hour.

In the U.S. state of Ohio, researchers found that while average speeds were up only slightly from March 28 to April 19 in Cleveland, Cincinnati and Columbus, the amount of extreme speeding increased dramatically.

"The level of extreme speeding is really shocking," said Harvey Miller, professor of geography and director of the Center for Urban and Regional Analysis at The Ohio State University. "What we're seeing here — the fact that there's less traffic and more speeding — I think that's evidence that traffic is a great controller of speed."

Similar increases in speeding have been reported in Australia, Belgium and Denmark, according to reports compiled by the European Transport Safety Council.
NEW YORK (Reuters) - Masks, gloves and temperature checks became standard protocol before a $1,000 haircut at the posh Julien Farel salon on Monday, as New York advanced to a new stage in its COVID-19 reopening.

Top-dollar stylists at the chic establishment on Manhattan's Upper East Side began snipping through the 1,200-person waitlist of clients determined to be transformed from shaggy to spectacular after three months of coronavirus lockdown.

"It's worth every penny, because it's so easy to take care of," said Susan Warren, wearing a robe as she sat in a styling chair and removing her mask to speak with a Reuters reporter.

"You feel like a million bucks. Now, I would eat peanut butter and jelly and get fabulous hair and color if that need be," said Warren, who lives in New York.

The million-bucks feel now starts with hand sanitizer and a mask in an effort to maintain New York's new bragging rights as the U.S. state with the lowest rate of coronavirus infection. Just months ago, New York was the epicenter of the pandemic.
Jesus Creed is a part of CT's Blog Forum. Support the work of CT. Subscribe and get one year free.
The views of the blogger do not necessarily reflect those of Christianity Today.