November 17, 2020
A Troubled Vatican
When praxis contradicts profession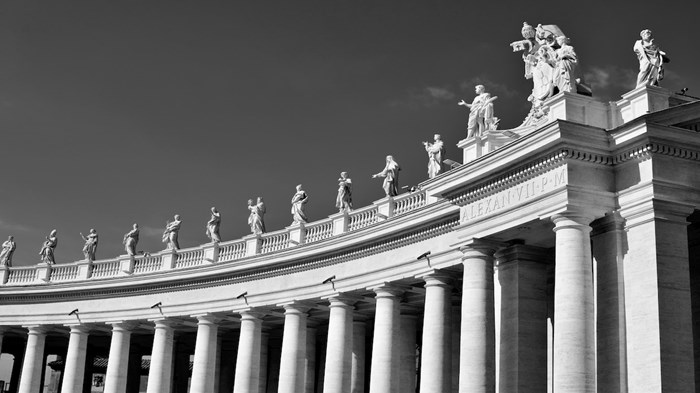 The deepest problem in the Vatican – Pope Francis and the Curia – is less its theology than its praxis, and by praxis I mean at least the last three popes, including Francis (as the report in The Spectator has it), have seemingly known about and covered up molestation of minors. That's not all they have covered up.
Let's begin with the cultural problem before we get to the recent revelations about McCarrick, what the popes knew, and before we get to comments by conservatives like Vigano and Barron. I begin with Frederic Martel's blockbuster book published simultaneously in eight languages, based on more than 1500 people interviewed (some many times) from 30 countries, including 41 cardinals, 52 bishops and monsignors, 45 ambassadors and nuncios, all conducted by the author and some 80 researchers, etc.. In other words, lots of data accumulated in his book called In the Closet of the Vatican: Power, Homosexuality, Hypocrisy.[1]
What I am about to describe is, yes, duplicity regarding same-sex relations, but our intent is to frame this description as something about the Vatican's culture, a "Christian" culture corrupted to the core and all the way to the top. It is so pervasive no one in the Vatican, from the Popes down, could not have known what was going on.
Martel discovered fourteen rules for those who are gay yet "in the closet," which some disgustingly call being "in the parish." I now summarize a few of his rules. Most (he suggests perhaps 70%) of the religious leaders in the Vatican (which is a City outside the jurisdiction of Italy, yet in Rome), often referred to as the "Curia," are gay -- whether they are "in the closet" or "out of the closet."[2]
Martel contends many enter the priesthood because it both gives a person religious and social respect and provides a relatively safe environment for same-sex relations. Because homosexuality is far more socially accepted in the world today, far fewer males are choosing the priesthood.
One of his rules is that the higher one ascends in the RCC's hierarchy of leaders (from priests to pope), the greater the likelihood the person is gay. Some live with boyfriends, some visit male prostitutes, and some seduce seminary students at beach houses on the Jersey shore.[3]
In Martel's viewpoint, the more vehement a Roman Catholic leader is against same-sex relations, the more likely it is that he is himself gay. Publicly condemning homosexuality gives a gay leader credibility in the eyes of ordinary Catholics as a man who is faithfully celibate. He writes what is so pertinent to the McCarrick case:
Behind the majority of cases of sexual abuse there are priests and bishops who have protected the aggressors because of their own homosexuality and out of fear that it might be revealed in the event of a scandal. The culture of secrecy that was needed to maintain silence about the high prevalence of homosexuality in the Church has allowed sexual abuse to be hidden and predators to act.[4]
I read this book over a period of two weeks when working on A Church called Tov and was constantly disgusted by both the intentional failure of priests as well as by the systemic duplicity of Vatican culture.
So Martel's book. I don't recommend reading it.
It sickens that this culture of deception chooses also -- to protect its own skin, its own reputation -- to protect pedophiles. Why? If pedophiles are exposed, so also will be the corruption of the others.
Maybe this was too much for you, I know the book was too much for me and I had to put it down numerous times. But the story has to be told in order to understand what is going on right now and so we turn to the revelations about McCarrick, who is but the tip of an iceberg.
ROME -- The Vatican's report into ex-Cardinal Theodore McCarrick has raised uncomfortable questions the Holy See will have to confront going forward, chief among them what it's going to do about current and future clergy who abuse their power to sexually abuse adults.

Priests, lay experts and canon lawyers alike say the Vatican needs to revisit how the church protects its seminarians, nuns and even rank-and-file parishioners from problem bishops and cardinals, who for centuries have wielded power and authority with few — if any — checks or accountability.

McCarrick was only investigated and defrocked by Pope Francis because a former altar boy came forward in 2017 to report the prelate had groped him when he was a teenager in the 1970s. It was the first time someone had claimed to be abused by McCarrick while a minor, a serious crime in the Vatican's in-house legal system.

And yet the bulk of the Vatican's 449-page forensic study into the McCarrick scandal released Tuesday dealt with the cardinal's behavior with young men: the seminarians whose priestly careers he controlled and who felt powerless to say no when he arranged for them to sleep in his bed.

The report found that three decades of bishops, cardinals and popes dismissed or downplayed reports of McCarrick's misconduct with the young men. Confidential correspondence showed they repeatedly rejected the information outright as rumor, excused it as an "imprudence" or explained it away as the result of McCarrick having no living relatives.

McCarrick's friends and superiors went to enormous lengths to find ways to claim his behavior wasn't necessarily sexual, couldn't be proven and would cause a scandal if it ever went public. Their decades-long reflex to turn a blind eye was evidence of the church's old boys culture of silence, clerical privilege and protection of reputations at all cost.
Dismissed, dismissed, dismissed. People had the courage to speak up and they did but the delete button was hit when it arrived.
The system is so vast and the power so intense that speaking up costs one one's status and vocation while silence is not spiritual. The tension in the cry for doing what is right for many is palpable.
Noticeably, Pope John Paul II and Pope Benedict XVI are pointed at in these reports, and this is why a recent editorial in the NCR called out for suppressing the cult of John Paul II.
In many, many ways, Pope John Paul II was an admirable man. The last decades of the 20th century were enriched immeasurably by his deft use of papal statecraft in raising up the voices of oppressed peoples across Eastern Europe, in his various efforts toward inter-religious dialogue, and by his personal witness to the dignity of aging.

But as the Vatican's unprecedented report on the career of disgraced ex-cardinal Theodore McCarrick reveals in shocking detail, the first decade of the 21st century will forever be marred by John Paul's calamitous, callous decision-making.

It is time for a difficult reckoning. This man, proclaimed a Catholic saint by Pope Francis in 2014, willfully put at risk children and young adults in the Archdiocese of Washington, D.C., and across the world. In doing so, he also undermined the global church's witness, shattered its credibility as an institution, and set a deplorable example for bishops in ignoring the accounts of abuse victims.

As with every saint, John Paul has a vibrant cult — people across the world who celebrate his memory by encouraging devotion to him, placing his name on churches and schools, and hosting processions and parades on his liturgical feast.

Given what we know now about the long-lasting repercussions of John Paul's decision-making, the U.S. bishops, meeting next week for their annual conference, should seriously consider whether American Catholics can continue such practices. They should also discuss requesting that the Vatican formally suppress John Paul's cult. Abuse victims deserve no less.

As the Vatican's devastating report shows clearly, the late pope's decision to appoint McCarrick as Washington's archbishop in 2000 came despite severe warnings from his highest-level advisors on both sides of the Atlantic.
One of Pope Francis' fiercest critics, Archbishop Vigano, never at a loss for a quotable, makes it clear in his use of "Bergoglio" for Francis and in his insinuations, that Francis knew and was a safe bet for protection as a Pope:
The corruption of the highest levels of the Vatican is so evident that it leads one to consider the Report as an unworthy attempt to make Bergoglio appear absolutely alien to the manipulations of the Curia, indeed as a sort of implacable persecutor of the corrupt, while the evidence of the facts demonstrates the opposite. I would say that Bergoglio is to the deep church what Biden is to the deep state…
Many in the RCC will simply dismiss anything Vigano says, but one can't dismiss auxiliary Bishop Robert Barron, who is a leading preacher, writer, and internet presence for faithful Catholicism. His words from Crux are worth quotation:
ROME – A new Vatican report on the case of ex-cardinal and ex-priest Theodore McCarrick tells a story of "tragic incompetence" driven by a "self-referential and self-protective" clerical culture, according to Auxiliary Bishop Robert Barron of Los Angeles.

"It reveals how sclerotic and dysfunctional the system was," Barron said. "Again and again, as I read the report, I was struck by the wickedness of McCarrick himself, but also by the tragic incompetence of so many who were charged with investigating, following up, asking serious questions, etc."

Barron is chair of the US bishops' Committee on Evangelization and Catechesis and a widely followed figure on social media. As of July 2020, Barron's Youtube videos had been viewed more than 50 million times and he had more than three million followers on Facebook.

He said the 461-page McCarrick report is without precedent in Church history.

"There has, quite simply, never been a more complete and dramatic pulling back of the curtain to reveal the inner workings of the Church's decision-making process," Barron said.
To change a culture requires long term commitment to a very clear goal, and to change the Curia of Rome requires a level of commitment that may seem unachievable.
George Weigel is calling for that commitment.
Weigel said that reforming seminaries and promoting fraternal correction among bishops is essential to combating clergy abuse. "The clerical caste system and the 'men's club' mentality among bishops that facilitated McCarrick's self-promotion and deception remains to be fully dismantled," he said.
Integrity requires the commitment.
One day at a time, one replacement at a time, one entire level at a time.
Do it for the children.
Do it for the church.
Do it for the world.
We're watching.
[1] For professional reviews of Martel's book, see https://syndicate.network/symposia/theology/in-the-closet-of-the-vatican/
[2] From Martel, p. 244: "it is estimated that over two-thirds of Mexican cardinals, archbishops and bishops are 'practicing'." Furthermore, most countryside priests live with women while city priests are practicing same-sex relations -- all the while affirming celibacy, standing against same sex unions or marriage, and all done to protect themselves.
[3] https://www.nytimes.com/2018/07/16/us/cardinal-mccarrick-abuse-priest.html
[4]In the Closet of the Vatican: Power, Hmosexuality, Hypocrisy (New York: Bloomsbury Continuum, 2019), 92.
[5] https://apnews.com/197c6234838f420ab693517fb49a215e
Jesus Creed is a part of CT's Blog Forum. Support the work of CT. Subscribe and get one year free.
The views of the blogger do not necessarily reflect those of Christianity Today.