October 10, 2020
How and Where I Write: Tim Larsen
Interview with David George Moore
It's been my privilege to be in the personal spaces of several writers. Among others, Pulitzer winner Tony Horwitz warmly welcomed me at his home on Martha's Vineyard as did William F. Buckley at his place on Long Island Sound.
I have interviewed close to 200 authors. Everyone has their own style with reading, capturing what they have read, research, and then writing. As I writer myself, I have settled on an approach I feel comfortable with.
Tim Larsen is a leading expert on the Victorian era. I have interviewed him a couple of times on The Slain God: Anthropologists and the Christian Faith and the terrific, Crisis of Doubt: Honest Faith in Nineteenth-Century England.
Larsen is Carolyn and Fred McManis Professor of Christian Thought at Wheaton College.
Moore: Do you still acquire books as you get older or have you slowed down a bit?
Larsen: I started collecting books avidly over thirty years ago, and I currently am buying more books than ever. Wheaton has over 200 faculty members and I think it is literally true that I have more books in my office than any other professor. Besides that, Wheaton has graciously allowed me the use of an overflow office (and don't get my wife started on the books at home). I'm also known for giving away a lot of high-quality books and I have become more ruthless than ever in recent years at winnowing the collection down, but we still somehow stay on the net gain side of the equation.
Moore: What are the best time(s) and place(s) for you to write?
Larsen: I only write in my office at the college, and it tends to be the afternoon, but the real work for a book project is the research and I do it everywhere and anytime. My motto is "default to your research." It is what you are doing when it's not clearly the right thing for you to be doing something else. I literally bring a book with me everywhere I go. People wonder, "You're not going to read at the party, are you?" Of course not, but if the car breaks down on the way and I have to wait 20 minutes for the tow truck, I'm ready. . .
Moore: How do you capture your research? Old school with note cards etc., or new school with computer programs?
Larsen: My colleague Richard Gibson has a book forthcoming with the University of Massachusetts Press on how the digital is dependent on paper, and my process is paper-digital-paper-digital. I read everything on paper and mark it up as I go. I then create huge digitals files of quotes and notes from that reading. Then I print those off and mark them up. Then I write on a computer. Gibson quips that my laborious system is based on the theory of building up muscle memory.
Moore: Do you immediately start writing on the computer (perhaps typewriter) or by longhand?

Larsen: Even I can't read my handwriting. I want to be working on a digital file as soon as possible.
Moore: Do you put marginalia in your physical books?
Larsen: I have a saying that if a book is worth reading it is worth owning. I mark everything I read, but it tends to be more underlining and stars and the like, with only the occasional word or comment. I can spend just a couple minutes looking at my markings in a book I read a quarter of a century ago and I will have its argument in my head again and my angle (or at least former angle) on it.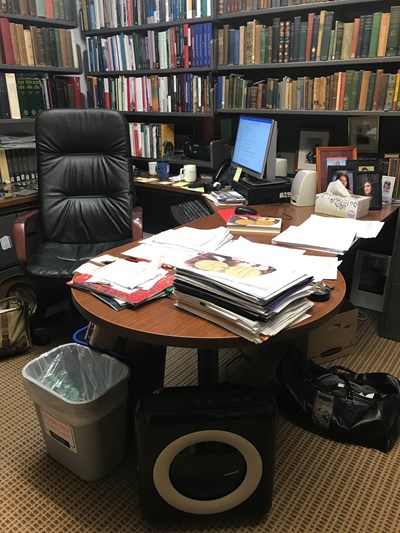 Image: Personal photo
Moore: Do you read digital books?
Larsen: To the best of my recollection I have never read a single digital book in my life, but I have listened to audio books for decades now, with at least one always in progress at any given time. This does not work for academic monographs (because you need the footnotes) or obscure primary sources (because no one has bothered to record them), but it is a delightful way to experience genres such as novels, poetry, and memoirs.
Moore: What is some good advice you received on writing?
Larsen: I took a class in poetry writing as an undergraduate from the powerful and poignant poet Jill Peláez Baumgaertner and her teaching made me a much better academic writer. What I learned from her is that every word matters. You have either chosen a word that says what you want to say and evokes the mood that you are seeking to evoke or you haven't. Too often, academics think of words as just so much jerry-rigged piping through which to force their ideas to come out the other end. Take care of the words and the paragraphs will take care of themselves.
I have also learned a lot by listening to academics read their papers at conferences. We forget that writing is based in orality. If you listen to what moves an audience when it is read aloud you will learn how to write a sentence that lands effectively.
Moore: What do you think is your best book?
Larsen: Oh, I've had the same answer to that question for my entire career--it is whatever my most recent book is. Currently, that is John Stuart Mill: A Secular Life. In all seriousness, I do think I have become a better writer with each book. Crisis of Doubt, however, is probably the book of mine that has had the greatest impact.
Moore: Please name a few of your favorite authors from your own field of study
Larsen: We are talking about writing, and Dominic Erdozain is a master of the dazzling turn of phrase. I like Colin Kidd's work (and Tommy Kidd's too for that matter). Elesha Coffman has a beautiful book on Margaret Mead that is forthcoming in my Spiritual Lives series.
Moore: What is a book you should have read by now, but haven't? This will make all of us sleep better!
Larsen: There is a David Lodge novel (that I have read!) in which they play this game. A book I know I should have read long ago is Alasdair MacIntyre's After Virtue. In my own subfield, books I am ashamed to confess I have not yet read include Frank M. Turner's John Henry Newman and David Newsome's The Parting of Friends: The Wilberforces and the Mannings.
David George Moore is the author of the forthcoming Stuck in the Present: How History Frees and Forms Christians (Leafwood/Abilene Christian University Press). Some of Dave's teaching videos and contact information can be found at www.mooreengaging.com.
Jesus Creed is a part of CT's Blog Forum. Support the work of CT. Subscribe and get one year free.
The views of the blogger do not necessarily reflect those of Christianity Today.