October 17, 2020
Weekly Meanderings, 17 October 2020
Our weekly selection of links across the web.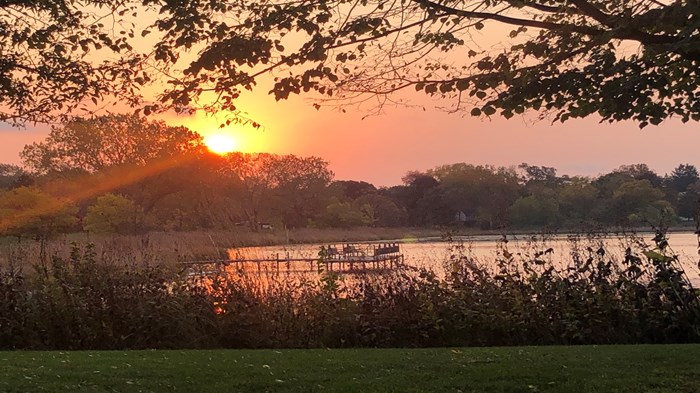 What a glorious picture Kris took of the rising sun in the middle of our village.
A mikveh near Sepphoris and Nazareth:
A 2,000-year-old mikveh, a Jewish ritual bath, has been uncovered in Galilee on an ancient farmstead.

The first-of-its-kind archaeological discovery was found during an excavation the Israel Antiquities Authority conducted and occurred prior to a significant construction project on the highway system that was about to start in the region, according to multiple reports.

"The existence of a mikveh, a purification facility, unequivocally indicates that the residents of the ancient farm were Jewish, who led a religious and traditional way of life, and maintained purity as a Torah commandment. Ritual baths have been used in daily life by Jews since the Second Temple period and until today," explained excavation directors Abd Elghani Ibrahim and Dr. Walid Atrash.

"The discovery of the mikveh in the farmstead changes what we knew about the lifestyle of the Jews in the Second Temple period. Until now we hadn't discovered Jewish farms in the Galilee. It was considered that the Jews in the Roman period didn't live in farms outside the villages or towns. The discovery of the farmstead at some distance from the village of the Shikhin and the large Jewish town of Sepphoris, showed that Jews also settled in farmsteads, that perhaps functioned as the rural hinterland of Sepphoris," they continued.
LEMONT, Ill. — They're known for big science – super computers and sequencing proteins. But at the same time, scientists at Argonne National Laboratory simply want to make better masks.

They've been working on ideas since the early days of the pandemic. And now they're ready to roll them out.

Research is being conducted on the 1700-acre campus in southwest suburban Lemont.

Jeff Elam PhD. and his colleague Anil Mane PhD. work with chemical coatings and materials.

"When the pandemic hit a lot of us were working from home but there was sort of a call to arms," Elam said.

When COVID-19 hit, they had an idea that inspired them to quickly return to their lab.

"The masks you and I are wearing now are intended to prevent droplets from coming out of our mouth and infecting other people," Elam said. "It will catch those droplets. But they will still remain infective. If you can kill the microbes, you could make them even more effective to reduce the spread of the virus."

They started tinkering with an n95 mask you'd find at a hardware store.

"Once you take out the mask material there are different layers," Mane said.

N95s contain an electrostatic layer of material that catches tiny viral particles. It's what makes them so effective.

But the Argonne team believed a chemical coating would make the workhorse even more powerful by killing the viral particles caught in the fibers.

They experimented on small pieces of n95 material and ran samples through a tube where vapor pulses applied a specially formulated antimicrobial coating.

"What we want to do is put a coating, not just on the surface of that fabric, but inside of every one of the little fibers that are used to make that mask so it will be effective at killing the virus," Elam said.

Once they found the right formula, they tested their "catch and kill" material layer against bacteria and viruses, including a SARS-CoV2 surrogate.

"We tested this mask with antivirus antibacterial samples, and it's worked greatly," Mane said.
Speaking of masks, add airplanes:
WASHINGTON (Reuters) — The risk of exposure to the coronavirus on flights is very low, a U.S. Department of Defense study released on Thursday found, a positive sign for the airline industry as it tries to rebound from the pandemic's crushing effect on travel.

When a seated passenger is wearing a mask, an average 0.003% of air particles within the breathing zone around a person's head are infectious, even when every seat is occupied, it found.

The testing assumed only one infected person on the plane and did not simulate the effects of passenger movement around the cabin.

The study, conducted aboard United Airlines Boeing 777 and 767 aircraft, showed that masks helped minimize exposure to infection when someone coughed, even in neighboring seats.

About 99.99% of particles were filtered out of the cabin within 6 minutes due to fast air circulation, downward air ventilation and the filtration systems on the aircraft.

It estimated that to receive an infectious dose, a passenger would need to fly 54 hours on a plane with an infectious person.

United, which also provided pilots for the test, presented the results in its favor.

"These results … mean your chances of COVID exposure on a United aircraft are nearly non-existent, even if your flight is full," said United Airlines Chief Customer Officer Toby Enqvist.
SARASOTA, Fla. (NewsNation Now) — Heather Junqeira's horse farm outside Sarasota, Florida is filled with dozens of basset hound and beagle puppies.

The dogs are adorable – but they are not pets. They're being raised to do an important job during the pandemic.

"We are training dogs to detect the body's response to COVID-19 in hopes they will be able to indicate on people who are carrying the virus and are not symptomatic," Junqeuira said.

Junqeuira runs BioScent and is training dogs to detect the coronavirus.

She uses sweat samples from people with COVID-19 to train the dogs.

"They are 4×4 gauze pads that are placed under the armpits of the person who has COVID," Junqeuira said.

The COVID-19 human sweat sample is put into one container, and regular non-COVID sweat samples are put in other containers. The containers are then spaced out in a training room and the dogs are led through one by one.

The dogs are trained to alert and sit near the COVID sweat samples.

The trainers say the key is using a variety of samples from different people with COVID-19.
CHICOPEE, Mass. (WWLP) – From custodian, to nurse practitioner.

It's a story that's gaining national attention, and the spotlight is on one of our own; 29-year-old Jaines Andrades of Chicopee who is setting an example that hard work pays off.

The nurse practitioner at Baystate Medical Center in Springfield went viral after posting a sequence of her ID-badges to Facebook. But what caught peoples' attention, her story of working as a custodian at the hospital while obtaining her nursing degree for nearly a decade.

This year, she finally achieved her dreams and became a nurse practitioner in the Trauma Surgery Department.

"Just believe in yourself, trust yourself, build a good support system, take help. Love yourself, value yourself, those things were all things that were imperative for me to succeed," said Andrades.
First year college/university student drop:
DALLAS (NEXSTAR) – Freshman enrollment at American colleges and universities has dropped more than 16 percent since the beginning of the coronavirus pandemic, according to the National Student Clearinghouse Research Center.

The group says community colleges have experienced an enrollment decline of roughly 25%. Doug Shapiro, the center's executive director, labeled this development "staggering."

"Most strikingly, freshman students are by far the biggest decline of any group from last year," Shapiro told the New York Times.
FRESNO, Calif. (NewsNation Now) — A helicopter pilot fighting the Creek Fire in central California found an unexpected co-pilot midflight: a wild owl.

How the owl got into the helicopter is a mystery to pilot Dan Alpiner and his employer Sky Aviation, a company that contracts with states to help fight wildfires, NewsNation affiliate KSEE-TV reported.

A spokesperson said the wind power generated by the helicopter's blade is powerful enough to knock a grown man to the ground.

The bird flew into the aircraft through a small 16″ x 16″ window on Sunday.

It stared at the pilot as he did several water drops onto the fire.

Please don't attack me," said Alpiner. "It kinda spooked me for a second there and we kinda locked eyes and the thing looked around and was chill and then I was like OK then you are going to work with me."

10 minutes later, the owl left out through the window.

"It basically got out where it came in," said Alpiner. "I was going [to] another drop and then I saw him fly off."
Wow:
Architecture's Mr. Big has quite literally made a splash with his latest design. Bjarke Ingels, the famed Danish starchitect who continues to shake-up the world through his eponymous firm BIG, has turned a decommissioned ferryboat into a luxurious family home.

The 46-year-old snapped up the 126-footer, Bukken-Bruse or "billy goat gruff," back in late 2016. It was moored then, as it is now, near Refshaleøen in Copenhagen's historic harbor and Ingels promptly fell hook, line and sinker for the vessel's postcard views.

"It has the past, present, and future of Copenhagen all in one glance," he shared in the November issue of Architectural Digest, for which his unique home was photographed by Pernille and Thomas Loof. "Look east and you can see the sun rising. Look west and you can see the sun setting over the queen's palace."
Jesus Creed is a part of CT's Blog Forum. Support the work of CT. Subscribe and get one year free.
The views of the blogger do not necessarily reflect those of Christianity Today.