October 31, 2020
Weekly Meanderings, 31 October 2020
Our weekly selection of links across the web.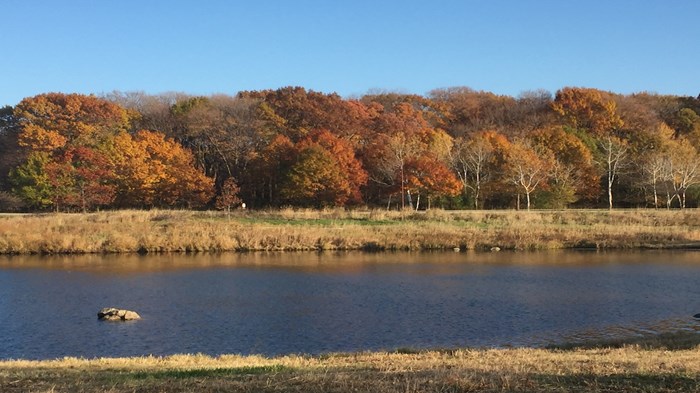 Kris took another beautiful picture of our autumn trees on our long afternoon walk.
A podiatrist ranks house shoes.
Your shoe choice more or less determines how comfortable you'll remain throughout the day. Regardless of how cozy your clothing selection is, if your pair of flats or sandals pinch ever so slightly, your comfort level will swiftly start to decline. In an effort to avoid such discomfort, we often tap podiatrists to shed insight on those current footwear silhouettes that won't cause as much pain.

Today, given that many are spending more time at home, we wanted to zero in on the best (and worst) shoes to wear around the house. We turned to Benjamin Tehrani, DPM, of Kings Point Foot & Ankle in Los Angeles and creator of Nerve Assist for expert tips on the common styles that are okay and those that could cause some harm to your overall foot health. In addition, given that many of us do spend a lot of time walking barefoot around the house, Tehrani shed light on the pros and cons on that front, too.

Without further ado, keep scrolling for a ranking of the best and worst at-home shoes. And if you're shopping at the moment, you'll find shoe recommendations that could be of interest as well.

[SMcK: I win, Birkenstock.]
Dolphins to the rescue (of the dog):
If we try to live as one with the animals, this world would be a much better place. We should teach our children from very young age that every life matters, and every creature should be treated with kindness. The dolphins are probably the living beings we should all learn how to be compassionate from. Not only they are lovable and sweet, but they are intelligent too. If it wasn't for a group of dolphins, a dog's life would have ended.

No one noticed when or how the Doberman fell into the canal of Marco Island, Florida. With no humans around, the faith of this poor dog seemed to be sealed. But, then out of the blue, magnificent dolphins came to his rescue.

They could see the dog was struggling to get out of the water, which was practically impossible since it was trapped in the canal and the wall that separated the water from the land was way too tall to climb. The animal was splashing around and it was enough concern for the dolphins to realize he was in trouble.

What these smart dolphins did next was sort of amazing. They all started making loud noise hoping for someone to hear them and come check what was going on. "In fact, they made so much noise that some people who lived nearby happened to hear them and investigated why they were being so loud," Snackay reports. "Then they noticed the dog trapped below the wall in the canal water."

In a matter of minutes, after discovering the drowning dog, firemen came to the scene and got the Doberman out of the water. It was obvious he was scared as he couldn't stop shaking.
Anika Chebrolu, 14, of Frisco, Texas, won the 3M Young Scientist Challenge (regarded as the premier middle school science competition in the United States) and $25,000 for discovering a molecule that many hope will lead to a potential cure of COVID-19, according to CBS11 Frisco, Texas.

Chebrolu, a student at Independence High School, had started her project on ways to fight the seasonal flu, but like many professional scientists, her plans changed when the coronavirus pandemic hit. She says she was driven by the scope of the pandemic and the people who were suffering.

In order to find her potential drug, she used multiple computer programs to identify how and where the molecule would bind to the SARS-CoV-2 virus.

"I developed this molecule that can bind to a certain protein on the SARS COVID-2 virus," Chebrolu explained. "This protein by binding to it it will stop the function of the protein… I started with a database of over 682 million compounds."

She received many good wishes and congratulations from people all over the world on Twitter, most notably from Shri M. Venkaiah Naidu, Vice President of India.
MUNCIE, Ind. (WTTV) — A group of high schoolers from across Delaware County, Indiana, are stepping up to help a Vietnam veteran. They learned the veteran was struggling and on the brink of losing his home.

They weren't going to let that happen.

This school project for senior, Landon Hines, will be one he never forgets.

"If we could do this and build 200 houses for all of the vets that need it out here, we would definitely do that," he said.

He and his classmates from the Muncie Area Career Center Construction Technology Program are calling this Operation John Holaday. They're building John, a local Vietnam veteran, a new and stable home.

"We honestly had no idea how bad it was until we got here," Hines said.

"This is called community coming together," added Nathan Jones with the Delaware County Veterans Affairs Office.
A teen to the rescue: (Thanks Pat)
In 1979, a teenager became so concerned with soil erosion that he planted a few trees.

Over the next four decades, Jadav Payeng continued to plant and now he has single-handedly created a forest bigger than New York's Central Park.

His endeavours on Majuli island in northern India went entirely unnoticed for decades.

It was only when a journalist headed into the enclave that his secret was revealed to the world.

Jadav's remarkable tale has now been told in the online documentary Forest Man, which has amassed almost 2.8million views.

Jadav lives on Majuli, in the state of Assam, which is the world's largest river island.
Everyone knows how much damage plastics are doing to the environment, from the plastics comprising the Great Pacific garbage patch to the microplastics infesting the ocean, to landfill sites that are overflowing with plastic waste. Some types of plastics can be recycled, but the resulting products are often low-quality and not that useful. This means that only a small percentage of all the plastic we create and use ends up being recycled.

Now, chemists from the University of California Santa Barbara and other universities have come up with a new way to recycle plastic into something more valuable, which could help reduce the plastic waste with which we currently pollute the environment.

The method involves approaching plastics on the molecular level. Plastics are made up of chains of carbons which can be combined in all sorts of ways to create different types of plastic. Instead of melting down plastics, which results in lower-quality products at the end, the chemists have found a way to chop up the carbon chains without using a massive amount of heat or giving off nasty emissions.

Lead author Susannah Scott wrote about the research for the academic news website The Conversation, describing how the process for breaking down plastics works: "The process we have developed does not require high temperatures, but instead depends on tiny amounts of a catalyst containing a metal that removes a little hydrogen from the polymer chain," she wrote. "The catalyst then uses this hydrogen to cut the bonds that hold the carbon chain together, making smaller pieces."
CHAMPAIGN, Ill. (NewsNation Now) — A police officer rescued a kitten stuck in a storm drain in central Illinois, and now the fluffy gray tabby is the "newest member" of the force.

A Facebook post from the Champaign Police Department says it received several reports of a stray kitten stuck in a storm drain, NewsNation affiliate WCIA reported.

"Officer McElwee showed up, crawled down into the drain and was able to rescue the kitten," the post stated. "She used toys to help get the kitten to trust and come to her, and now she has a new pet!"
ORANGE COUNTY, Calif. (KTLA) — A barn owl is on the road to recovery Wednesday after being singed by flames from the massive Silverado Fire in Orange County, California.

The large bird was rescued by an Orange County Fire Authority firefighting crew Tuesday evening, according to the OCFA.

"He's safe and sound," the agency said in a tweet.

The Fire Authority released video showing the bird wrapped in yellow fire gear as a firefighter lifted him from the ground.

The crew then alerted animal control about the injured bird.

"We'll get you some help, buddy," one of the firefighters can be heard telling the owl after the radio call, according to the footage.

Animal control initially took custody of the barn owl, but he is now being treated for burns at the Serrano Animal and Bird Hospital in Lake Forest.
NEW ORLEANS (NewsNation Now) — A man who spent 20 years in prison for possession of five ounces of marijuana went to culinary school behind bars, opening a restaurant in New Orleans.

Shermond Esteen Jr. opened Nonno's Cajun Cuisine & Pastries in the Seventh Ward neighborhood.

"There's only two things you can do in prison, you can either get bitter or better. So I fought every day to get better," Esteen Jr. told NewsNation affiliate WGNO. "Well, I've been to the bottom now I'm headed to the top."

While in prison, the new restaurateur attended culinary school and was in charge of making meals for 600 inmates.

When asked by NewsNation affiliate WGNO reporter Bill Wood where his courage comes from, Esteen Jr. replied, "God."
Musical instruments and aerosols:
Onstage at Orchestra Hall, Michael Gast lifted his French horn and, as a metronome clicked, played a scale loudly. Once, twice, three times.

His forehead red, his cheeks deflated, Gast turned to his audience: six University of Minnesota researchers.

Two peered at a screen before nodding. They had been watching, more than listening, measuring not the sound from Gast's horn but the particles. A Ph.D. student adjusted the funnel in the horn's bell.

Once more. Gast took a deep breath.

U mechanical engineers are working with the Minnesota Orchestra to study the strength and concentration of aerosols that emerge from brass and woodwind instruments, trying to assess how risky they might be in the spread of the coronavirus that causes COVID-19.

The first goal is to identify the risks in Orchestra Hall of virus-carrying particles flying between and among players and to figure out how to capture or disperse those particles — paving the way for safe, in-person concerts again. But the results could reverberate beyond the performing arts and play to a national audience of scientists and policymakers who are only beginning to understand the role of aerosols in fueling the pandemic.

"The findings are very significant, with potential impact beyond orchestra performance," said Jiarong Hong, an associate professor of mechanical engineering and a co-leader of the research.
Jesus Creed is a part of CT's Blog Forum. Support the work of CT. Subscribe and get one year free.
The views of the blogger do not necessarily reflect those of Christianity Today.