October 21, 2020
Where Reading Paul is Life and Death
Learning from African American readings of Paul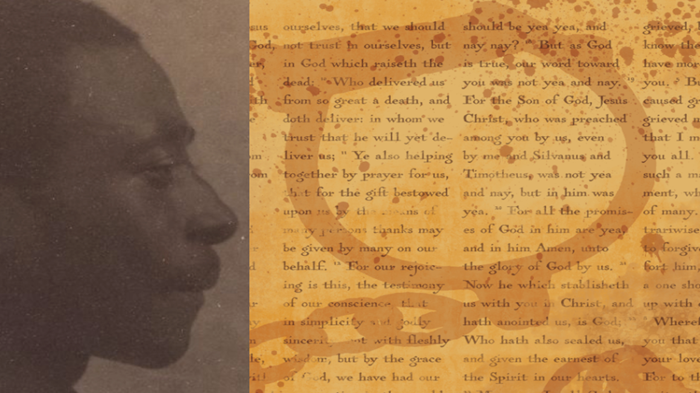 Americans have read the apostle Paul for their entire history, and have chosen texts that resonate with the times. Slave owners frequently used the apostle Paul to remind their slaves of divinely-ordained and divinely-commanded obedience to their slaves, citing often enough texts like Colossians 3:22:
Slaves, obey your earthly masters in everything, not only while being watched and in order to please them, but wholeheartedly, fearing the Lord.
This often occurred in worship services led by the masters and their chosen ministers. Black enslaved humans responded in return with their own readings of Paul, and these readings of Paul have been sketeched in a marvelous new study by Lisa Bowens in her new book African Americanm Readings of Paul: Reception, Resistance, and Transformation.
There is an oft-quoted line by Howard Thurman from his grandmother, Nancy Ambrose, who talked to him once about why she had her doubts about the apostle Paul:
What she told me I shall never forget. "During the days of slavery," she said, "the master's minister would occasionally hold services for the slaves. Old man McGhee was so mean that he would not let a Negro minister preach to his slaves. Always the white minister used as his text something from Paul. At least three or four times a year he used as a text: 'Slaves, be obedient to them that are your masters, as unto Christ.' Then he would go on to show how it was God's will that we were slaves, and how, if we were good and happy slaves, God would bless us. I promised my Maker that if I ever learned to read and if freedom ever came, I would not read that part of the Bible."
She was not alone, but her view was not the only one. What Bowens demonstrates over and over is that African American slaves and ministers often turned Paul inside out to resist those very white master ministers' sermons. Ah, the richness of Pauline language. The very man who writes Colossians 3 above is the one who said in Philemon "no longer a slave but a brother." Paul may not have seen through the immorality of slavery but he sure laid down lines that could eventually (God knows) be used to demolish institutions of slavery.
So to African American readings of Paul Lisa Bowens turns, and all emphases are mine:
African Americans offered ways of reading Paul that were historically counter to the way many white Americans read the apostle…. The "distinct Black experience in America''' affects black interpretations of the apostle, and so black Pauline hermeneutics address to a great extent "the Black man's condition, and [are] committed to changing that condition." Thus, in many instances African American Pauline hermeneutics are resistance or protest hermeneutics in which blacks employ PauI to protest the oppressive struc-tures of society and to resist whites' interpretations of the apostle. To be sure, African American history informs blacks' interpretive postures when reading Pauline Scriptures.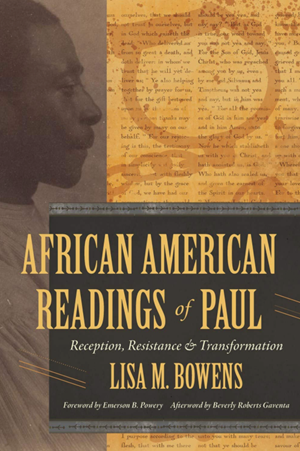 Image: Cover Photo
Yes, Thurman's grandmother knew one side of the use of Paul but others used another side:
Historically, many blacks felt connected to Paul and his writings, for they perceived in his words language that spoke to their own life circumstances, which enabled them to endure but also resist the status quo. African Americans engaged in a reclamation or resistance hermeneutic in which they reclaimed Paul for themselves in their fight and struggle against injustice and asserted their use of him in their resistance of racism.
What may surprise some today is how important Paul has been in the black experience. Lisa Bowens brings to the surface the neglect of research of this very subject.
Due to Paul's towering presence in black writings, these compilations deserve substantial consideration and investigation. Moreover, this project is needed because, to date, no monograph has been devoted exclusively to analyzing the use of Paul's letters among blacks with a historical, theological, and biblical focus. Such a project is important for documenting the intersection of black religious life with American religious life because black religious life and experience are deeply woven into the fabric of American religious life.

The current analysis revolves around a central tenet that most of these authors raise in their Pauline hermeneutics, that is, the relationship between their rich, provocative, and defiant adoptions and adaptations of the apostle Paul and the way in which they understood his letters as sacred Scripture as texts to be engaged, examined, and proclaimed as protests against evil and injustice.
She details in his book from a rich databank one thinker/preacher/writer after another and so maps out a future field of study in the African American use of Paul.
Many of the authors chosen for this monograph are thought provoking and subversive when it comes to the apostle Paul and his letters. They utilize his work to protest and resist white supremacy, slavery, the slave trade, black dehumanization, and male-centered readings that prohibit women preachers, and in doing so, they select Paul as a source to speak to black and black female identity in a positive way.
This, as she points out, is no exercise in reading disinterested preachers. This is a study of those who put their life on the line – fighting Babylon and the Beast – with their hidden criticism, subtle innuendo, and at times over resistance.
For these black hermeneuts, Pauline hermeneutics is not a neutral undertaking where reading Paul is a leisure activity or an exercise. Rather, in many cases reading, writing about, or preaching Paul had life-or-death consequences with significant implications in the authors' lives and in the lives of those in their respective communities. Hence, engaging Paul was neither a mere intellectual endeavor nor a hobby to pass the time, but it had real-life consequences that spoke to current debates that affected African American existence.
Jesus Creed is a part of CT's Blog Forum. Support the work of CT. Subscribe and get one year free.
The views of the blogger do not necessarily reflect those of Christianity Today.