September 25, 2020
How and Where I Write: Allen Guelzo
An interview about writing
David George Moore
It's been my privilege to be in the personal spaces of several writers. Among others, Pulitzer winner Tony Horwitz warmly welcomed me at his home on Martha's Vineyard as did William F. Buckley at his place on Long Island Sound.
I have interviewed close to 200 authors. Everyone has their own style with reading, capturing what they have read, research, and then writing. As I writer myself, I have settled on an approach I feel comfortable with.
This interview is with one of my favorite historians.
Allen Guelzo is the Senior Research Scholar in the Council of the Humanities at Princeton University and Director of the James Madison Program's Initiative in Politics and Statesmanship, also at Princeton.
I regularly listen to lectures by Guelzo. He is articulate, funny, and does his homework. What else would you want in a great teacher? Guelzo is the author of many books. He is the only author to win the Lincoln Prize on three different occasions. He is perhaps best known for Abraham Lincoln: Redeemer President . I learned a great deal from his book, Fateful Lightning: A New History of the Civil War and Reconstruction.
Moore: Do you still acquire books as you get older or have you slowed down a bit?
Guelzo: I have slowed down book purchases somewhat, but I am still in flagrant, irredeemable violation of Marie Kondo's advice about having no more than thirty books in the house. Thirty books! I buy that many every year, even now!
Moore: What are the best time(s) and place(s) for you to write?
Guelzo: Anytime. I have no explanation for this, but I can sit down with pen or keyboard and it turns on like a spigot. I recall Bunyan's comment: "Still as I pulled, it came; and so I penned it down."
Moore: How do you capture your research? Old school with note cards etc., or new school with computer programs?
Guelzo: I use 4x6 cards, which I print from my computer. I store the cards in file boxes and am able to use the cards for new articles and reviews, since I actually use only about 10 percent of the material for a given project.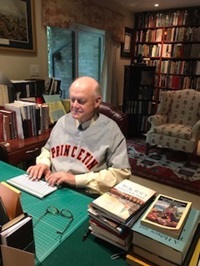 Image: Personal photo
Moore: Do you immediately start writing on the computer (perhaps typewriter) or by longhand?
Guelzo: I started first by longhand, in the 1970s, then by typewriter (an Olympia portable, then an IBM Selectric), then finally an AT&T desktop computer in 1985. I do almost everything now by computer.
Moore: Do you put marginalia in your physical books?
Guelzo: All the time. Where else would I put them? I write them parallel to the page (which is to say, perpendicular to the lines of print).
Moore: Do you read digital books?
Guelzo: No. They are of the devil.
Moore: What is some good advice you received on writing?
Guelzo: The greatest advice was from John Gardner: prick them so that they bleed (On Moral Fiction).
Moore: What do you think is your best book?
Guelzo: The one I have not yet written.
Moore: Please name a few of your favorite authors from your own field of study
Guelzo: Bruce Catton (a style so evocative that reading him is like listening to a Charles Ives symphony), Perry Miller (especially his Jonathan Edwards), Walter Lord (on the Titanic).
Moore: What is a book you should have read by now, but haven't? This will make all of us sleep better!
Guelzo:The Brothers Karamazov
David George Moore is the author of the forthcoming Stuck in the Present: How History Frees and Forms Christians (Leafwood/Abilene Christian University Press). Some of Dave's teaching videos can be found at www.mooreengaging.com.
Jesus Creed is a part of CT's Blog Forum. Support the work of CT. Subscribe and get one year free.
The views of the blogger do not necessarily reflect those of Christianity Today.