September 19, 2020
Weekly Meanderings, 19 September 2020
Our weekly selection of links across the web.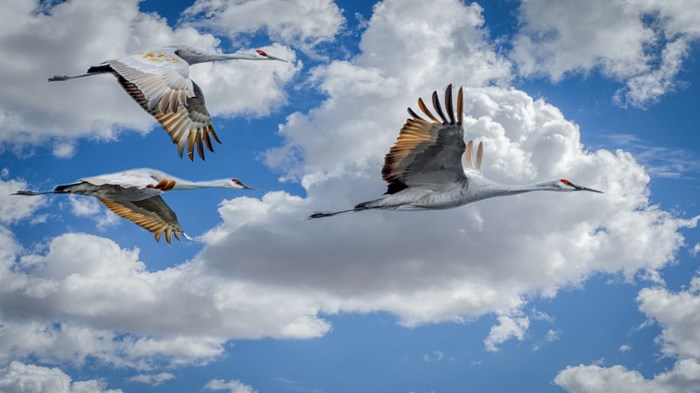 The birds – like the Sandhill Cranes above – are heading south. Say hello to them for Kris and me when you see some. Most won't greet you back, but don't take it as ingratitude. They're busy.
My favorite bookstore in the USA:
We are only about two weeks away from the September 29 publication date of my book Live Not By Lies — a book who subject matter (how to resist the coming soft totalitarianism) is becoming ever more relevant. I want to encourage readers to pre-order it from Eighth Day Books, the world's greatest bookstore. The New York Times once profiled Eighth Day here. Excerpts:

Eighth Day Books lives in an old three-story house on Douglas Avenue, just east of C&R Comics and Superior Rubber Stamp. It is not exactly a Christian bookstore — while sitting at the communal table, I can pull off the shelf works like Greil Marcus's "The History of Rock 'n' Roll in Ten Songs" or scoot my chair a couple of feet and grab, Laura Hillenbrand's "Unbroken."

Still, the store's name, Eighth Day, serves as a secret handshake among Christian book lovers, and its following reaches far beyond the heartland city it serves. Popular Christian writers like Lauren F. Winner and Rod Dreher are fans and erstwhile visitors. On one wall hangs a picture of Kallistos Ware, an Eastern Orthodox bishop and theologian, taken during his visit in 2002.

Warren Farha, 59, gray-haired and laconic, is the store's founder, custodian, clerk and sole book buyer, a job that is more complex than it would be at a typical independent bookstore. The store's shelves are divided into sections like Monastic Writings & Studies, Patristic Writings & Studies" and C. S. Lewis & Friends, and filled only with books Mr. Farha would read. So no cooking or travel.

Yes, Hillenbrand is on the shelves. But it is Mr. Farha's more eccentric tastes that mark his store.

"We order a lot of university press stuff, and Christian presses, of course, but since we try to carry a deep selection of Catholic and Orthodox literature, sometimes we're ordering from monasteries," Mr. Farha, said. "Monasteries that publish books. Quite a few of our books are English translations, but published by some monasteries in Greece — books by abbots living in monasteries on Mount Athos."
Visit my friend Graham Hill's site.
BETHLEHEM, Pa. (AP) — Peeps treats are going on hiatus for several months — another consequence of the coronavirus pandemic.

Just Born Quality Confections said it won't be producing the popular marshmallow sweets for Halloween, Christmas or Valentine's Day as the Bethlehem, Pennsylvania-based company prepares for next Easter, PennLive.com reports.

Production of the holiday-shaped candies was suspended in the spring as the coronavirus spread across the state. Limited production resumed in mid-May with protocols in place to protect employees, Just Born said.

"This situation resulted in us having to make the difficult decision to forego production of our seasonal candies for Halloween, Christmas and Valentine's Day in order to focus on meeting the expected overwhelming demand for Peeps for next Easter season, as well as our everyday candies," the company said.
What parts of the Bible pass the Bechdel Test? [An excellent example of what is called "presentism" but still interesting.]
Sometimes a friend's tweet can send you down the internet rabbit hole in the best way possible. This is one of those times.

A few weeks ago, my friend Amy Peterson (please read her fantastic books) asked a question on Twitter about whether there are any scenes in the Bible which meet the Bechdel-Wallace test. Amy offered a preliminary answer and so did some other friends, including Jessica Hooten Wilson. This intrigued me and made me want to fire up a code editor to look into the question more deeply.

In case you're not familiar with it, the Bechdel-Wallace test "is a measure of the representation of women" in movies and books. It is based on a comic by Alison Bechdel that suggests a work must contain a scene with (1) at least two women, (2) who talk to each other, (3) about something other than a man. Though it wasn't in the original comic, many also agree that both characters must have names.

The films in the Star Wars can serve as an example of the test's usefulness. The first Star Wars movie was praised for presenting a strong female character in Princess Leia. However, the only other named character in the movie is Aunt Beru, but she and Leia never meet or talk, so the film fails the Bechdel test. In contrast, The Force Awakens (episode VII) includes a scene in which Rey and Maz Kanata discuss Rey's destiny and the Force, which passes all three elements of the Bechdel test (see below for some disputes about this).

It has been pointed out that the Bechdel test has its limitations—a bad piece of art can can pass it (some argue that the Sir Mix-a-Lot song "Baby Got Back" could pass) and a good film could fail it (Gravity has a female protagonist but very few characters)—but it remains a helpful shorthand for evaluating representation and bias.
What is Covid-19 doing to public school teacher resignations and subs?
INDIANAPOLIS (AP) — With many teachers opting out of returning to the classroom because of the coronavirus, schools around the U.S. are scrambling to find replacements and in some places lowering certification requirements to help get substitutes in the door.

Several states have seen surges in educators filing for retirement or taking leaves of absence. The departures are straining staff in places that were dealing with shortages of teachers and substitutes even before the pandemic created an education crisis.

Among those leaving is Kay Orzechowicz, an English teacher at northwest Indiana's Griffith High School, who at 57 had hoped to teach for a few more years. But she felt her school's leadership was not fully committed to ensuring proper social distancing and worried that not enough safety equipment would be provided for students and teachers.

Add the technology requirements and the pressure to record classes on video, and Orzechowicz said it "just wasn't what I signed up for when I became a teacher."

"Overall, there was just this utter disrespect for teachers and their lives," she said. "We're expected to be going back with so little." When school leaders said teachers would be "going back in-person, full throttle, that's when I said, 'I'm not doing it. No.'"

Teachers in at least three states have died after bouts with the coronavirus since the start of the new school year. It's unclear how many teachers in the U.S. have become ill with COVID-19, but Mississippi alone reported 604 cases among teachers and staff.

In cases where teachers are exposed to the virus, they could face pressure to return to the classroom. The Trump administration has declared teachers to be "critical infrastructure workers" in guidance that could give the green light to exempting them from quarantine requirements.

Throughout Indiana, more than 600 teacher retirements have been submitted since July, according to state data. Although the state gets most of its teacher retirements during the summer, surveys suggest more retirements than usual could happen as the calendar year progresses, said Trish Whitcomb, executive director of the Indiana Retired Teachers Association.

"I've gotten more (teachers) calling me back saying, 'Well, I'm going to go ahead and retire,'" Whitcomb said. "Some still wanted to go back in the classroom, but they didn't think the risk was worth it. They looked at their grandkids and the life they have, and I think they're saying, 'I'm just not going to do it.'"

In Salt Lake County, Utah, the state's most populated metropolitan area, more than 80 teachers have either resigned or retired early because of concerns about COVID-19 in schools. More than half of those happened in one of the county's five school districts, Granite School District. All of the district's teachers who left were fined $1,000 for failing to give 30 days' notice.
(CNN)In 2012 Karen King, a prestigious scholar at Harvard Divinity School, announced the academic discovery of a lifetime: a scrap of papyrus, purportedly from the early days of Christianity, in which Jesus refers to a woman as "my wife."

The text also includes the words "Mary" and "she is able to be my disciple."

It seemed, at first, like a blockbuster finding for feminist scholars and an existential threat to the Catholic Church's all-male priesthood.

King, who unveiled her find just steps from the Vatican, thought the fragment could validate her life's work: claiming a place for women in the early days of Christianity.

But instead of overturning years of religious scholarship, King's "discovery" capsized her career.

The "Gospel of Jesus' Wife," as King called it, was exposed by scholars as fake, and the prestigious professor's name has become a watchword for academics hoodwinked by con men.

In 2016, after journalist Ariel Sabar published an article in The Atlantic uncovering the ownership history of the "Jesus' Wife" fragment, King herself publicly acknowledged the papyrus is likely a forgery.

Four years later Sabar is back with the fascinating full story in his new book, "Veritas: A Harvard Professor, a Con Man and the Gospel of Jesus' Wife."

Sabar painstakingly unspools the threads that lead to King's demise, seeking to explain why she would stake her reputation on promises from a mysterious Florida man.

You can see evidence of the fragment's fakeness on Sabar's website.
Scientists have been left baffled by incidents of orcas ramming sailing boats along the Spanish and Portuguese coasts.

In the last two months, from southern to northern Spain, sailors have sent distress calls after worrying encounters. Two boats lost part of their rudders, at least one crew member suffered bruising from the impact of the ramming, and several boats sustained serious damage.

The latest incident occurred on Friday afternoon just off A Coruña, on the northern coast of Spain. Halcyon Yachts was taking a 36ft boat to the UK when an orca rammed its stern at least 15 times, according to Pete Green, the company's managing director. The boat lost steering and was towed into port to assess damage.

Around the same time there were radio warnings of orca sightings 70 miles south, at Vigo, near the site of at least two recent collisions. On 30 August, a French-flagged vessel radioed the coastguard to say it was "under attack" from killer whales. Later that day, a Spanish naval yacht, Mirfak, lost part of its rudder after an encounter with orcas under the stern.
(CNN)Biologists at New Mexico State University are trying to find out why hundreds of thousands of migratory birds have been found dead across the state.

The mystery started August 20 with the discovery of a large number of dead birds at the US Army White Sands Missile Range and White Sands National Monument, according to Martha Desmond, a professor at the university's department of fish, wildlife and conservation ecology.

What was first believed to be an isolated incident turned out to be a much more serious problem when hundreds more dead birds were found in regions across the state. including Doña Ana County, Jemez Pueblo, Roswell and Socorro.

"It's just terrible," Desmond told CNN. "The number is in the six figures. Just by looking at the scope of what we're seeing, we know this is a very large event, hundreds of thousands and maybe even millions of dead birds, and we're looking at the higher end of that."

Dead migratory birds -- which include species such as warblers, bluebirds, sparrows, blackbirds, the western wood pewee and flycatchers -- are also being found in Colorado, Texas and Mexico.
Adult children working from parents' home:
Nearly 30 million Americans are spending their 20s in the same place they spent their grade school years: at home with their parents.

The big picture: For the first time since the Great Depression, the majority of 18- to 29-year-olds have moved back home. Those living arrangements can come with a great deal of awkwardness and pain, but families across America are making the most of it.

"I'm worried about it," says Jeffrey Arnett, a psychologist at Clark University, who coined the term "emerging adults" for 18- to 29-year olds. "I think we all should be. The rates of being depressed and anxious have really gone up among emerging adults."

Reasons for moving home vary. The coronavirus recession has hit young people especially hard, and many are living with family because they've lost their jobs or haven't been able to find work after college or grad school.

Others wanted some company during lockdowns.

"You can't imagine how great it is to hear that I'm in the majority of my generation," says Elsa Anschuetz, a 24-year-old working in public relations out of her childhood bedroom. "It is definitely not where I thought I'd be at this stage in my life, but, at least to me, it is definitely better than living in an apartment alone during this crazy pandemic." "My friends who are at home or with friends in large roommate groups seem to be faring better than people on their own," says Alex Jang, a consultant in his early 20s who's living with his parents, grandparents, girlfriend and dogs in Orinda, California.
Socially distanced Halloween, why not?!
DELHI TOWNSHIP, Ohio (WTVO) — As cities and towns across the country decide whether they will hold trick-or-treating events amid the coronavirus pandemic, an Ohio man has come up with a "touch-free" alternative to handing out Halloween candy this year.

Andrew Beattie constructed a 6-inch candy chute and attached it to his porch rail, an orange-and-black striped cardboard tube through which he can drop candy from the top of his stairs. It would then land safely in the bucket or bag of visiting trick-or-treaters.

Beattie said he will place a sign at the bottom of his stairs, showing them where to hold their bags or candy buckets so the treats will drop right in.

He also said he will be wearing a mask and gloves and the candy will be from a factory-sealed bag.
Jesus Creed is a part of CT's Blog Forum. Support the work of CT. Subscribe and get one year free.
The views of the blogger do not necessarily reflect those of Christianity Today.