April 17, 2021
How and Where I Write: Jerry Sittser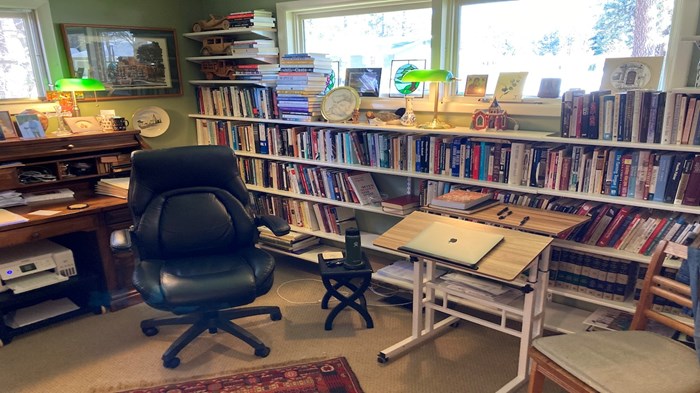 David George Moore
It's been my privilege to be in the personal spaces of several writers. Among others, Pulitzer winner Tony Horwitz warmly welcomed me at his home on Martha's Vineyard as did William F. Buckley at his place on Long Island Sound.
I have interviewed over 200 authors. Everyone has their own style with reading, capturing what they have read, research, and then writing. In my own writing I have settled on an approach that certainly has its idiosyncrasies.
I have been reading Sittser for many years. In one of the questions below you will find the three books that Jerry thinks are his best. I have read all three and can attest that all were terrific. No duds whatsoever! I have recommended A Grace Disguised to many people.
Moore: Do you still acquire books as you get older, or have you slowed down a bit?
Sittser: I buy less now. And I buy only what I am reasonably sure I will read.
Moore: What are the best time(s) and place(s) for you to write?
Sittser: It depends upon the kind of writing I am doing. I will often sketch out ideas after I exercise or early in the morning or during a long drive. I keep a journal for many reasons. But this is one of them. When I start a first draft, I need and take long periods of uninterrupted time, and I always do such writing in my study. If I am editing, I can devote shorter periods of time to it, and I will sometimes do the editing in a coffee shop.
My study is like a home to me. My whole body tells me to read and write once I enter it.
Moore: How do you capture your research? Old school with note cards etc., or new school with computer programs?
Sittser: I don't use computer programs. I write brief notes in books, or write out notes on a yellow pad. Then I type notes out and include an occasional quote.
Moore: Do you immediately start writing on the computer (perhaps typewriter) or by longhand?
Sittser: Definitely long hand. I know, that is very old school. But there is science behind it. The use of a pen does something to the brain, connecting brain and words through the tactile use of a pen.
Moore: Do you put marginalia in your physical books?
Sittser: I will write a word to capture the essence of a thought or paragraph. Just enough to let me know what is going on from page to page. That one word or phrase serves as a kind of mnemonic device.
Moore: Do you read digital books?
Sittser: No. My brain doesn't like them!
Moore: What is some good advice you received on writing?
Sittser: Two words: 1) edit it until it bleeds; and, 2) always assume your first draft is bad.
Moore: What do you think is your best book?
Sittser: I have written in more than one genre. I would say A Grace Disguised: How the Soul Grows through Loss for a memoir, Resilient Faith: How the Early Christian "Third Way" Changed the World for an accessible history, and Water from a Deep Well: Christian Spirituality from Early Martyrs to Modern Missionaries for spirituality.
Moore: Please name a few of your favorite authors from your own field of study
Sittser: I have really valued Robert Louis Wilken's The Spirit of Early Christian Thought and Jean LeClerq's The Love of Learning and the Desire for God as examples of learnedness, elegance, and love for the subject (and for God).
Moore: What is a book you should have read by now, but haven't? This will make all of us sleep better!
Sittser: Milton's Paradise Lost. And don't you dare say, "What? Are you kidding me? How could you . . ."
David George Moore is the author of the forthcoming Stuck in the Present: How History Frees and Forms Christians (Leafwood/Abilene Christian University Press). Stuck in the Present: David George Moore: 9781684264605: Amazon.com: Books
Jesus Creed is a part of CT's Blog Forum. Support the work of CT. Subscribe and get one year free.
The views of the blogger do not necessarily reflect those of Christianity Today.