April 3, 2021
Weekly Meanderings 3 April 2021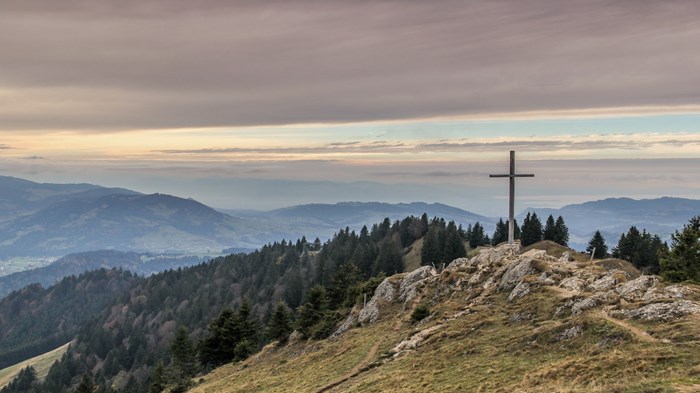 It's Holy Saturday. Between Cross and the empty tomb. We wait.
CHICAGO (WLS) -- A Chinatown restaurant owner starts off his week with giving back to the elderly in his community.

"Every Monday we feed two senior buildings in Chinatown. We're not strange faces, we're regular faces. So when they see us, they get so happy," said Jackson Chiu, owner of 312 Fish Market in Chinatown.

Chiu has been feeding about 10 elderly folks in the Chinatown neighborhood for over three months. He said he makes sure the elderly community eats well. This week he cooked up unagi don tamago and California rolls.

88 Market Place as well as Chiu Quon Bakery have joined the restaurant owner in his efforts. They are offering buns and fruits and vegetables.

"We're really, really proud of the efforts that he has made and the number of people he's been able to affect in the community," said Mark Lewis, asset manager at 88 Market Place.

The Chicago Police Department has also been lending a helping hand in Chiu's efforts.

Chiu said his acts of kindness is not only done to bring his community together, but it's also a form of saying thank you to the elders who helped build his community.

"By us giving back we're trying to work together. As a small community like Chinatown, we have to work together in order to stay stronger," said Chiu.

The restaurant owner said he does not receive any donations, all the food given to the elderly comes out of pocket.
After 12 long months, the end of the pandemic is finally starting to seem within reach. Every day, more and more folks are getting vaccinated, and it looks like there's a light at the end of the tunnel. But after a year of being cooped up inside, the prospect of, you know, going out and seeing people again, is stirring up a lot of mixed feelings. Namely, FOMO and FOGO, or fear of missing out and fear of going out. Read on for how to spot each feeling, plus which one you can expect to have whether you're an introvert, extrovert or somewhere in between.

What Is FOMO?

Fear of missing out, or FOMO, is exactly what is sounds like: when you feel anxious or stressed that an exciting or interesting event may currently be happening elsewhere that you're not involved in. FOMO is often worsened by social media, since society's insatiable need to post every single thing we're doing means seeing all the fun things the people in your network are up to. In a post-pandemic world, FOMO could look like grabbing after-work drinks with one friend while seeing Instagram Stories of other friends and a place that looks way cooler and more fun.

What Is FOGO?

Fear of going out, or FOGO, is quite the opposite from FOMO. Those who experience FOGO would rather stay home than venture out and be social, and often find public outings to be incredibly stressful and anxiety-provoking. As the vaccine becomes available to more and more people, brunches and date nights and trips to the museum are going to become commonplace again, which could spell disaster for anyone who's frequently experienced FOGO.
Excellence by Emily Gathergood:
What the gospel of 'Him too' means for me, as my mind and body keep the score of my own experience ov sexual abuse in the form of Post-Traumatic Stress Disorder, is the loving presence of God with me in the nightmare. Christ with me, Christ before me, Christ behind me, Christ beneath me, Christ above me, Christ on my right, Christ on my left, Christ when I lie down, Christ when I sit, Christ when I stand, Christ when I break. Christ in me, the hope of glory. It's a consolation strong against despair. And it compels me to ask my Christian brothers and sisters, Do you love me, too? Because to belong to the Body of Christ is to feel the pain of his members as one's own. To weep with those who weep, and rage with those who rage. To tend the wounds of those who are battered, and dismantle every oppressive notion and structure and practice.

Will you be instruments of grace in the Redeemer's hands? Or will you be stumbling-blocks in the holy path to justice, liberation and healing?
From his couch in Dallas, Ben Kirby began asking questions about the lifestyles of the rich and famous pastors when he was watching some worship songs on YouTube on a Sunday morning in 2019. While listening to a song by Elevation Worship, a megachurch based in Charlotte the evangelical churchgoer noticed the lead singer's Yeezy sneakers were worth nearly the amount of his first rent check.

Kirby posted to his 400 followers on Instagram, "Hey Elevation Worship, how much you paying your musicians that they can afford $800 kicks? Let me get on the payroll!"

Plus, Kirby wondered, how could the church's pastor, Steven Furtick, one of the most popular preachers in the country, afford a new designer outfit nearly every week?

With a friend's encouragement, Kirby started a new Instagram account @PreachersNSneakers posting screenshots of pastors next to price tags and the street value of shoes they were wearing. Within a month, the account had attracted 100,000 followers.

"At the beginning, it was easy for me to make jokes about it," he said. "Some of the outfits are absurd, so it's easy to laugh at some of the designer pieces. The price tags are outlandish."

On his feed, Kirby has showcased Seattle pastor Judah Smith's $3,600 Gucci jacket, Dallas pastor T.D. Jakes's $1,250 Louboutin fanny pack and Miami pastor Guillermo Maldonado's $2,541 Ricci crocodile belt. And he considers Paula White, President Donald Trump's most trusted pastoral adviser who is often photographed in designer items, a PreachersNSneakers "content goldmine," posting a photo of her wearing $785 Stella McCartney sneakers.
Thank you Sarah Rodriguez for telling this story:
Last week, we wrote about the life and work of Jo Anne Lyon, the first female general superintendent of the Wesleyan Church. This week's article will focus on Rev. Emily Awino Onyango, an Anglican priest ordained in her native Kenya.

Emily was born and raised in a Christian home. She spent her childhood learning Christian values, having family prayers, and attending church. At the age of ten, Emily attended a children's camp. It was at this camp that Emily first decided to have a personal relationship with Christ.

As she grew older, the people around her encouraged her in her faith. For instance, she said, "When I was in secondary school, I was greatly inspired by my Christian religious education teacher, Lorna Mwanga, who was very passionate about her faith. I also greatly admired the life and vocation of the prophets that she was teaching about."[1] Emily learned much from her religious teachers, and she grew to greatly admire the female evangelists and administrators in her church.

I also asked Emily to list some female missionaries who inspired her. She named Olive Owen, the wife of Archdeacon Owen who worked in Nyanza, Kenya in the 1940s. Olive Owen supported the women in her community and fought for women's rights in the community and in the church. Thus, it is easy to see why she inspires Emily, as Emily has faced her share of uphill battles while entering church ministry in Kenya.

According to Emily, "Olive Owen said that her main mission was to liberate the girls in her community who were suffering. She was one of the people who worked hard for the establishment of a girl's school… and supported the girls who were being forced into marriage with older men."[2]

Emily felt that God had called her to church ministry, so she applied to St. Paul's United Theological College, from which she graduated in 1983. Next, she became a Sunday school coordinator in the diocese and a lay reader at St. Stephen's Cathedral in Kisumu, Kenya. She describes this work as "very fulfilling, as [she] had the opportunity to influence the worldview of the children."[3] Emily advanced in church leadership when she was appointed as a deacon on July 29, 1984. She was eventually ordained as a priest on December 15, 1985.

Naturally, Emily faced much resistance as she climbed church leadership. Although the Lambeth Conference in 1978 allowed for women to be ordained in the Anglican Church, each diocese was allowed to choose whether or not they were going to ordain women as priests.
London (CNN)Europe's had a torrid time since the start of the pandemic. For a continent whose prosperity relies on political cooperation, seamless supply chains and the uncomplicated crossing of borders, a crisis that pits nation against nation and demands limited movement is a challenge.

The pandemic has exacerbated gripes that have existed between European nations for decades. Countries have sniped at one another as they scrambled for protective equipment and vaccines, while pointing the finger at one another over their measures to contain the virus. This has been especially true of the 27 member states of the European Union.

At the start of the pandemic, countries closed their borders for lack of trust that their neighbors were sufficiently containing the virus. There have been bitter disputes over exactly how the bloc should finance its economic recovery, with wealthier member states in the north contemptuous of financing those in the south, which they believe to be fiscally irresponsible.

Most recently, countries have been falling out over Europe's lackluster vaccine rollout.
O my:
BERKELEY, Calif. (NEXSTAR) — A home in Berkeley sold Monday for $1 million over asking after receiving 29 offers, the listing agent said.

Listing agent Jill Carrigan of Grubb Co. said the $2.3 million home, located in the coveted Berkeley Hills neighborhood, is a "unicorn" of sorts.

The three-bedroom, two-bathroom property comes with "incredible views" and a "big, flat level lawn" — a rare combination in Berkeley, Carrigan said.
NORMAN, Okla. (KFOR) — A Goodwill employee had quite a surprise when she found more than $40,000 in cash tucked away in some old donated sweaters.

It's the largest cash find in Oklahoma Goodwill history— but that was not the biggest surprise for the woman as the integrity she showed after finding it paid off.

A lot of money has been found tucked away in items donated to Goodwill, but they've never found anything like this before.

"Just from working here a month and a half, I've realized that there are a lot of things that have been donated," Andrea Lessing said. "You want to make sure there's good product, there's no stains, there's no holes, there's no tears, there's no rips."

One day, she came across two sweaters wrapped together, holding what she thought was books. On closer inspection, she found it wasn't.
3 minute pizza? (This is not right in Chicagoland.)
JACKSON, Mich. (NewsNation Now) — Craving pizza but don't want to wait an hour for delivery? A vending machine may be your answer.

A fresh pizza vending machine in Michigan promises to get your pizza to you hot and ready in under three minutes with just the tap of a screen. The 24/7 artisanal automated pizza oven is from the Canadian company PizzaForna.

Here's an overview of how it works: the machine is packed with 7 fresh 12-inch pizzas. Once the customer selects a pizza, a robotic arm takes their selection from the refrigerator and bakes it.

Pizzas range from classic pepperoni to meat lovers to some more unique options like the cheeseburger. The cheeseburger pizza has pomodoro sauce, shredded mozzarella and cheddar, minced beef, sweet green relish, caramelized onions, topped off with burger sauce and chives.
The endangered California condor is ready to return to the skies of the Pacific Northwest after a century's absence.

The U.S. Fish and Wildlife Service, the Yurok Tribe and the National Park Service announced Tuesday they will establish an experimental population of California condors in the Yurok ancestral territory. A final rule published by the Fish and Wildlife Service will allow the tribe to build a condor release facility in Redwood National Park.

The announcement marks a monumental step forward for a bird once on the brink of extinction and for the Yurok Tribe's broader cultural restoration effort that includes language revitalization, removal of dams along the Klamath River and more.

"As soon as I heard the news, I started crying," said Tiana Williams-Claussen, director of the Yurok Tribe's wildlife department. "This is something that I've been working for literally my entire adult career."

The wild California condor population once dipped as low as 23 birds worldwide. Condors are scavengers. One of the primary threats to their survival is lead ammunition. If the birds eat animal remains laced with lead, it can poison and kill them.

Another common threat is the insecticide DDT, which, though long banned in the U.S., persists in the environment. It thins condor eggshells causing them to break before the babies are ready to emerge.
Jesus Creed is a part of CT's Blog Forum. Support the work of CT. Subscribe and get one year free.
The views of the blogger do not necessarily reflect those of Christianity Today.