February 27, 2021
Marvin Olasky: How and Where I Write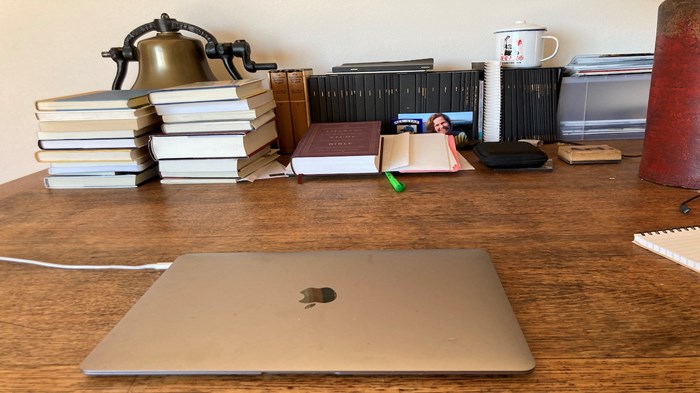 How and Where I Write: Marvin Olasky
David George Moore
It's been my privilege to be in the personal spaces of several writers. Among others, Pulitzer winner Tony Horwitz warmly welcomed me at his home on Martha's Vineyard as did William F. Buckley at his place on Long Island Sound.
I have interviewed over 200 authors. Everyone has their own style with reading, capturing what they have read, research, and then writing. In my own writing I have settled on an approach that certainly has its idiosyncrasies.
Marvin is editor in chief of WORLD magazine and dean of the World Journalism Institute. He joined WORLD in 1992. He has also served as a university professor and college provost. He has written 28 books, including his most recent, Abortion at the Crossroads. Abortion at the Crossroads: Three Paths Forward in the Struggle to Protect the Unborn: Olasky, Marvin: 9781642938142: Amazon.com: Books
Moore: Do you still acquire books as you get older or have you slowed down a bit?
Olasky: I follow my wife's Law of the Conservation of Mass: 1) Only 18 bookcases allowed in our house, spread through eight rooms. 2) All shelves are now filled. 3) Good book in, another good book out. The beneficiaries are students involved with Hill House, a great Christian study center just off the campus of The University of Texas at Austin.
Moore: What are the best time(s) and place(s) for you to write?
Olasky: After our magazine goes to press. Just about anywhere, but I like my old desk with books and old issues of WORLD piled up, along with the ESV Literary Study Bible, a photo of Susan, a copy of my favorite novel (The Cypresses Believe in God), and a big ranch bell an old friend made for me.
Moore: How do you capture your research? Old school with note cards etc., or new school with computer programs?
Olasky: Old new school: notes on Microsoft Word. Right now, I have 18 folders on my desktop with titles like "columns… reviews… interviews… upcoming events… interns…WORLD reporters… upcoming books." The folders all have sub-folders.
Moore: Do you immediately start writing on the computer (perhaps typewriter) or by longhand?
Olasky: Computer. I admire the rare writer who can think and then put down exactly what he means to say, but I tend to start with a few observations and then play with them.
Moore: Do you put marginalia in your physical books?
Olasky: Yes, now that I read mostly review copies. Sometimes words, but sometimes just a line next to a paragraph on a dog-eared page to remind me of what I want to quote or allude to in a review.
Moore: Do you read digital books?
Olasky: With rare exceptions, only in the middle of the night on Kindle, when my wife beside me is reading on her Kindle.
Moore: What is some good advice you received on writing?
Olasky: Expect 10% writing and 90% rewriting.
Moore: What do you think is your best book?
Olasky: It's satisfying when people tell me that The Tragedy of American Compassion helped them rethink programs that weren't working and pushed them to be both generous and discerning. The new book, Abortion at the Crossroads, may help others to think through ways to be pro-life.
Moore: Please name a few of your favorite authors from your own field of study.
Olasky: Among journalists, David French, Ross Douthat, and Karl Zinsmeister. Among writers on abortion, Anne Hendershott and Magda Denes. Among writers about worldviews, Francis Schaeffer and Tim Keller. Among writers about helping the poor, Darrow Miller and Arthur Brooks. Among historians of America, Thomas Kidd and whoever teaches me what I don't know, which means I have lots of favorites.
Moore: What is a book you should have read by now, but haven't? This will make all of us sleep better!
Olasky: Since my first four decades of Boston baseball were frustrating, I would like to have been able to read How the Red Sox Won the World Series Every Year From 1960 to 2003.
David George Moore is the author of the forthcoming Stuck in the Present: How History Frees and Forms Christians (Leafwood/Abilene Christian University Press). Stuck in the Present: David George Moore: 9781684264605: Amazon.com: Books
Jesus Creed is a part of CT's Blog Forum. Support the work of CT. Subscribe and get one year free.
The views of the blogger do not necessarily reflect those of Christianity Today.