February 6, 2021
Weekly Meanderings 6 February 2021
Our weekly selection of links across the web.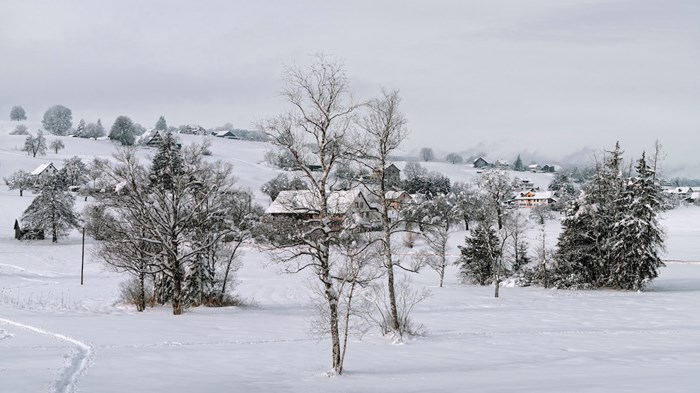 Good morning!
CHICAGO (NewsNation Now) — A music student is reunited with his beloved and valuable flute after leaving it on a Chicago train.

Donald Rabin says his flute is an extension of him. Worth $22,000, his grandmother left him the money to buy the gold and silver flute when she passed away in 2016.

"When she left that in her will I always brought her with me no matter where I went," Rabin said.

Rabin was riding a Blue Line train from O'Hare International Airport on Jan. 29, during a layover before his return to the Berklee College of Music in Boston.

Rabin described his harried train ride, explaining to NewsNation affiliate WGN how he may have left his flute behind. "I gotta pack up my stuff because the doors are closing and I grab all my bags and my luggage and go up the stairs to get my Lyft… then I'm like oh my gosh, oh my gosh my flute is gone," Rabin said.

After he realized what occurred, he said he rode the train for hours in hopes of finding his prized possession. When his search came up empty, he reported the missing instrument to Chicago police and took to Facebook to share what had happened.

Through the power of social media, someone reached out, telling Rabin the flute had turned up at a pawn shop.

"It has definitely been an emotional roller coaster last couple of days," Rabin said.

The pawn shop owner, Gabe Cocanate, was holding onto the flute, trying to determine if it was as valuable as it looked, when he and his wife saw the story of the missing flute on the news.

Coconate told the Chicago Sun-Times that a homeless man had brought in the flute for a loan.

Police picked up the flute and contacted Rabin, who flew back to Chicago this week, retrieved it and treated officers to a brief concert.
Chicago has a carjacking problem; some people are gifting cars.
CHICAGO (WLS) -- A good Samaritan surprised people who have been victims of carjackings with new vehicles Thursday - and it was something none of them saw coming!

"He told me, 'Believe in God.' And I said, 'I believe in him.' And he said, 'You know what? That car is yours,'" Edward Padilla said. "I was like, 'Wow.' I still don't believe it."

They were lured to a neighborhood car dealership and car wash on Chicago's West Side by the promise of some much need help. Upon arrival, Good Samaritan Jermaine Jordan gave the victims of recent carjacking the surprise of a lifetime.

Virginia Martinez's car was taken this Monday.

"I'm just, I, I just want to say thank you," she said.

Best known for his Free Hot Meals restaurant on Madison Street, Jordan owns the car lot, too. He used his own money along with donations to cover the cost and fees of giving the cars away.

"I felt like I had to do something because I was a victim of being carjacked three times, and each time I thought that my life was over with," Jordan said.

Working single parent Taqueria Little fought to hold back tears as she was gifted an SUV. Little was carjacked at gunpoint on December 6 on her way home from work as she waited to pick up her kids.

"Two guys approached me and take me out of my car with no shoes on or anything," Little said. "I had just cashed my paycheck. Everything was in there. I lost everything."
Track

Emotions ranged from elation to shock. Luxury rideshare driver Abdullah Saleem had his black Lexus taken by an armed thief posing as a passenger.

"It was very traumatizing," Saleem said. "For one whole month, I was paranoid. I was disturbed. It's not an easy thing to go through."
VATICAN CITY (Reuters) — Pope Francis on Sunday instituted a "World day for Grandparents and the Elderly" in the Roman Catholic Church to be marked once a year to honor them and to underscore their importance to society.

Francis, making the surprise announcement at his Sunday noon address, said it would be marked on the fourth Sunday of July each year in Catholic communities around the world.

The Catholic Church already has a World Day of Peace, which Pope Paul instituted in 1967, a World Day of Youth, which Pope John Paul II established in 1984, and a World Day of the Poor, which Francis started in 2017.

The worldwide Church holds special events and religious services on those days to draw attention to the needs and attributes of the groups.

Francis, 84, has often called on society to cherish the elderly as a source of wisdom and experience and he has lamented a "throwaway culture" that puts them aside because they are no longer productive.
Grateful for Ron to survive this:
20 minutes later, I would have died in the car with my wife driving me home.

In the early afternoon on January 5, I was wheeled down from my hospital room to meet my wife waiting in the car to take me home after an operation the day before. Just minutes before getting in the car, a massive blood clot went to my lungs and heart. Fortunately, I was still at the hospital. They beat on my chest (probably breaking a couple bones) and rushed me to intensive care. Gobs of doctors worked on me and a ventilator helped.

I have no memory of the next couple days. But contrary to all the rules in this time of COVID-19, they allowed my wife Arbutus (and daughter and granddaughter) to come to the fourth floor where they were trying to revive me. Probably, they broke the rules because they thought I was dying and felt my family should see me one last time.

Arbutus tells me that as a bunch of doctors stood around, helpless, apparently having largely given up hope of reviving me., she prayed, sang hymns and recited scriptural passages. Then she started to talk to me although I appeared lifeless. Again and again and again, Arbutus said to me: "Ron please come back. We need you." Then she asked me to open my eyes if I heard her. Eventually I did open my eyes a bit. By the time she was told to leave and said goodbye, I waved my hand a little.

I spent several days in intensive care and then regular care at the hospital and then two weeks in the nursing section at our retirement community. Day by day, I am regaining my strength.

If the blood clot to my lungs and heart had happened just 15 or 20 minutes later, I would have been alone with Arbutus in the car – – and died.
The white raptor wasn't as well camouflaged as it is at home in the Arctic, which is its normal summer home. The species migrates south in search of food in the Winter, but no one expected to see the bright white feathers on a baseball field with the Manhattan skyline in the background.

David Barrett, who runs a popular Twitter page, Manhattan Bird Alert, was the first to report the sighting, calling it "perhaps the first-ever documented record of this species in the park."

His tweet on January 27 alerted a throng of birders who stayed behind a fence to give the majestic predator plenty of space.

"Yesterday's snow and cold to our north likely encouraged this SNOWY OWL to fly south in search of better hunting conditions," Barrett says.

"These owls like flat lands and beaches, so the Central Park North Meadow, flat and with sand-filled fields, might have appealed."
Prehistoric teeth found over 100 years ago are some of the best evidence yet for hybridized communities of Neanderthals and modern humans.

We know that Neanderthals and early modern humans interbred—our DNA tells us so—but fossil evidence in this regard is surprisingly lacking. Hence the importance of the new research paper, published today in the Journal of Human Evolution.

The evidence consists of prehistoric teeth recovered from the La Cotte de St. Brelade cave site in Jersey, an island located in the English Channel, in 1910 and 1911. The teeth, belonging to two individuals, exhibit characteristics consistent with interbreeding, pointing to the presence of hybridized populations.

There is now "considerable DNA evidence that interbreeding happened, both from fossils and modern genomes," Chris Stringer, a co-author of the new study and an archaeologist at the Natural History Museum in London, explained in an email. Indeed, most people with recent ancestry from outside of Africa have around 2% Neanderthal DNA in their genomes. That said, archaeologists "still don't know the exact circumstances, nor how much this was a blending absorption of the Neanderthals into expanding modern human populations," added Stringer.

That communities of mixed ancestry existed during the Middle Paleolithic, some 48,000 years ago, is potential evidence that "extinction" is probably not the best word to describe the fate of Neanderthals. Instead, these hominins, and their DNA, were absorbed by the increasingly dominant newcomers to Europe: modern humans (Homo sapiens).
Lesson: read the signs.
For the 13th time since August, a vehicle has hit the historic Long Grove Covered Bridge. This time, it was a box truck and a bystander caught the crash on video.

The incident happened around 4:30 p.m. Monday on Robert Parker Coffin Road near Schaeffer Road in Long Grove, according to the Lake County Sheriff's Office.

Lake County Sheriff Spokesman Lt. Christopher Covelli said a sheriff's deputy pulled up on the crash just seconds after it occurred.

A 2016 Ford box truck, driven by a 21-year-old Prospect Heights man, was traveling southwest on Robert Parker Coffin Road.

Covelli said the man disregarded the height restriction signs and drove under the covered bridge, striking the top of the bridge.
Lesson: don't sleep with your Airpods:
A man's chest x-ray has delivered a disturbing explanation behind a bizarre bout of swallowing difficulty and throat dryness.

Bradford Gauthier, from the US state of Massachusetts, began experiencing the abnormal symptoms earlier this week and initially put it down to them being an uncomfortable side effect of shovelling snow.

"I woke up this morning, felt fine, but when I tried to drink a glass of water it wouldn't go down, I had to lean over to let it spill out into the sink. Gross," Mr Gauthier wrote to Facebook on Wednesday (local time).

"Something felt off with a lot of pressure in my chest, but I figured my throat was just dry or something from all the snow shovelling late last night," he added.

Alarm bells started ringing however when Mr Gauthier started looking for his AirPod earphones that he had been using the night beforehand while falling asleep.

After scouring his room for the two wireless appliances and only finding one, a theory began to circulate the household suggesting he had swallowed the missing one.

The situation soon took a swift turn for the worse and before long, Mr Gauthier was on his way to hospital.

"Fast forward to a trip to the emergency room and an x-ray, and sure enough I had an AirPod lodged in the lower part of my esophagus," he wrote.

"I just had an emergency endoscopy to get it removed."
What does this do to the environmentalism?
Earth spiked a bit of a fever in 2020, partly because of cleaner air from the pandemic lockdown, a new study found.

For a short time, temperatures in some places in the eastern United States, Russia and China were as much as half to two-thirds of a degree (.3 to .37 degrees Celsius) warmer. That's due to less soot and sulfate particles from car exhaust and burning coal, which normally cool the atmosphere temporarily by reflecting the sun's heat, Tuesday's study in the journal Geophysical Research Letters reported.

Overall, the planet was about .05 degrees (.03 degrees Celsius) warmer for the year because the air had fewer cooling aerosols, which, unlike carbon dioxide, is pollution you can see, the study found.

"Cleaning up the air can actually warm the planet because that (soot and sulfate) pollution results in cooling" which climate scientists have long known, said study lead author Andrew Gettelman, an atmospheric scientist at the National Center for Atmospheric Research. His calculations come from comparing 2020 weather to computer models that simulated a 2020 without the pollution reductions from pandemic lockdowns.

This temporary warming effect from fewer particles was stronger in 2020 than the effect of reduced heat-trapping carbon dioxide emissions, Gettelman said. That's because carbon stays in the atmosphere for more than a century with long-term effects, while aerosols remain in the air about a week.
Jesus Creed is a part of CT's Blog Forum. Support the work of CT. Subscribe and get one year free.
The views of the blogger do not necessarily reflect those of Christianity Today.