January 30, 2021
Beth Allison Barr: How and Where I Write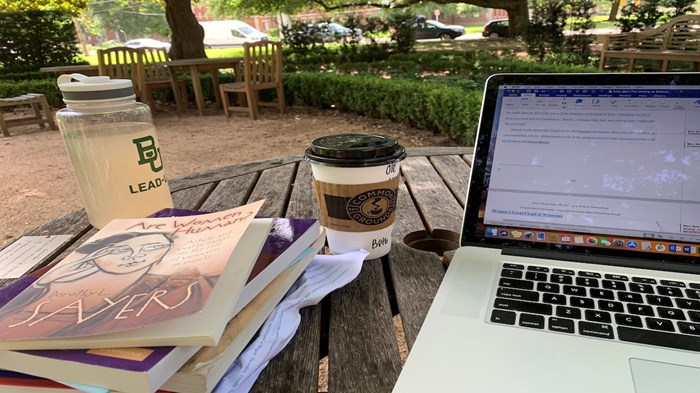 David George Moore
It's been my privilege to be in the personal spaces of several writers. Among others, Pulitzer winner Tony Horwitz warmly welcomed me at his home on Martha's Vineyard as did William F. Buckley at his place on Long Island Sound.
I have interviewed close to 200 authors. Everyone has their own style with reading, capturing what they have read, research, and then writing. As I writer myself, I have settled on an approach I feel comfortable with.
Professor Barr told me that "Yes, I have an office. But I really like to write in coffee shops and outside. So here is a picture of my favorite outdoor space, my office, and a collage of places I wrote making of biblical womanhood."
Beth Allison Barr is Associate Dean of Graduate Studies and Associate Professor of History at Baylor University. She is a scholar of European women, Medieval & Early Modern England, and Church History. Her most recent book is The Making of Biblical Womanhood: How the Subjugation of Women Became Gospel Truth
The Making of Biblical Womanhood: How the Subjugation of Women Became Gospel Truth: Barr, Beth Allison: 9781587434709: Amazon.com: Books
Moore: Do you still acquire books as you get older or have you slowed down a bit?
Barr: Not a bit. I love searching in used bookstores and online rare books sellers for early editions of my favorite authors, as well as printings of medieval manuscripts.
Moore: What are the best time(s) and place(s) for you to write?
Barr: Anytime, except between 4-7 am. My second baby screamed every day between 4 and 7 for weeks, and even now (10 years later) I can't focus on writing during those hours. My best writing time is mid-morning.
Moore: How do you capture your research? Old school with note cards etc., or new school with computer programs?
Barr: Both. I keep excel files for my manuscript research as well as journals for my archival work. I use a different journal for every research trip, and that helps me remember which journal to look in for different manuscripts.
Moore: Do you immediately start writing on the computer (perhaps typewriter) or by longhand?
Barr: I write on computer. I open a new word file and put it in a folder for each writing project.
Moore: Do you put marginalia in your physical books?
Barr: Of course.
Moore: Do you read digital books?
Barr: Yes! My iPad becomes my secondary source library when I travel to British archives, so I usually have digital copies as well as hard copies of books.
Moore: What is some good advice you received on writing?
Barr: My undergrad history professor told me to annotate every book I read in graduate school. Best advice I ever received, and I still keep up with it.
Moore: What do you think is your best book?
Barr: Depends on "best". The most important book I have written is The Making of Biblical Womanhood.
Moore: Please name a few of your favorite authors from your own field of study
Barr: Too many possibilities, as my fields are medieval, women, and religion! Dorothy L. Sayers is hands down my favorite author and fellow medieval scholar. Katherine French, Judith Bennett, Caroline Muessig, and Lisa Bitel are my favorite women's history authors/scholars. John Mirk is the medieval author of my favorite sermon collection (15th century). Margery Kempe and Christine de Pizan (also 15th century) are my favorite medieval women authors, although Jacobus de Voragine wrote my favorite medieval religious text. Elizabeth Gaskell is my favorite fiction author, after Sayers.
Moore: What is a book you should have read by now, but haven't? This will make all of us sleep better!
Barr: Johan Huizinga, The Waning of the Middle Ages. John Steinbeck, Of Mice and Men. Please don't make me read either.
David George Moore is the author of the forthcoming Stuck in the Present: How History Frees and Forms Christians (Leafwood/Abilene Christian University Press). Stuck in the Present: David George Moore: 9781684264605: Amazon.com: Books
Jesus Creed is a part of CT's Blog Forum. Support the work of CT. Subscribe and get one year free.
The views of the blogger do not necessarily reflect those of Christianity Today.