March 13, 2021
How and Where I Write: Scott Newstok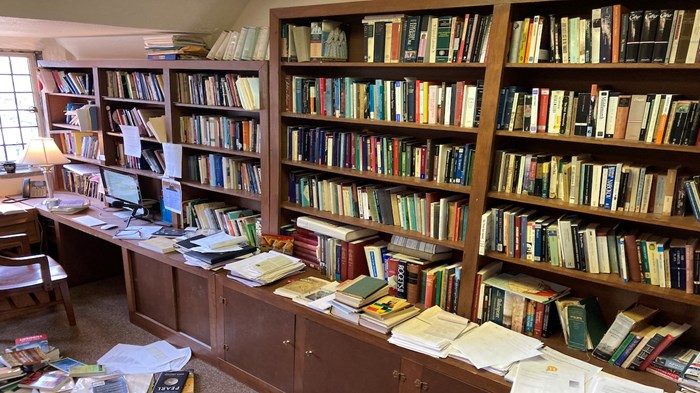 How and Where I Write — Scott Newstok
David George Moore
It's been my privilege to be in the personal spaces of several writers. Among others, Pulitzer winner Tony Horwitz warmly welcomed me at his home on Martha's Vineyard as did William F. Buckley at his place on Long Island Sound.
I have interviewed over 200 authors. Everyone has their own style with reading, capturing what they have read, research, and then writing. As I writer myself, I have settled on an approach I feel comfortable with.
Scott Newstok is professor of English and founding director of the Pearce Shakespeare Endowment at Rhodes College. Among other works, he is the author of the recently released How to Think Like Shakespeare: Lessons from a Renaissance Education. How to Think like Shakespeare: Lessons from a Renaissance Education (Skills for Scholars): Newstok, Scott: 9780691227696: Amazon.com: Books
Moore: Do you still acquire books as you get older or have you slowed down a bit?
Newstok: No sign of slowing! In fact, I was just teaching Chaucer last month, and had to smirk in recognition of this old portrait:
For hym was levere have at his beddes heed
Twenty bookes, clad in blak or reed,
Of Aristotle and his philosophie,
Than robes riche, or fithele, or gay sautrie.
Moore: What are the best time(s) and place(s) for you to write?
Newstok: As a procrastinating student, I used to think I wrote best in the evenings. Maybe, maybe not . . . but now that I'm a mid-life fogey, my head seems clearest early in the morning, before my family wakes. What's the best place for my writing? In silence, in seclusion, and surrounded by my books. These three conditions occasionally converge — in my college office; in a basement closet; ideally, at lakeside cabin.
• Silent: like the cranky Arthur Schopenhauer, I feel something akin to pain at the sudden sharp crack, which paralyzes the brain, rends the thread of reflection, and murders thought.
• In seclusion: as Virginia Woolf knew, all writers need (and women have chronically lacked) a room of [their] own, let alone a quiet room or a sound-proof room.
• Surrounded by my books: like Montaigne, without order, without method, and by peece-meales I turne over and ransacke, now one booke and now another.
Moore: How do you capture your research? Old school with note cards etc., or new school with computer programs?
Newstok: I envy peers who deploy elaborate research management systems. Instead, I capture research through commonplacing that's haphazard at best: jotting ideas in a notebook; drafting notions in correspondence with friends; retyping favorite passages into an ever-sprawling series of files. This leads to a lot of redundancy, and inefficiency, I know. Yet I console myself by thinking (hoping?) that whatever simmers to the surface from this stew's stock has the savor of the whole.
Moore: Do you immediately start writing on the computer (perhaps typewriter) or by longhand?
Newstok: While I like to cluster ideas by sketching out them on paper, I still write by typing (as I have since my father brought home an Apple II+ some 30 years ago).
Moore: Do you put marginalia in your physical books?
Newstok: Yes, especially in books from which I teach. My notes help jog my memory when my eyes scan the page during class. In recent years, I've become more deliberate about taking note of insightful comments, and attributing them to my students . . . in this way, the margins grow into a record of their insights as much as my preparations.
Moore: Do you read digital books?
Newstok: While I skim scholarship online (and love traipsing down footnote trails), I don't enjoy reading books on a device.
Moore: What is some good advice you received on writing?
Newstok: Good advice (which I've failed to follow): ease up on all the punctuation; it's . . . distracting. Well, I can't help it — it makes me feel like I'm conveying something of a voice on the page.
Moore: What do you think is your best book?
Newstok: The one I'm working on now! It's short volume, introducing Montaigne's thoughts on education.
Moore: Please name a few of your favorite authors from your own field of study.
Newstok: How about three near my (nominal) field of study?
1) Kenneth Burke, one of my heroes, dropped out of college to school himself in 1920s Greenwich Village. Over the next seventy years, his roving mind contributed to fields as disparate as sociology, religion, historiography, composition, and even Shakespeare studies.
2) At just the right moment, I was introduced to Stanley Cavell's philosophy, which takes "conversation" as a figure for thinking together about community, politics, and the world. His Pursuits of Happiness (1984) is best read alongside a viewing of Hollywood remarriage comedies and their unrehearsed intellectual adventure.
3) Helen Vendler continues to teach me about lyric poetry, and I return to her book on Shakespeare's sonnets whenever I assign them.
Moore: What is a book you should have read by now, but haven't? This will make all of us sleep better!
Newstok: A-ha, David Lodge's game of "Humiliation"! OK: Anna Karenina — but I've vowed to start reading it with my 14-year-old daughter, with whom I've read all of Austen and much of Cather.
David George Moore is the author of the forthcoming Stuck in the Present: How History Frees and Forms Christians (Leafwood/Abilene Christian University Press). Stuck in the Present: David George Moore: 9781684264605: Amazon.com: Books
Jesus Creed is a part of CT's Blog Forum. Support the work of CT. Subscribe and get one year free.
The views of the blogger do not necessarily reflect those of Christianity Today.